Housing Nonprofit and Church Partner To Build Gilliam Place Apartments in Arlington, Virginia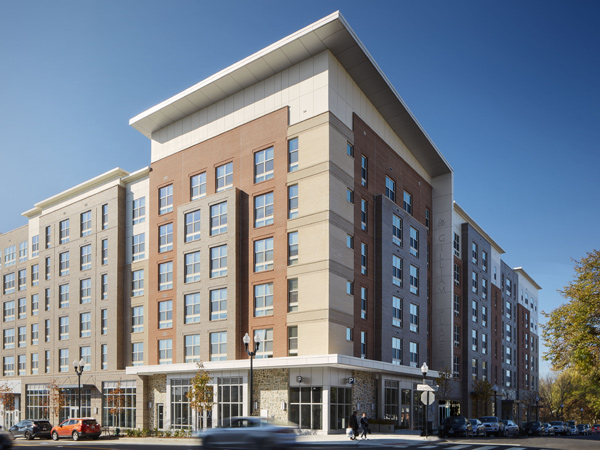 Arlington Presbyterian Church partnered with housing nonprofit Arlington Partnership for Affordable Housing to build the 173-unit Gilliam Place Apartments in Arlington, Virginia. Credit: Barry Harley Photography, courtesy of Arlington Partnership for Affordable Housing
Arlington County, Virginia, part of the Washington, DC metropolitan area, has an acute shortage of affordable housing. The county lost 13,500 affordable units from 2000 to 2013, largely because of rising market rents, and it now anticipates increased demand for housing following recently announced corporate and higher education expansions. In 2015, the county identified the need for an additional net 15,800 affordable units by 2040, roughly 600 net units per year. Because of its urgent need for affordable housing, the county welcomes development from both traditional and innovative sources. One recent innovative partnership between the Arlington Presbyterian Church (APC) and the nonprofit Arlington Partnership for Affordable Housing (APAH) resulted in Gilliam Place Apartments, which provides 173 affordable units in the Columbia Pike corridor.
A Vision for a Meaningful Use of Space
Gilliam Place Apartments began as the vision of several members of the Arlington Presbyterian Church who wished to build something meaningful with the church's property as the church's building and membership declined. Initially, the rest of the congregation did not share this vision for affordable housing, but after a period of intentional discernment that included talking with people in the surrounding community, more and more members found "their hearts breaking" over the housing needs of people in their neighborhood. A common refrain among the people the congregants encountered was that, although they worked in the neighborhood and had once been able to live there, they found it increasingly difficult to afford to stay. In 2013, APC approached APAH as a potential development partner. APC initially proposed a land lease to APAH, but as a Presbyterian church, the agreement was subject to the approval of the regional denominational governing body, the National Capital Presbytery, which rejected the proposal. APC member Susan Etherton says that, in retrospect, this setback pushed the congregation to pursue what proved to be a better course of action: selling the land to APAH for $8.5 million ($2 million less than the appraised market value), which the presbytery approved.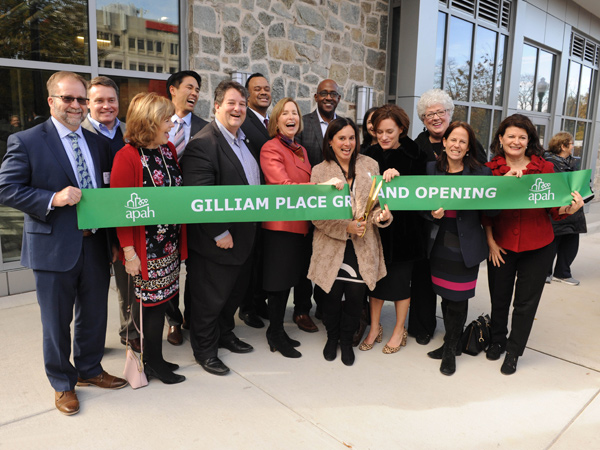 Arlington Presbyterian Church sold the land for the development to Arlington Partnership for Affordable Housing and now rents space on the ground floor. Credit: Arlington Partnership for Affordable Housing
APC also had to overcome a challenge from its neighbors, who filed an application for historic designation of the church. The application initiated a historic preservation review that delayed predevelopment until early 2014, when the Arlington County Historical Affairs and Landmark Review Board voted against designating the church as a historic site. Fortunately, APAH applied for and received approval to rezone the property as subject to form-based code — meaning that plans that fit within prescribed physical characteristics (form) have an expedited approval process, which was completed in December 2015. The land sale closed in July 2016, and, after securing sufficient funding, construction began a year later. Nearly two years later, the apartments were completed, and the complex was fully leased by November 2019. APC rents worship space in the ground floor and maintains a relationship with APAH and the residents of Gilliam Place. Etherton says that the church welcomes residents to participate in worship and community events. Both Etherton and APAH president and chief executive officer Nina Janopaul say that APC congregants have developed strong relationships with the special needs population residing in the permanent supportive units at Gilliam Place.
Gilliam Place Apartments
The 65,000-square-foot property consists of 2 adjacent 6-story buildings containing 22 studio, 83 one-bedroom, 49 two-bedroom, and 19 three-bedroom apartments. Of these units, 132 are affordable to households earning up to 60 percent of the area median income (AMI), and 32 and 9 are reserved for households earning 50 percent and 40 percent of AMI, respectively. Eleven of the units comply with the requirements of the Americans with Disabilities Act.
The ground floor consists of 8,500 square feet of commercial and civic space as well as community rooms for resident programming. Currently, the commercial and civic tenants are APC and La Cocina VA, a local nonprofit that prepares low-income individuals for employment in the food services industry. La Cocina VA plans to open a bilingual culinary training facility and a retail café. APAH had worked with La Cocina VA at various points in the past, because both organizations work to empower low-income residents in Arlington County. APAH offers below-market rent to both La Cocina VA and APC.
APC used a portion of the sale proceeds to purchase back a portion of the lot to set aside as "sacred greenspace" that they have cleaned up and made available as an amenity to Gilliam Place residents and neighbors.
The total cost of the project was nearly $71 million. Funding came from several sources in addition to the $2 million discount on the land price. Low-income housing tax credits provided $31 million in funding, and another $18 million came from the Arlington County Affordable Housing Investment Fund. The Virginia Housing Development Authority's (VHDA's) Resources Enabling Affordable Community Housing and Sponsoring Partnerships and Revitalizing Communities programs contributed $8.7 million as well as $4.4 million in VHDA taxable bonds. Additional loans came from the Virginia Housing Trust Fund and the Federal Home Loan Bank Affordable Housing Program.
A Partnership of Commitment and Faith
Janopaul says that Gilliam Place is a testament to the patience and commitment of APC members. Expressing essentially the same sentiment, Etherton says that "perseverance and faith" made the development possible. From idea to move-in, the journey that produced Gilliam Place took more than half a decade and faced many obstacles that could easily have derailed the project. In the face of such a severe lack of affordable housing in the Arlington market, innovative partnerships and the commitment to see them through are much needed. Etherton says that other congregations have engaged APC seeking advice on how they can help alleviate housing needs in their respective places. Leveraging the resources of churches and other faith-based organizations, both in terms of property and commitment to mission, can be an important part of comprehensive efforts to increase the supply of affordable housing.
Source:
Interview with Susan Etherton, 30 March 2020.
×
Source:
Marc Fournier, Bobby Klancher, Kevin Larios, and Nicole Wickliffe. 2019. "Gilliam Place: An Affordable Housing Case Study," George Mason University, 4, 13; Interview with Susan Etherton, 30 March 2020; Interview with Nina Janopaul, APAH president and CEO, 25 March 2020.
×
Source:
Arlington Partnership for Affordable Housing. n.d. "Gilliam Place"; Interview with Nina Janopaul, APAH president and CEO, 25 March 2020.
×
Source:
Arlington Partnership for Affordable Housing. n.d. "Gilliam Place"; Interview with Nina Janopaul, APAH president and CEO, 25 March 2020.
×
Source:
Interview with Susan Etherton, 30 March 2020.
×
Source:
Arlington Partnership for Affordable Housing. n.d. "Gilliam Place."
×
Source:
Interview with Susan Etherton, 30 March 2020; Interview with Nina Janopaul, APAH president and CEO, 25 March 2020.
×