New Affordable Housing for Year-Round Residents of Martha's Vineyard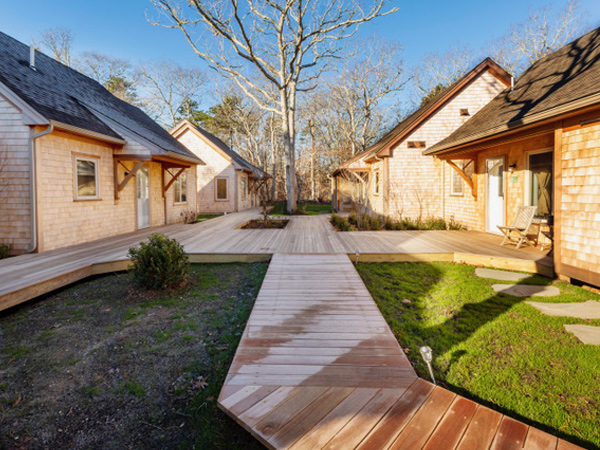 Scott's Grove, built in the Martha's Vineyard town of West Tisbury, adds nine units of year-round rental housing affordable to families at a range of income levels. Credit: Randi Baird Photography
The island of Martha's Vineyard, situated off of the southeastern coast of Massachusetts, has long been a destination for wealthy tourists and second homeowners. Its six constituent towns all grapple with the unique affordability problems of tourism-heavy economies, where visitors drive up the cost of living while fueling demand for low-wage service-industry jobs. This dynamic presents challenges to many low- and moderate-income residents, who are the lifeblood of a tourist town, as they search for stable and affordable housing. To address this need, local nonprofit developer Island Housing Trust (IHT) completed Scott's Grove in 2018 in the town of West Tisbury. The ecological and contextual design of Scott's Grove respects the island's heritage, while the project aids the ongoing affordable housing efforts needed to support the island's economy.
Building Cape Cod Homes With Massachusetts Housing Programs
Scott's Grove consists of nine units in five buildings that are arranged in two "quads" organized around communal wooden decks. The project's small scale matches the prevailing level of density on the island and represents IHT's strategy of developing "pocket neighborhoods" — small clusters of buildings arranged to encourage community among neighbors. Buildings are in the Cape Cod style, complete with cedar shingles. The development features 3 one-bedroom units, 3 two-bedroom units, and 3 three-bedroom units. These units rent to households earning up to 30, 50, 60, or 80 percent of the area median income. Although all the units were designed with an eye toward accessibility, one unit meets the stricter standards of being fully compliant with the Americans with Disabilities Act. With demand for year-round affordable units on Martha's Vineyard exceeding the available supply, IHT held a (AMI) lottery for qualified applicants. For six of the units, preference in the drawing was given to those living or working in West Tisbury.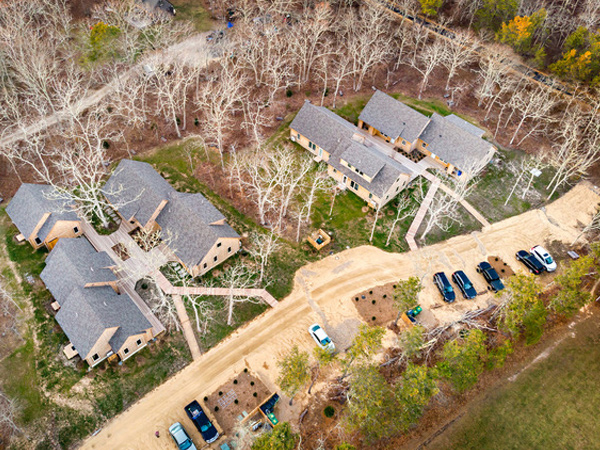 The buildings of Scott's Grove are arranged in two "quads," promoting interactions between neighbors. Developer Island Housing Trust took care to preserve existing trees on site during construction. Credit: Randi Baird Photography
The town's Community Preservation Act (CPA) ordinance was the primary financing vehicle for Scott's Grove. The CPA is a Massachusetts state law that allows local jurisdictions to implement a property tax surcharge of up to 3 percent to fund certain smart growth projects. The revenue raised is placed in a local Community Preservation Fund — augmented with matching funds from the state — and eventually used to support open space protection, historic preservation, affordable housing, and outdoor recreation. In the case of Scott's Grove, $1.4 million of the $3 million in total project costs came from CPA funds. The project also received a $900,000 grant from another state program, the Community Scale Housing Initiative, which funds small-scale housing projects between 5 and 20 units affordable to households earning no more than 80 percent of the AMI. The remaining project costs were covered by $575,000 in bank financing and more than $125,000 in private donations. Finally, the town provided a 51-year ground lease on the land, part of a parcel donated to West Tisbury in the 1950s by Susan Scott, for whom this project is named.
Contextual Housing in a Tourist Idyll
In Martha's Vineyard and other areas that rely heavily on tourism, the presence of wealthy second homeowners and seasonal tourists increases the cost of living as well as the demand for low-wage service industry jobs, putting pressure on affordability for residents from both ends of the economic spectrum. Across the six island towns, homeowners have median annual incomes of nearly $72,000, whereas renters earn slightly more than $44,000; more than a quarter of all households on Martha's Vineyard, including half of all seniors, earn less than $35,000. In addition, the tourist economy incentivizes many owners to rent to visitors, who pay a premium, during the summer months while making their units available to locals during the off-season. This results in what Philippe Jordi, executive director of IHT, calls the "island shuffle" and means that many renters on the island move twice each year. Scott's Grove provides stability in the form of 12-month leases, helping families avoid disruptive relocations.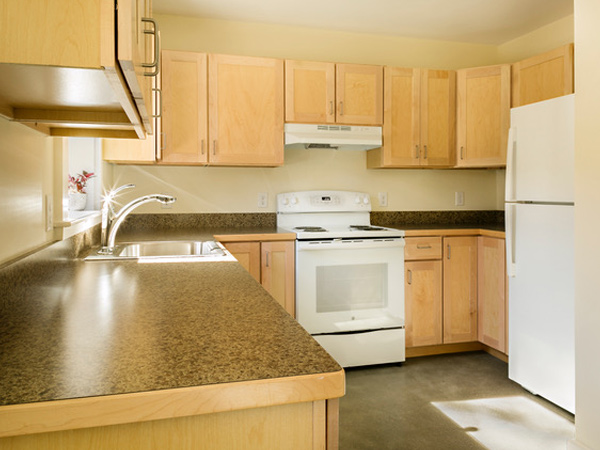 While the buildings' exteriors are in a traditional Cape Cod style, complete with cedar shingles, modern interiors including concrete floors give units a contemporary feel. Credit: Randi Baird Photography
Thoughtful design — in particular, the use of vernacular styles — help affordable housing projects blend into their local context and can even help bring recalcitrant neighbors enthusiastically on board. In the case of Scott's Grove, Derrill Bazzy, project director at IHT, reports that an abutting homeowner, initially skeptical of IHT's proposal, was brought around by the team's outreach and design, even providing an electrical hookup during construction when getting electricity to the site became unusually difficult. The developers took care to preserve as many of the existing trees on the site as possible, even integrating some into the quad space between buildings, furthering the sense that Scott's Grove is truly of the Vineyard. Modern design elements such as the use of concrete floors on the interior (the buildings themselves sit on concrete slabs and do not have basements) add a contemporary feel and have been well received by residents, according to surveys conducted by IHT. Finally, a number of green features such as superinsulation, energy-efficient heat pumps, and windows that maximize passive heating in winter lower residents' energy costs, further enhancing affordability.
IHT is building on the success of Scott's Grove with other affordable housing projects. The developers worked with Cambridge-based LDa Architecture and Interiors to design buildings that are easily replicable and can be easily constructed using a variety of methods. The same basic layout from Scott's Grove is being used in 2 of IHT's current undertakings, including a 20-unit development being built in the adjacent town of Tisbury that is also making use of CPA funds. As the need for affordable housing continues, the lessons learned at Scott's Grove point the way toward continued progress in providing well-designed, contextual housing to the Vineyard's workforce.
Source:
Island Housing Trust. n.d. "Our Homes." Accessed 30 April 2020; Joint interview with Philippe Jordi, executive director, Island Housing Trust, and Derrill Bazzy, project director, Island Housing Trust, 28 April 2020; Tony Omer. 2018. "Scott's Grove apartments near completion in West Tisbury," Martha's Vineyard Times, 30 April. Accessed 30 April 2020; Holly Pretsky. 2018. "Scott's Grove Housing Complex Opens With Quiet Fanfare," Vineyard Gazette, 28 September. Accessed 30 April 2020; Dukes County Regional Housing Authority. n.d. "Rental Apartments." Accessed 30 April 2020; LDa Architects. n.d. "Scott's Grove Affordable Housing." Accessed 30 April 2020. ×