Dr. Alice Moore Apartments Creates Supportive Affordable Housing in Southern Florida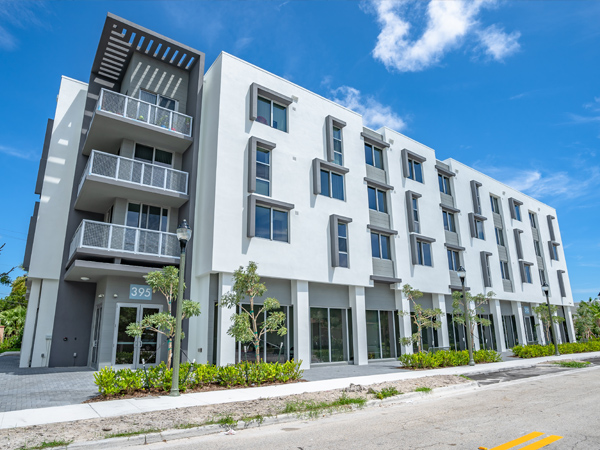 Dr. Alice Moore Apartments is a 36-unit supportive housing project in the Northwood Shores neighborhood of West Palm Beach, Florida, and developer Carrfour's first property outside of Miami-Dade County. Photo credit: Carrfour Supportive Housing
Dr. Alice Moore Apartments is a new supportive housing development in the historic Northwood Shores neighborhood of West Palm Beach, Florida. The new building replaces a smaller, distressed affordable housing development and serves low-income families and individuals exiting homelessness who have mental health challenges. The project, which is nonprofit developer Carrfour's first affordable housing development outside of Miami-Dade County, came with its own set of challenges, including a project partner's bankruptcy and neighborhood opposition. The developer credits the unprecedented support of city officials for the successful opening of Dr. Alice Moore Apartments in December 2020.
Background
The insufficient amount of supportive housing in West Palm Beach and the lack of nonprofits with the resources to build new housing in the area motivated Armando Fana, assistant city administrator for West Palm Beach, to contact Carrfour, Florida's leading nonprofit developer of supportive housing. The developer agreed to take on the project but tasked Fana with finding the land for development. Fana connected Carrfour with the Jerome Golden Center for Behavioral Health, a local provider of mental health services. The center wanted to update an existing single-story, 17-unit housing development in poor condition that it owned in Northwood Shores, a historic neighborhood consisting primarily of single-family housing. The partnership with Carrfour gave the Jerome Golden Center access to the funding needed to redevelop the housing. City rezoning of the area followed by a 2017 variance allowed the developers to demolish the older building and build a taller, higher-density building with parking.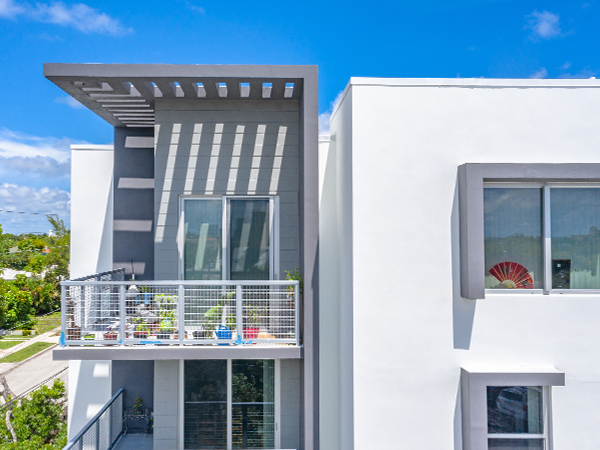 The 36-unit development provides studio and one-bedroom apartments to low-income residents, while also supporting people living with mental illness with onsite supportive services. Photo credit: Carrfour Supportive Housing
The building's name pays homage to Dr. Alice Moore, a longtime donor of the behavioral health center and prominent resident who supported education, the arts, and mental health services in West Palm Beach. The center wanted to recognize Moore's contribution, which is part of a 100-year legacy that began with her parents, who provided housing and other services for African-Americans during the segregation era.
Project Details
Dr. Alice Moore Apartments is a 4-story building with 36 supportive housing units that are set aside for residents making no more than 60 percent of area median income; 26 units are reserved for adults living with severe mental illness. Stephanie Berman-Eisenberg, executive director of Carrfour, explains that residents experiencing mental illnesses can live autonomously in what she calls "permanent independent supportive housing." The development offers individualized supportive services onsite. Management staff include a peer coordinator and two service coordinators who help residents make health appointments and find transportation. Carrfour helps residents who are searching for jobs with building résumés, practicing for interviews, and with other needs to help them remain stably housed.
Development costs for Dr. Alice Moore Apartments totaled $17.5 million. The largest contribution came from the Florida Housing Finance Corporation, which allocated nearly $9.5 million in 9 percent low-income housing tax credits for the development. The city of West Palm Beach's Department of Housing and Community Development provided $1.1 million in HOME Investment Partnerships Program funds, and Bank of America Community Development Banking provided construction financing.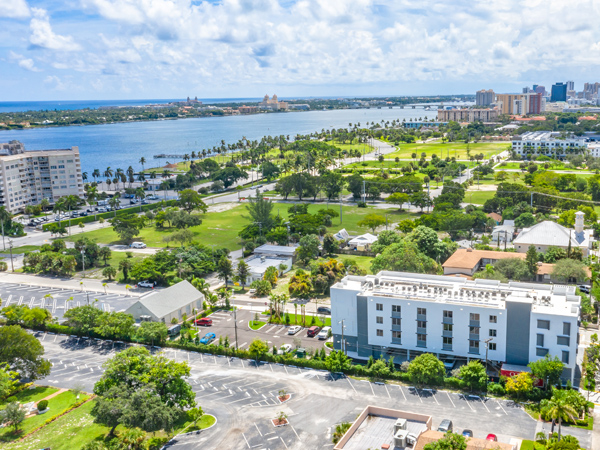 Dr. Alice Moore Apartments is the first parcel redeveloped in the Currie Mixed Use District, which resulted from a vision plan to redesign the historic Currie Park into an active and engaging greenspace and waterfront. Photo credit: Carrfour Supportive Housing
Navigating a Shift in Project Partnership and Neighborhood Resistance
Owing to challenges that included neighborhood opposition and a bankruptcy filing during construction, the development took 5 years to complete. Neighborhood residents, primarily single-family homeowners, cited concerns such as increased crime and decreased property values in opposing the development. According to Berman, many neighborhood residents feared the unknown and were unaware of what supportive housing entailed. Proponents of the design countered these objections by pointing out that many of the tenants were already neighborhood residents, and the project would enhance the conditions of the area's existing affordable housing. Carrfour volunteers, city employees, and the president of the neighborhood association actively participated in community meetings to help sway some naysayers and members of the homeowner's association, which took an overall neutral stance to the development. With opposition and support for the project evenly split, Fana notes that the support from specific people, including the current and former mayors and former district commissioners, led to the city commission's approval after a process that lasted approximately 10 months.
After construction was underway, the Jerome Golden Center, which, as the area's largest behavioral health provider, was to provide onsite case management for the development, filed for bankruptcy and exited the partnership. Rather than searching for a new partner, Carrfour decided to take over the tasks originally assigned to the Jerome Golden Center by expanding its operations from Miami to West Palm Beach. These tasks included relocating the existing residents, finding new residents, and restructuring company roles to provide service support previously offered through the Jerome Golden Center.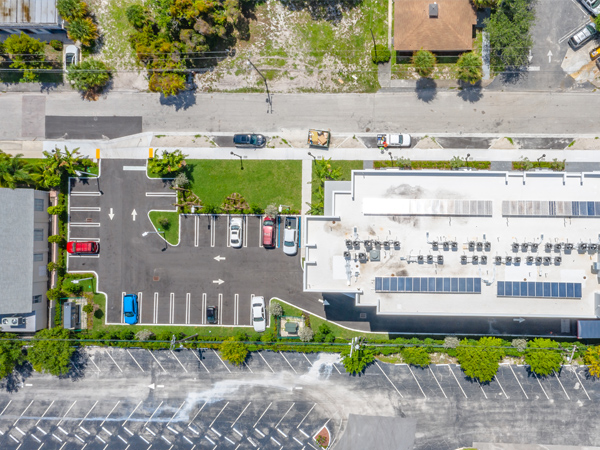 Previously just a one-story building with minimal parking, the redeveloped parcel now includes upgraded parking with 30 onsite parking spaces, a community green space, a library, gym, and other interior amenities. Photo credit: Carrfour Supportive Housing
The new territory came with a learning curve, leading the nonprofit to reach out to the network of service providers in the Northwood Shores neighborhood. For example, the effort to relocate current residents during construction required Carrfour to communicate with landlords outside of the nonprofit's network to find appropriate housing. Berman states that a housing navigator was pulled from another Carrfour project to lead this effort. Funding from Southeast Florida Behavioral Health Network was key to allowing Carrfour to hire staff to provide services before construction and during the building's use phase.
Berman credits the opening of the development to Fana and to unprecedented support from the city, which championed the project from conception to completion. The development accounts for 12 percent of affordable housing units under West Palm Beach mayor Keith A. James' 300 in 3 initiative, an effort to create 300 affordable housing units between 2020 and 2023. One year after opening, the development has maintained a 97 percent occupancy rate. Berman views the high occupancy rate as a success because the new housing keeps residents from cycling through various systems of care, such as shelters, mental health programs, and emergency rooms.
Source:
Interview with Armando Fana, assistant city administrator, West Palm Beach, 15 February 2022; Carrfour. n.d. "History." Accessed 7 April 2022; Interview with Stephanie Berman, chief executive officer, Carrefour, 25 March 2022; City of West Palm Beach, Florida. n.d. "Northwood/Pleasant City CRA." Accessed 25 March 2022; City of West Palm Beach, Florida. n.d. "Zoning Map Viewer." Accessed March 26, 2022; City of West Palm Beach, Florida. 2020. "City of West Palm Beach Joins Carrfour Supportive Housing to Unveil Newest Affordable Housing Community," press release, 15 December. Accessed 9 February 2022. ×
Source:
Interview with Armando Fana, 15 February 2022; Legacy.com. n.d. "Obituary: Alice E. Moore." Reprinted from the Palm Beach Post, 14 January 2014. Accessed 28 March 2022. ×
Source:
Interview with Armando Fana, 15 February 2022; Interview with Stephanie Berman, 25 March 2022. ×