Northern California-Based Karuk Tribe Builds Its First LIHTC Project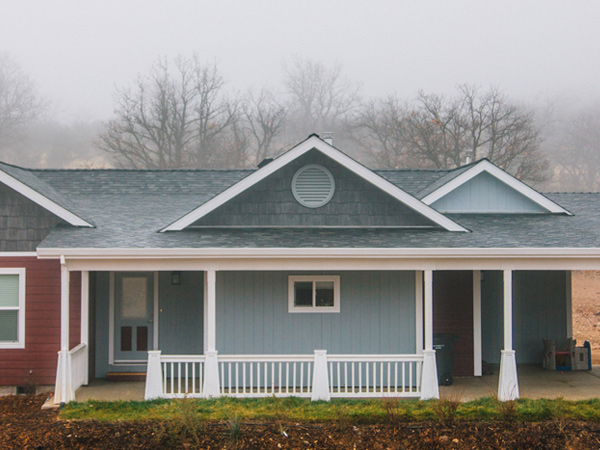 Karuk Homes 1, a 30-unit single family affordable housing development in Yreka, California, was the first project of the Karuk Tribe Housing Authority to be financed through the use of Low Income Housing Tax Credits. Credit: Karuk Tribe Housing Authority
Opened in the fall of 2017, Karuk Homes 1 is a 30-unit affordable housing project of single-family homes in rural Yreka, California. The project represents the first use of the Low-Income Housing Tax Credit (LIHTC) program by the Karuk Tribe Housing Authority (KTHA), and the Karuk Tribe was one of the first Native American tribes in California to obtain a tax credit award under the state's Native American Apportionment Pilot. The houses in Karuk Homes 1 are a mix of three-, four-, and five-bedroom layouts and were designed to suit the needs of larger and multigenerational families. Because the new development was added to an existing subdivision owned by the housing agency, the residents of Karuk Homes 1 also have access to the programming and services of the nearby wellness center and the onsite community center.
Housing To Suit Local Needs
Based out of Northern California's Siskiyou and Humboldt counties, the Karuk Tribe is the second-largest federally recognized Native American tribe in in the state by population, with nearly 4,000 enrolled members. Although the tribe does not have its own reservation, the tribal government does own slightly more than 1,700 acres of their aboriginal land. Most of this land is concentrated in the population centers of Happy Camp, Orleans, and Yreka and is used for tribal housing, ceremonies, and resource management. KTHA was established in 1985 and by 2015 owned and managed a portfolio of 194 housing units. Although any local resident in need of housing may apply to live in KTHA properties, the housing agency gives preference to tribe members and their descendants, who share an urgent need for affordable housing.
Karuk Homes 1 broke ground in KTHA's existing 116-unit Yreka Subdivision in January 2016, with Travois Design as the architect and DT Builders as the general contractor. The development was built in phases, with six houses completed per phase. Karuk Homes 1 consists of 30 one-story, single-family homes on half-acre lots; 15 have three bedrooms, 13 have four bedrooms, and 2 have five bedrooms. One home is reserved for an onsite manager. The three- and four-bedroom homes all have two full baths, whereas the five-bedroom units have two and a half baths. Three units are fully accessible, and nine are visitable according to the standards of the Americans with Disabilities Act. Each home has a front porch, an exterior woodshed, an exterior storage unit, and a single-car carport. Unlike other KTHA properties, eligible tenants of Karuk Homes 1 must be Karuk Tribe members who earn no more than 60 percent of the area median income per year. This is a requirement of the state's LIHTC Native American Apportionment Pilot program.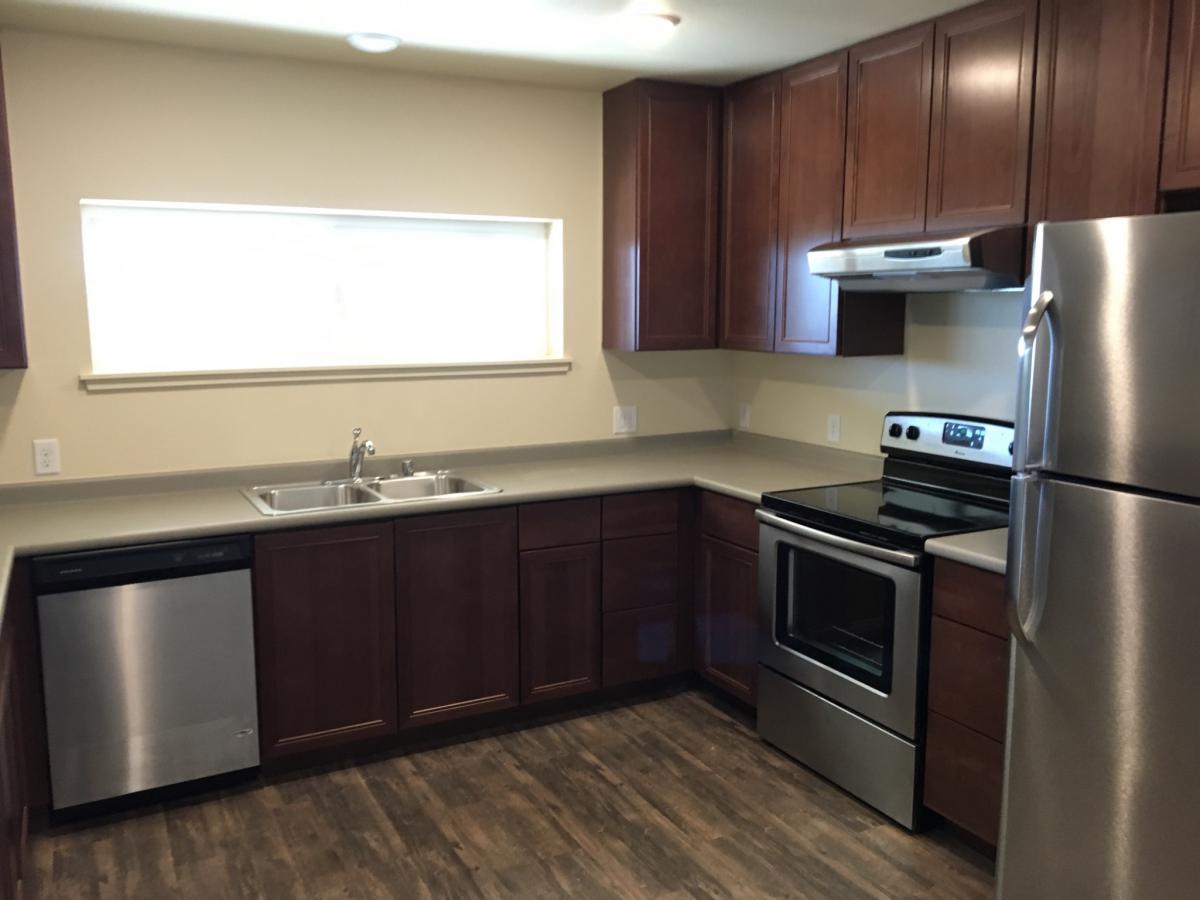 The development offers three-, four-, and five-bedroom units, to accommodate families with children and intergenerational households. Credit: Karuk Tribe Housing Authority
According to Sara Spence, executive director of KTHA, the housing agency typically builds larger units to accommodate the needs of large families. "We used our waiting list to determine what the need was locally," explains Spence. "Our highest demand was for three-bedroom units." The houses at Karuk Homes 1 have other design elements to accommodate large families; for example, the bathrooms in the four- and five-bedroom units have an internal door separating the shower from the rest of the room's functional space to allow for easier morning preparations for larger numbers of people. The outdoor storage unit included on each property is also useful to larger families. Although Karuk Homes 1 was intended primarily to accommodate families with many children, the larger homes are also ideal for multigenerational households, the traditional family arrangement among members of the Karuk Tribe.
Each house was built to environmentally friendly GreenPoint Rated design standards, and the development obtained certification at the Silver level. Each house also has a solar water heating system. Travois Design worked with KTHA to select exterior design features that would provide a high degree of variability and interest. "The goal was for the units to have a lot of visual appeal with zest and pitches and lines," says Spence. The houses have variable roof pitches and bright accent colors of red and blue. KTHA liked the color scheme so much that they have adopted it as their official paint scheme and will use it to re-paint older properties as needed.
Residents of Karuk Homes 1, like all residents of the Yreka Subdivision, have access to services and activities offered at the Kahtishraam Wellness Center and the Yreka Community Center. Both buildings are owned by KTHA. The wellness center, located approximately 1 mile away, offers a commercial kitchen and a gymnasium with fitness equipment and classes. The community center is located within the subdivision and boasts a community room and computer center. "We offer all kinds of activities at these locations: noncredit college courses, a cooking class, exercise classes, afterschool tutoring, youth activities, a boys and girls talking circle, movie nights — all sorts of things," says Spence. In addition, to comply with California's LIHTC program requirements, KTHA provides free wireless Internet service to all units in Karuk Homes 1. The development also has two playgrounds and two communal garden areas.
The Native American Apportionment Pilot
The development had a total cost of $11.4 million. The project received $8.7 million in federal LIHTC equity and approximately $2 million in California state LIHTC equity. Federal funds from the Native American Housing Assistance and Self-Determination Act and the Indian Housing Block Grant Program covered the remainder of the development's cost.
For KTHA, Karuk Homes 1 represents not only the first time that the housing agency had ever built a LIHTC development but also the first time it had ever applied for funding through the program. In 2014, the California Tax Credit Allocation Committee launched the Native American Apportionment Pilot to set aside a certain number of tax credits out of the existing rural set-aside for use by federally recognized Native American tribes. KTHA staff submitted an application expecting to learn from the process but were surprised to discover that their project had been selected. "We really were just intending to test the waters," explains Spence. "It was a wonderful shock to actually be accepted on our first application."
California instituted the special set-aside because LIHTC funding in the state is in high demand, and most tribal housing agencies are too small, with budgets and housing plans too modest, to be competitive. Although state officials originally planned to run the pilot for only 1 year, it enjoyed such success that they extended it. "We found the LIHTC process to be very intense but well worth it," says Spence. "Most tribes don't have enough funding to add more than a few units per year to their housing portfolios, but it is very, very cost-effective to do many homes at once."
The Next Karuk Homes
Karuk Homes 1 is fully occupied, and, as of spring 2019, KTHA had a waiting list of more than 700 households. Spence reports that the housing agency is interested in pursuing future LIHTC developments, but it will focus on the smaller population centers of Happy Camp and Orleans for its next projects. California's LIHTC allocating agency continues to administer the Native American Pilot Apportionment, which received $1 million in funding for 2019.
Source:
Interview with Sara Spence, 14 May 2019.
×
Source:
Interview with Sara Spence, 14 May 2019.
×
Source:
Correspondence with Sara Spence, 14 May 2019; Correspondence with Sara Spence, 11 June 2019; Interview with Sara Spence, 14 May 2019.
×
Source:
Interview with Sara Spence, 14 May 2019; Documents provided by Sara Spence.
×