The Clinton Avenue Apartments Preserves Affordable Housing and a Piece of Albany's Architectural History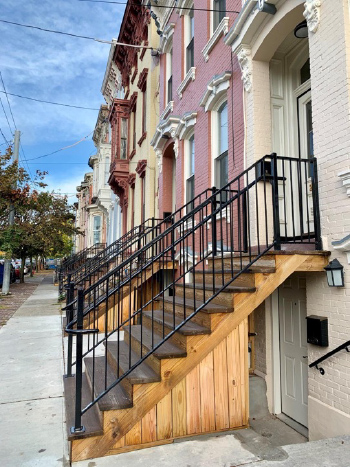 The Clinton Avenue Apartments are a 210-unit affordable development in Albany's Arbor Hill neighborhood, occupying 70 recently restored historic rowhouses. Photo credit: Home Leasing
Reopened in summer 2021, the Clinton Avenue Apartments is a 210-unit, scattered-site affordable housing development in the Arbor Hill neighborhood of Albany, New York. Rochester-based affordable housing developer Home Leasing renovated 70 historic rowhouses along Clinton Avenue, a process that took 3 years and $55 million to accomplish. The completed project, located only blocks from the Hudson River waterfront and Albany's downtown district, includes six commercial spaces. Forty units at the Clinton Avenue Apartments are reserved for participants in a state supportive housing program for adults with mental illness.
Rescued from Foreclosure
Clinton Avenue, one of Arbor Hill's main thoroughfares, is lined with closely set rowhouses in the Italianate, Greek Revival, and Queen Anne styles that are built primarily of brick and stone. Occasional gaps in the lines of buildings mark the sites of homes that were lost to demolition over the decades.
In 2017, 70 rowhouses scattered throughout several blocks of Clinton Avenue and an adjoining stretch of Ten Broeck Street were in foreclosure and faced demolition. The properties, which had been built in the 1800s and had been used for some time as inexpensive rentals (with 2 to 4 units per rowhouse), were visibly dilapidated from years of deferred maintenance, and eight were in such poor condition that they had been marked as unfit for habitation and condemned. Rochester-based affordable housing developer Home Leasing became aware of the properties while they were in the court-mandated receivership of the Community Preservation Corporation (CPC), New York's largest community development financial institution dedicated to multifamily lending, and arranged to purchase them from their private owner for approximately $3.2 million. Home Leasing commenced the extensive renovations — and its first foray into Albany — in July 2018.
The first order of business, said Home Leasing development manager Adam Driscoll, was to assemble a team to relocate residents until renovations were complete, when these residents would have the right to return. The developer's construction arm, Home Leasing Construction, renovated the homes in groups of approximately a dozen houses each, which gave residents time to relocate, although the onset of the COVID-19 pandemic in 2020 slowed this process significantly. The two- to four-story houses were in generally poor condition, with widespread structural damage, dated building systems, and heavily overgrown backyards.
The developer replaced the roofs, interior walls and floors, and the utility lines and modernized the electrical systems, kitchens, and bathrooms. Home Leasing also hired architectural firm 3tarchitects, which redesigned the building interiors and reduced the unit counts from 216 to 210, or one apartment per floor. The developer updated the kitchens and bathrooms and installed low-flow plumbing fixtures, high-efficiency hot water heaters, energy-efficient lighting, and ENERGY STAR® appliances. Despite these extensive changes, the developer maintained the character of the rowhouses by retaining and restoring historic details such as the original oriel windows, plaster ceiling medallions, and the decorative elements of the facades such as cornices, bracketed hoods above entryways, and stone or iron trim. The developer also tamed the backyards, clearing brush and adding stormwater systems, retaining walls, and fencing.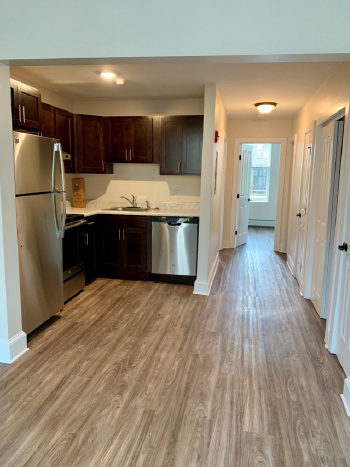 The renovated apartments have modern interiors with water- and energy-saving features, but retain 19th century historic details like carved cornices, original windows, and decorative façade elements. Photo credit: Home Leasing
A Major Streetscape Transformation
Clinton Avenue Apartments opened in 2021, a few months behind schedule, because of pandemic-related labor and supply shortages. "These buildings were very dilapidated, with years of deferred maintenance," said Driscoll. "The impact of 70 houses being restored really can't be overstated; it changed the feeling of the street." Clinton Avenue Apartments offers 2 studios along with 1 four-bedroom, 11 three-bedroom, 71 two-bedroom, and 125 one-bedroom units. Although 98 of the apartments are restricted to households who earn no more than 60 percent of the area median income (AMI), 32 are available to households that earn no more than 90 percent of AMI, and 40 are reserved for participants in a supportive housing program. Eight ground-floor units are accessible to residents with disabilities.
Funding for Clinton Avenue Apartments came from $20.2 million in equity from the sale of low-income housing tax credits; a $19 million subsidy from Homes and Community Renewal, a New York State development and rehabilitation entity; $12.4 million in equity from the sale of federal and state historic tax credits; and $3.6 million in tax-exempt bonds issued by the New York State Housing Finance Agency. In addition, the New York State Office of Mental Health (OMH) will provide the development with an annual operating subsidy of $1 million.
The 40 reserved units are for participants in an OMH supportive housing program. Tenants eligible for this program are adults with a severe mental illness who were formerly homeless or are at risk of homelessness and who earn no more than 50 percent of AMI. Participants in this program receive fully furnished units equipped with basic kitchen items and linens. DePaul Community Services pays the security deposit for these units and provides supportive services to program participants through an onsite housing specialist.
In addition to the 210 residential units, Home Leasing rehabilitated 6 commercial spaces during the renovation. These first-floor spaces currently serve as Home Leasing's Albany office, an office for DePaul Community Services, a laundry facility for tenants, and maintenance offices. According to Driscoll, one of the three currently vacant commercial units once housed a barbershop that has since closed.
Step One of Three
Clinton Avenue — and, for that matter, the city of Albany — is still changing. The city has adopted a Downtown Revitalization Initiative just a few blocks away from Clinton Avenue Apartments, and redevelopment on Clinton Avenue is ongoing. Home Leasing has already secured a historical tax credit allocation for Clinton Avenue Apartments II, a 55-unit affordable housing development that will also include the Albany Center for Economic Success. According to Driscoll, the firm also has committed to Clinton Avenue Apartments III, a 62-unit development involving new construction and 3 rowhouses at the corner of Henry Johnson Boulevard and Clinton Avenue.