Fulfilling a Mission To Serve Families at Risk of Experiencing Homelessness
Permanent supportive housing is an effective strategy for helping families at risk of experiencing homelessness find the stability and assistance they need to break intergenerational cycles of poverty. At Cahill Place, opened in September 2020 in the town of Inver Grove Heights, Minnesota, just south of St. Paul, developer Center City Housing is putting into practice its multigenerational model for helping at-risk families avoid homelessness and achieve housing stability and developmental goals. Cahill Place also marks an important achievement for the adjacent River Heights Vineyard Church, a mission-driven congregation that supports people's recovery efforts and that contributed the land on which Cahill Place was built. In doing so, the church responded to the needs of their own congregants while advancing the supportive affordable housing goals of the community.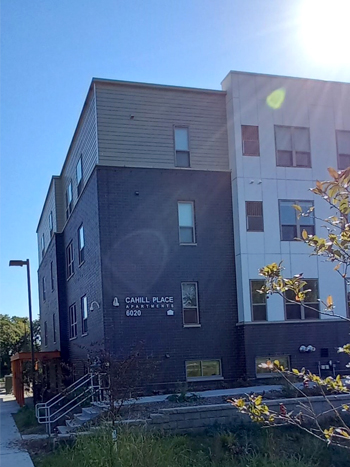 Cahill Place, in the St. Paul, Minnesota suburb of Inver Grove Heights, consists of 40 units of supportive housing for families experiencing or at risk of homelessness. Developer Center City Housing built Cahill Place on land provided by the adjacent River Heights Vineyard Church. Photo credit: Center City Housing
Project Details
Cahill Place consists of 28 two-bedroom and 12 three-bedroom units. Amenities include a playground and abundant green space. In designing the units, Center City considered the needs of families, which is reflected in the inclusion of a mudroom area in each unit for neatly storing the numerous outdoor garments needed during a Minnesota winter.
Total development costs for Cahill Place approached $13 million. Funding sources included Minnesota Housing, the state's housing finance agency; equity generated from the sale of low-income housing tax credits; a deferred loan from the Housing Opportunities Enhancement program, allocated from the Dakota County Community Development Agency (CDA); HOME Investment Partnerships Program funding allocated by the county CDA; funds from the Local Housing Incentives Account of the Metropolitan Council (a Twin Cities regional planning agency, service provider, and policymaking body); and philanthropic contributions, among others. Eligibility for Cahill Place is limited to residents earning less than 60 percent of the area median income with four units restricted to households earning less than 30 percent of the area median income.
Supporting At-Risk Families
The county was particularly interested in supportive affordable housing targeted to families, and a needs study helped clarify that Cahill Place could best serve families who were experiencing homelessness at the time of referral or who were at risk of homelessness. Half the units are filled through referrals from the county's coordinated entry system, and the other half are filled through referrals from county child welfare programs.
Nancy Cashman, Center City Housing's executive director, notes that many of the children living at Cahill Place are under the age of 7. To ensure that these youth meet developmental milestones, Center City Housing offers an onsite Tots program, which serves children from newborns to age 6. Children living in families experiencing homelessness often are deprived of early learning opportunities that lay the foundation for future educational success. One of Center City's core approaches, says Cashman, is adopting a "two generation" approach to breaking the cycle of homelessness. Many adults living at Cahill, Cashman notes, experienced homelessness for the first time themselves while they were young.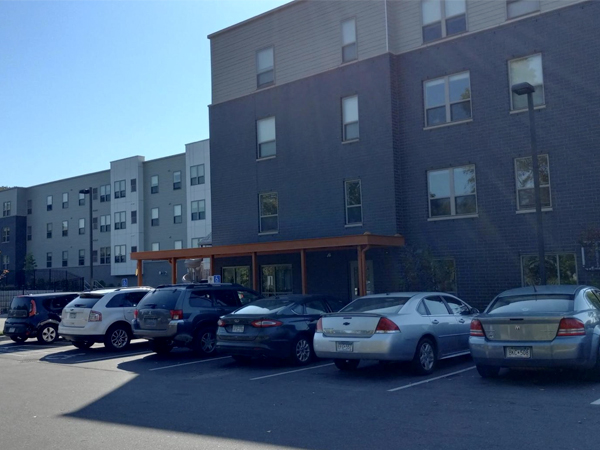 Center City Housing works on a "two-generation" model to provide supportive services to adults and children to help break the intergenerational cycle of homelessness. Many adults living at Cahill Place also experienced homelessness in their youth. Photo credit: Center City Housing
Center City Housing has a low ratio of case managers to residents; the case managers use a trauma-informed model to connect families to external services and help them remain in stable housing, which many residents have struggled with in the past. Case workers offer parenting classes and help families establish ties to local schools, working in conjunction with educators to help meet children's needs. The developer provides residents with transportation services to help families reach appointments on time and facilitate grocery shopping. At the church next door, residents can access free meals and addiction recovery services.
Missions of Service
For both the developer and the church, Cahill Place helps fulfill deeply held missions of service. As part of its spiritual work in the community, River Heights Vineyard Church provided the land for Cahill Place. The Metropolitan Interfaith Council on Affordable Housing, which has campaigned to increase affordable housing development in the Twin Cities metropolitan area, helped coordinate meetings among church leaders, the county, and the county CDA. Long a developer and manager of affordable housing in the area, Center City Housing has, for the past 15 years, focused strongly on creating permanent supportive housing as its niche. Center City Housing and its partners are giving families the support they need to remain housed and children the support they need to thrive.