Redevelopment of County Office Space Includes New Affordable Housing Units in Austin, Texas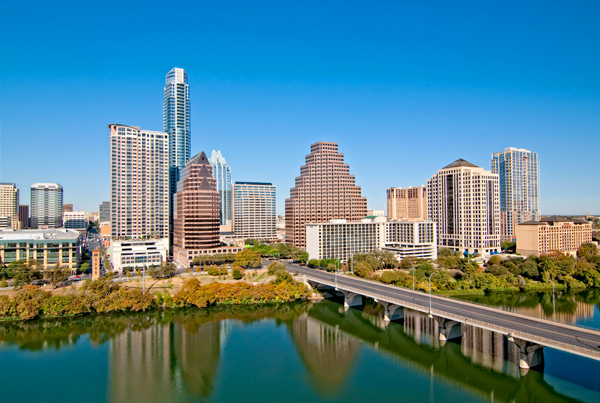 In executing a master plan that upgrades and relocates county offices, Travis County commissioned Travis Flats to provide affordable housing for Austin residents at risk of displacement. Photo credit: Randall Stevens
In 2016, Travis County partnered with developer DMA Companies to construct Travis Flats, an affordable housing development located within the boundaries of multiple revitalization plans commissioned by the county and the city of Austin, Texas. The county purchased the 3-acre site as part of its North Campus Redevelopment Project, a master plan relocating, expanding, and improving public service offices while increasing affordable housing in the area. Opened in 2021, Travis Flats is also catalyzing the redevelopment of Airport Boulevard, a major corridor characterized by underutilized properties, disinvestment, and aged housing stock. The 146-unit project provides housing to families likely to be ousted because of gentrification and serves as a new urban core providing access to public transit and shared community spaces for the neighborhood.
Travis Flats
Travis Flats consists of 146 studios and one-, two- and three-bedroom apartments, of which 24 are market-rate units and 122 are designated for people earning at or below 60 percent of the area median income (AMI). Of the low-income units, 13 are capped at 30 percent of AMI, 49 are capped at 50 percent of AMI, and 60 are capped at 60 percent of AMI. The market-rate units are affordable to families who do not meet the requirements of the low-income units but are still vulnerable to the city's rising housing costs. All apartments have 9-foot ceilings, a full appliance package, and energy-efficient features. Residents have access to a fitness center with a yoga studio, community room, media lounge, business center, and café.
DMA Companies' onsite service coordinator works with the developer's regional manager and vice president to determine the services residents can receive. These services include facilitating social activities such as potluck suppers, dances, volunteer work, and tours to special events. The coordinator assists residents with specific needs, such as locating attendant care, legal services, and health screening through partnerships with local organizations. Exterior amenities include a landscaped paseo, a courtyard, and a 338-space parking garage. The parking garage is also for visitors and employees of the county office building located on the same parcel. In addition to providing retail space, project partner Southwest Strategies Group developed the three-story building to house public services offices that include health and human services, passport and jury services, and veterans' affairs.
The county saw many advantages to transforming the county-owned parking lot into shared space for offices and affordable housing. Leasing the land to DMA Companies served as an alternative method for financing the expansion and improvements of the county offices. In addition, using government-owned land was key to lowering project costs to create the affordable housing. Other support from the county included a letter from a judge to the Texas Department of Housing and Community Affairs successfully conveying that the development was in a revitalization area — a claim that previously was rejected when the developer first applied for 9 percent low-income housing tax credits. Other forms of public support included a community development block grant in 2018 and acceptance into the SMART housing program, which grants fee waivers for development permits in exchange for providing income-restricted housing.
Revitalization Plans
The county's decision to add affordable housing to the North Campus Redevelopment Project also builds on other planning efforts for the area. The city's comprehensive plan, Imagine Austin, requires new mixed-use projects to locate affordable housing near job centers and public transportation. In keeping with this goal, Travis Flats is located within a quarter mile of a high-frequency transit stop and targets the nearby workforce. This population includes 59 percent of county employees who earn less than $50,000 annually, in addition to employees of nearby restaurants and retailers. The city also designates the area as a Neighborhood Urban Center, requiring the developers to include community-requested shared spaces and increase accessibility throughout the campus. For example, the paseo is accessible from the shared parking garage and the office building lobby, and it connects the campus to adjacent county parking lots north of the development and 53 ½ Street south of the development.
An Antidisplacement Model
City officials are concerned about displacement that could accompany redevelopment. The city recently completed Project Connect, a comprehensive transit plan that includes an antidisplacement initiative for vulnerable populations. The plan identifies five indicators of vulnerability to displacement — a high percentage of communities of color, low-income residents, children experiencing poverty, renters, and residents with educational attainment below the bachelor's degree level — and designates a community's risk for displacement as experiencing "chronic displacement," "active displacement," or "vulnerability to displacement." Travis Flats is located in a vulnerable area, which, unlike the other two categories, is not experiencing demographic changes alongside the high property values and appreciation rates. Officials point to the use of publicly owned land in the development of Travis Flats as a scalable model for the rest of the city. Duplicating the financing strategy of Travis Flats, the city will use some of the $300 million Project Connect antidisplacement fund to acquire land for equitable development in other vulnerable neighborhoods.