Denver Community Center Offers Surplus Land for Affordable Housing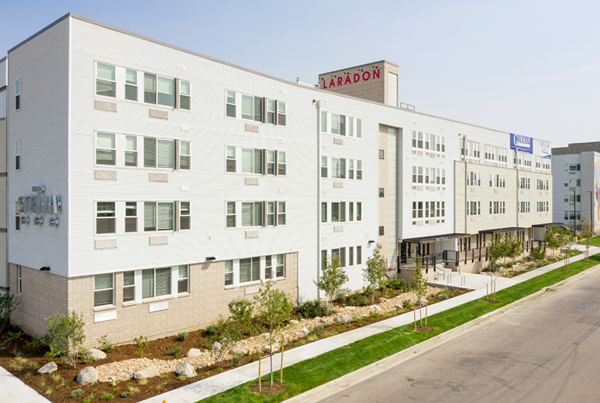 The Stella serves individuals and families who earn between 30 and 60 percent of the area median income (AMI). Sixteen of the units are specifically reserved for residents with an intellectual and development disability who can easily access support services at the adjoining Laradon campus. Photo credit: Matthew Staver
People with intellectual and developmental disabilities (IDDs), many of whom have very low incomes, tend to have difficulty finding safe and affordable housing. Much of this difficulty is due to the discrimination these individuals experience in the housing market, which often forces them to live in institutions or other segregated settings. Although the Fair Housing Act, as amended in 1988, formally prohibits such discrimination, a 2017 HUD sponsored study found that landlords were significantly less likely to advertise to or respond to inquiries from prospective residents who have an intellectual or developmental disability. Laradon Hall, a Denver-based nonprofit service provider for people with IDDs, wanted to support the production of more affordable housing for the population it serves and for the broader Denver community, which is currently experiencing a shortage of roughly 50,000 units for households earning less than 60 percent of the area median income (AMI). In 2018, Laradon partnered with local developer Gorman and Company, which, through a 99-year ground lease, developed affordable housing on surplus land the organization owned adjacent to its main campus. According to Kimball Crangle, Gorman's Colorado market president, Gorman was "thrilled to hear the vision of an inclusive housing community with services literally in the building and at the Laradon campus next door." The first phase of the development, the Elisabetta, opened in 2019 and the second phase, the Stella, opened in 2022. The Stella's apartments range from one to four bedrooms, with most having two or three bedrooms. All of the units are affordable to individuals and families making 80 percent of AMI or below. Some are reserved specifically for people with an IDD. Through Gorman's partnerships with Laradon and other providers, residents have access to several wraparound services. The Stella provides a safe and stable environment for 132 households, many of whom have limited housing alternatives.
Bringing Housing to Laradon's Campus
Laradon Hall's campus serves people with various conditions including autism, Down syndrome, and anxiety disorders. The Stella, which was built on the campus opposite the Elisabetta, cost approximately $42.3 million. The project received $3.5 million from Denver's Affordable Housing Fund, which was established in 2016 as the city's first revenue stream dedicated specifically for affordable housing. The fund is supported from a one-time fee on new commercial and residential development as well as property tax revenue. Additional funding for the project came from low-income housing tax credit equity, the state of Colorado, the Denver Housing Authority, and private loans.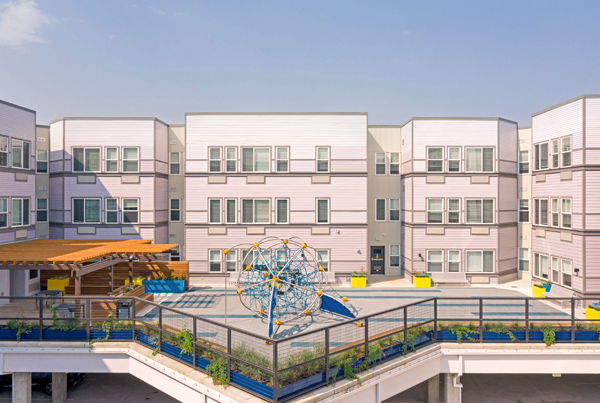 The Stella has an outdoor playground and seating area on the second floor. Photo credit: Matthew Staver
The Stella, along with its sister development, incorporates principles of trauma-informed design, meaning that its design focuses on preserving residents' privacy and security. Sixteen of the 132 units are reserved for residents with an IDD who earn up to 30 percent of AMI. These residents, some of whom had previously experienced homelessness, are chosen by Laradon or OneHome, the city's coordinated entry system. (Denver's homelessness crisis has worsened in recent years; as of January 2022, nearly 7,000 people in the metropolitan area were experiencing homelessness, an increase of roughly 13 percent from 2020.) An additional 97 apartments are reserved for households earning up to 60 percent of AMI, and the remainder are set aside for those who make up to 80 percent of AMI. A 60-year city covenant protects the development's affordability. The Stella has a playground, bike storage space, and a pet washing station. The development is in the city's Globeville neighborhood, which is approximately 3 miles north of downtown Denver and is near several commercial outlets.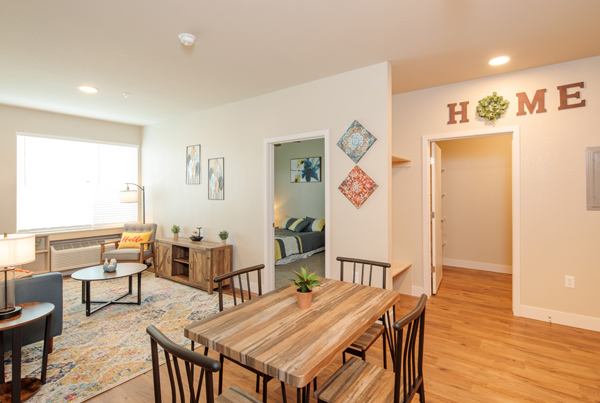 Most of The Stella's 132 apartments have two or three bedrooms, though there are some one- and four-bedroom units. Photo credit: Matthew Staver
Services for Residents
Residents of the 16 units can readily access the individualized support services provided at the Laradon Hall campus, which serves the entire area. The state supports the residents who use these services, and they have easy access to programs such as Laradon's Career Center, which offers classes on building résumés, searching and applying for jobs, preparing for interviews, and more. Laradon staff members also help clients overcome behavioral and psychological barriers and assist with daily living and social skills development. In addition, Laradon personnel often help clients with serious and chronic medical conditions. The campus offers group events and activities such as music, arts and crafts, light exercise, and games, and staff sometimes accompany participants on community outings. Meanwhile, Gorman has other partners who provide additional services to residents.
Serving a Community
The Stella helps the city further its goal of creating more affordable housing for low- and moderate-income residents and helps to address a growing homelessness crisis. Significantly, the Stella also provides affordable housing and close access to services for people with IDDs, a vulnerable population that, due to lower incomes and discrimination from landlords, sellers, or real estate brokers, often experiences difficulty finding housing. Building on this precedent, Laradon also plans to construct more units for residents with IDDs on nearby land owned by the Denver Housing Authority.
American Association on Intellectual and Developmental Disabilities. n.d. "Housing." Accessed 13 October 2022; Housing Opportunities Made Equal of Virginia. n.d. "Disability." Accessed 13 October 2022; Donna Bryson. 2019. "The First Phase of an Affordable Housing Complex on Laradon land in Globeville is about to Open Up to Tenants," Colorado Public Radio, 8 November. Accessed 11 October 2022; Kyle Harris. 2022. "A Developer on Denver's Housing Crisis: 'There Are Never Going to be Enough Resources to Solve This in the Ways that We've Been Trying to Solve It," Colorado Public Radio, 17 March. Accessed 11 October 2022; Correspondence with Kimball Crangle, Colorado market president, Gorman and Company, 9 September 2022; Nicole Tschetter. 2022. "Globeville Neighborhood Celebrates the Grand Opening of the Stella, the Second Affordable Housing Project in the Community," The Denver Post, 19 March. Accessed 11 October 2022; Document provided by Derek Woodbury, communications director, Department of Housing Stability, city and county of Denver; Affordable Housing Finance. 2022. "The Stella Creates Affordable Housing Opportunities in Denver," 18 March. Accessed 11 October 2022.
x
The Creative Company. 2022. "Elisabetta and Stella Projects Awarded 'Developments of Distinction' by Novogradac," Newswires, 23 September. Accessed 12 October 2022; Affordable Housing Finance. 2022. "The Stella Creates Affordable Housing Opportunities in Denver," 18 March. Accessed 11 October 2022; Correspondence with Kimball Crangle, Colorado market president, Gorman and Company, 9 September 2022; Óscar Contreras. 2022. "The Number of Unhoused People on a Given Night in the Denver Metro Grew by 13% in 2022, Data Shows," Denver 7, 22 July. Accessed 13 October 2022; Document provided by Derek Woodbury, communications director, Department of Housing Stability, city and county of Denver; Nicole Tschetter. 2022. "Globeville Neighborhood Celebrates the Grand Opening of the Stella, the Second Affordable Housing Project in the Community," The Denver Post, 19 March. Accessed 11 October 2022
x