Affordable Transit-Oriented Housing for Seniors in Pittsburgh Helps Community Revitalization Effort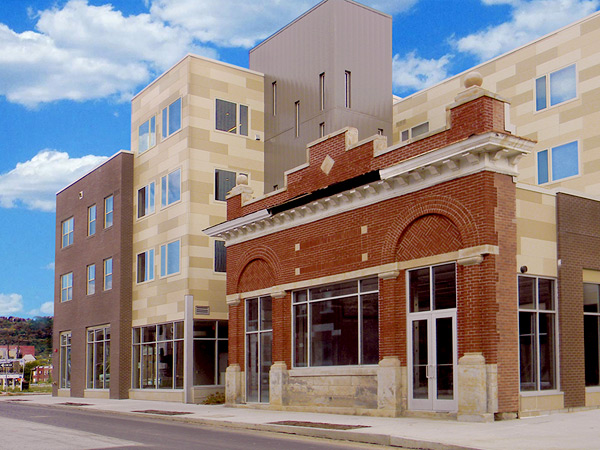 Homewood Station Senior Apartments brings a number of benefits to the Homewood neighborhood of Pittsburgh. In addition to providing seniors with affordable housing options close to public transit, the developers worked to preserve the façade of an historic post office. Credit: Mark Grasso, Oxford Development Company
In the northeast corner of Pittsburgh, Homewood Station Senior Apartments is helping the city realize its vision for community development in the struggling but promising Homewood neighborhood. Homewood consists of a dense fabric of detatched homes and row houses surrounding a mixed-use commercial and industrial core. Homewood is one of Pittsburgh's historic, once economically robust African-American neighborhoods, yet population decline has led to significant vacancy and underutilization of land and buildings. To address the neighborhood's scars of neglect, Homewood Station adds 41 units of affordable housing for seniors aged 55 and older. The project required close partnerships between the developer, community groups, and local government, and adds more value to the neighborhood than just providing housing. The development of Homewood Station entailed remediating environmental pollution from the gas station once located at the site, and a century-old former post office was preserved by integrating the historic façade into the structure of the new building. Although Homewood Station is valuable for the affordable, high-quality homes it provides to neighborhood seniors, the development also demonstrates how low-income housing tax credit (LIHTC) projects can be important components of comprehensive strategies for community revitalization and investment.
Project Details
The project contains a mix of 29 one-bedroom and 12 two-bedroom units. Because accessibility can become a concern as seniors age, six of Homewood Station's units are built to be wheelchair accessible, two units are designed to accommodate residents with hearing or vision impairments, and all units can be adapted to accommodate changing accessibility needs and promote aging in place. Maintaining robust social connections can be an important aspect of healthy aging, and Homewood Station features numerous shared spaces, including a nearly 700-square-foot community room, a large sitting room, and a communal kitchenette. Additional space is dedicated to the provision of services, including some offered through a partnership with Operation Better Block.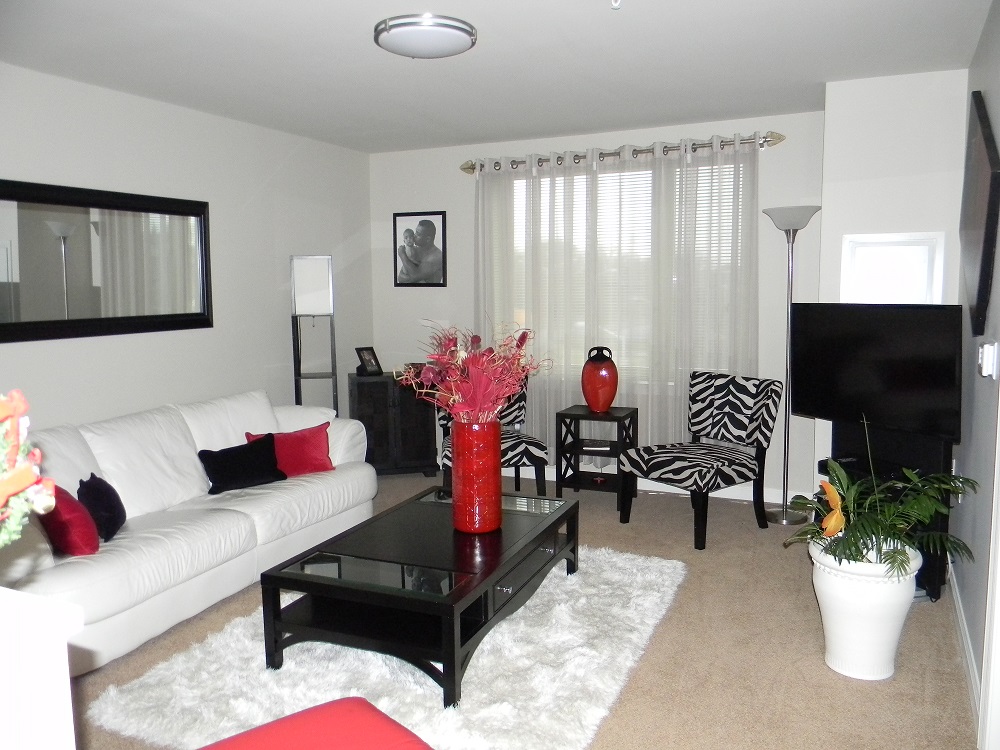 The living room in one of the units. The development contains 29 one-bedroom and 12 two-bedroom units, all of which are adaptable to accommodate changing accessibility needs. Credit: Mark Grasso, Oxford Development Company
The project was financed primarily through $10.5 million in equity raised from the sale of LIHTCs. Additional grant support included $317,000 from the Urban Redevelopment Authority of Pittsburgh, $350,000 from the Pennsylvania Department of Community and Economic Development, and $80,000 from the U.S. Environmental Protection Agency's Brownfields Program, which remediated soil contaminated by the site's former gas station. Eligible renters must earn no more than 60 percent of the area median income (AMI), with most units further restricted to seniors earning no more than 50 percent of AMI.
Vanguard of Community Development
According to the developer, Oxford Development Company, seniors can be particularly engaged in their neighborhoods. Because seniors have lower rates of turnover than do members of younger demographics, and often have a history with the neighborhood, they help promote stability and social cohesion, keeping the community safe. Homewood Station is a strategic early step in a long-term redevelopment effort articulated in the "Bridging the Busway" development plan. The plan was drafted through an inclusive process in which the idea of building affordable senior housing in Homewood first found expression.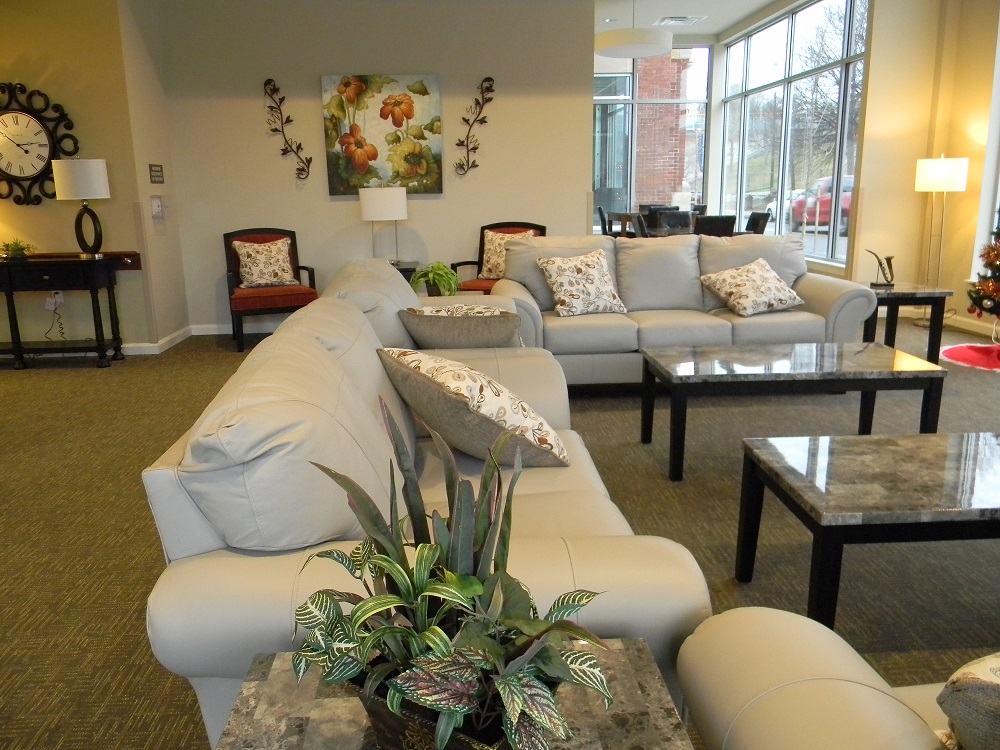 Maintaining an active social life is an important part of healthy aging. Homewood Station contains a number of communal spaces, including this lounge area. Credit: Mark Grasso, Oxford Development Company
"Bridging the Busway" is the community's vision for itself. During the neighborhood's peak in the 1960s, more than 30,000 people lived in Homewood. Today, Homewood's population has declined to approximately one-fifth of its former size. Ongoing challenges include a childhood poverty rate double the city average and a high vacancy rate: half of Homewood's parcels and 23 percent of its residential addresses were vacant as of 2016. However, numerous neighborhood assets make Homewood a promising candidate for sustained development efforts. Homewood retains significant legacy infrastructure, including a YMCA, YWCA, health center, a branch of the Carnegie Library of Pittsburgh, and the Afro American Music Institute. Public transit is provided through a nearby stop on the Martin Luther King Jr. East Busway, a dedicated bus rapid transit system in operation since 1983 that connects residents to nearby shopping districts and downtown Pittsburgh. The more prosperous and opportunity-rich Point Breeze neighborhood, located immediately on the other side of the Busway, offers the potential for beneficial spillover effects. Finally, longstanding community organizations such as Operation Better Block have helped nurture a tradition of civic engagement.
When part of a larger strategy for community development, LIHTC projects pay dividends beyond the provision of affordable housing. In the case of Homewood Station, the project's location adjacent to the Busway stop is activating connections to Point Breeze while rehabilitating an important corridor in Homewood. Convenient access to transit also lowers residents' reliance on privately owned automobiles. LIHTC projects also provide direct economic benefits. Oxford Development Company worked with the Community Empowerment Association, a local nonprofit organization, to reach out to locally owned businesses to help recruit Oxford's workforce for the Homewood Station apartments, exceeding the developer's project goals for hiring local residents. For Oxford's current undertaking — a scattered-site affordable housing project in Homewood transforming 33 vacant or abandoned properties into 36 new units of two- and three-bedroom housing — the company has hired a workforce that is 47 percent local or minority employees. Finally, with the help of community partners, early engagement helped advertise the development locally to encourage longtime Homewood residents to apply for housing. Homewood Station, born out of an inclusive and visionary planning process, is already leaving a legacy that goes well beyond the housing it provides.
Source:
Urban Redevelopment Authority of Pittsburgh. n.d. "Homewood Station Senior Housing." Pittsburgh Urban Redevelopment Authority. Accessed 5 October 2018; Interview with Ben Kelley, development manager at Oxford Development Company, 27 September 2018.
×
Source:
Urban Redevelopment Authority of Pittsburgh. n.d. "Homewood Station Senior Housing." Accessed 5 October 2018; Interview with Ben Kelley, development manager at Oxford Development Company, 27 September 2018.
×