The Burnham's Affordable Senior Housing Helps Revitalize Chicago's Woodlawn Neighborhood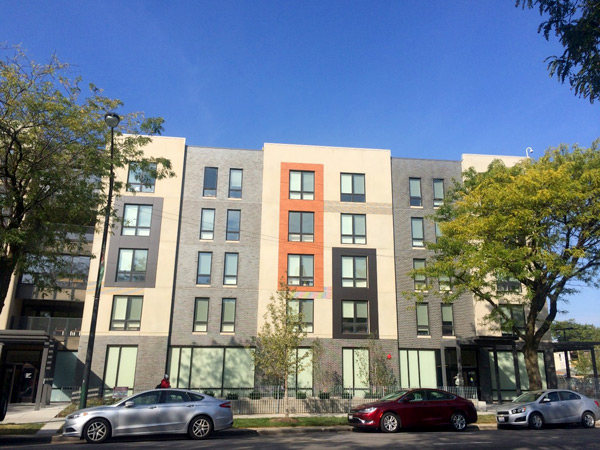 The Burnham, part the Woodlawn Park revitalization project in Chicago, offers 65 affordable units for low-income seniors aged 62 years or older. Credit: POAH
Woodlawn Park is a multiphased, mixed-use, mixed-income revitalization project being developed in the Woodlawn neighborhood of Chicago, and The Burnham at Woodlawn Park is the most recently completed residential phase of the project. Along with the other phases of Woodlawn Park, the 65-unit apartment building for low-income seniors was developed by the national nonprofit Preservation of Affordable Housing (POAH) using a $30.5 million Choice Neighborhoods Implementation Grant awarded by HUD in 2011. Replacing Grove Parc Plaza Apartments, a distressed Section 8 development constructed in the 1960s, Woodlawn Park is one of several redevelopment efforts in the neighborhood attempting to reverse its concentrated poverty, vacancy, crime, unemployment, and poor school performance.
The Woodlawn Neighborhood
Despite disinvestment and population loss, the Woodlawn neighborhood has many strengths. The neighborhood is located near the city's lakefront and the University of Chicago and, since the 1990s, has seen a resurgence of strong community leadership through organizations such as the Network of Woodlawn, Woodlawn Public Safety Alliance, and Woodlawn East Community and Neighbors, as well as two churches. The Chicago office of Local Initiatives Support Corporation (LISC Chicago) has also partnered with the community to help Woodlawn attract resources.
In addition, LISC Chicago assisted Woodlawn residents and other stakeholders with developing a quality-of-life plan for Woodlawn in 2005. Building on this plan, concerned residents of Woodlawn asked POAH in 2008 to replace Grove Parc Plaza with new, safe affordable housing. POAH purchased the property and held several public meetings to develop a master plan for the 12-acre site. In 2011, POAH and the city of Chicago successfully applied for a HUD Choice Neighborhoods Implementation Grant. The applicants partnered with LISC Chicago, the Chicago Community Loan Fund, the state of Illinois, the University of Chicago, and other stakeholders to redevelop Grove Parc Plaza and revitalize the Woodlawn neighborhood. The multiphase master plan to transform Grove Parc Plaza into Woodlawn Park involves replacing the original 504 affordable units with 995 mixed-income units. In the first phase of the Woodlawn Park revitalization, POAH constructed The Jackson, a 67-unit mixed-income development that opened in 2011. In the second phase, POAH constructed The Grant, a 33-unit mixed-income building that opened in 2013.
The Burnham
Woodlawn Park's third phase, The Burnham, opened in 2015 to provide 65 affordable apartments for low-income seniors aged 62 years and older. The Burnham includes 60 one-bedroom units and 5 two-bedroom units as well as a lounge, fitness center, activity room, and patio. Each of the 5-story building's residential floors includes storage and laundry rooms, and the first floor contains the 10,000-square-foot Woodlawn Resource Center, which provides meeting and computer rooms and offers services such as career training, job placement, and financial literacy. SGA Youth and Family Services staff provide onsite counseling, case management, and mental health services to low-income residents of Woodlawn Park.
The Burnham is designed to meet the Leadership in Energy and Environmental Design standards for Gold certification. The site features a community garden and permeable paving that help manage stormwater, and the building includes 122 photovoltaic panels and 18 solar thermal panels that are projected to offset more than 50 percent of the energy needed to heat water and almost 20 percent of the building's total daily electric demand. Individual units feature paints and adhesives that emit low levels of volatile organic compounds, water-efficient fixtures, energy-efficient lighting, and ENERGY STAR®-certified appliances.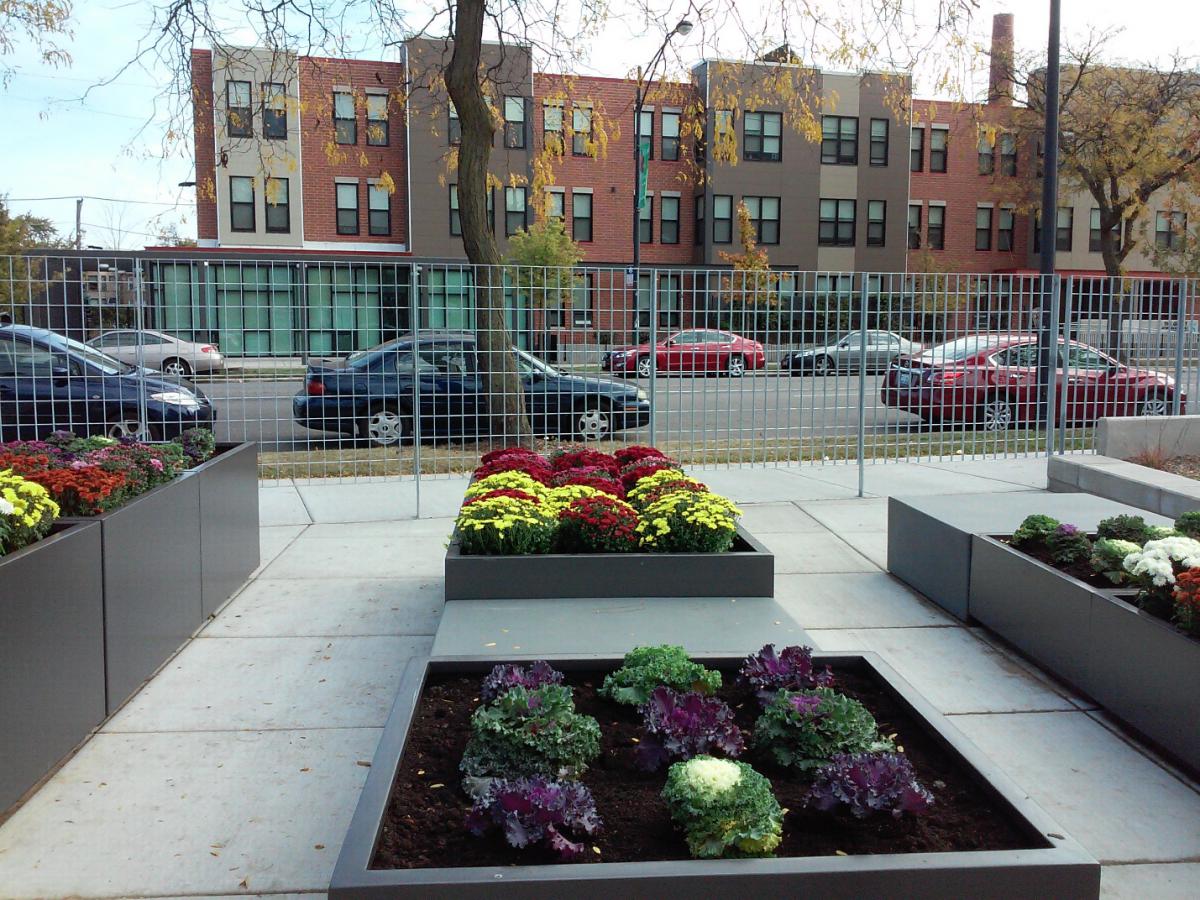 The Burnham shares a parking lot and garden space with the MetroSquash Academic & Squash Center, another phase of the Woodlawn Park project. Credit: POAH
Financing
Permanent financing for the $24.3 million Burnham development included $14.4 million in equity from JPMorgan Chase in exchange for low-income housing tax credits from the city of Chicago's Department of Planning and Development (DPD). JPMorgan Chase also provided the project's $1 million first mortgage. Other funding sources included DPD's HOME Investment Partnerships Program, the state Clean Energy Community Foundation, and the state Department of Commerce and Economic Opportunity.
In addition, The Burnham received a $5.1 million loan from the Choice Neighborhoods Initiative grant award, the first such loan to close for a private development in the country. According to Bill Eager, vice president of POAH's Chicago office, the grant has been crucial for the Woodlawn Park redevelopment project. The grant not only funded the loan for The Burnham but also has accelerated the pace of development and funded job training, case management, crime reduction, and education services.
Next Steps and Signs of Revitalization
Within a few months of opening, The Burnham's 65 affordable units were completely leased. Woodlawn Park's fourth phase, the MetroSquash Academic & Squash Center was completed in 2015 on land donated by POAH. The nonprofit organization MetroSquash developed the center as a place to exercise and provide tutoring, college preparation assistance, mentoring, and a place to play squash for low-income neighborhood youth in grades 5 through 12.
As part of the Choice Neighborhoods implementation, POAH has committed to replacing all of Grove Parc Plaza's 504 project-based voucher units with the 378 units in Woodlawn Park and 126 in the Woodlawn neighborhood and other nearby neighborhoods by 2017; all of these project-based voucher units are covered by a Housing Assistance Payment contract with HUD. The next phases constructed under the grant will include additional market-rate units to help promote mixed-income housing. Trianon Lofts, the fifth phase and POAH's first development with predominantly market-rate rentals in Chicago, is under construction. Trianon Lofts will also include ground-floor retail space. Construction of a sixth phase, the mixed-income, mixed-use Woodlawn Station, is expected to begin in late 2016. As of October 2016, POAH has also rehabilitated 22 vacant and distressed apartment buildings in the Woodlawn neighborhood, such as the 13 buildings at The Washington and Renaissance Apartments, and the nonprofit plans to continue this community redevelopment work.
After the Choice Neighborhoods Implementation Grant concludes in 2017, POAH plans to continue its redevelopment work in the Woodlawn neighborhood. This future work, which could be completed as early as 2019, will include a grocery store and homeownership units. To ensure that all the revitalization efforts integrate feedback from neighborhood residents, POAH sits on the board of the Network of Woodlawn, an umbrella community organization, and continues to meet with local community groups.
In addition to the first four phases of Woodlawn Park and other community efforts, the Woodlawn neighborhood has experienced many positive changes. According to Eager, violent crime is down by 45 percent, which has had a noticeable effect on the level of pedestrian activity on Cottage Street, the neighborhood's primary commercial street. Eager also cites an increase in home sales and interest by retailers as evidence of the positive economic and community impact of projects that have been completed or are underway. One project nearing completion is a new charter school campus near Woodlawn Park to be managed by the University of Chicago. In addition, President Obama's Presidential Library is planned to be built at the eastern edge of Woodlawn in Jackson Park.
Source:
Interview with Bill Eager, vice president, Preservation of Affordable Housing, Chicago office, 27 September 2016; Preservation of Affordable Housing. n.d. "The Burnham at Woodlawn Park." Accessed 15 September 2016; Gordon Walek. 2015. "The Burnham — Latest Development in Woodlawn Transformation," press release, 2 November. Accessed 5 October 2016; City of Chicago Department of Planning and Development. 2015. "2014 Project Highlights," 29. Accessed 5 October 2016; JPMorgan Chase. 2015. "Commitment to Affordable Housing: Burnham at Woodlawn Park – Chicago, IL," In the Community: Community Development Newsletter 17, 4.
×
Source:
Interview with Bill Eager, 27 September 2016; Preservation of Affordable Housing. n.d. "The Burnham at Woodlawn Park." Accessed 15 September 2016.
×
Source:
Interview with Bill Eager, 27 September 2016.
×
Source:
Interview with Bill Eager, 27 September 2016.
×