Permanent Supportive Housing Created Within 3 Months of Extended Stay Hotel Acquisition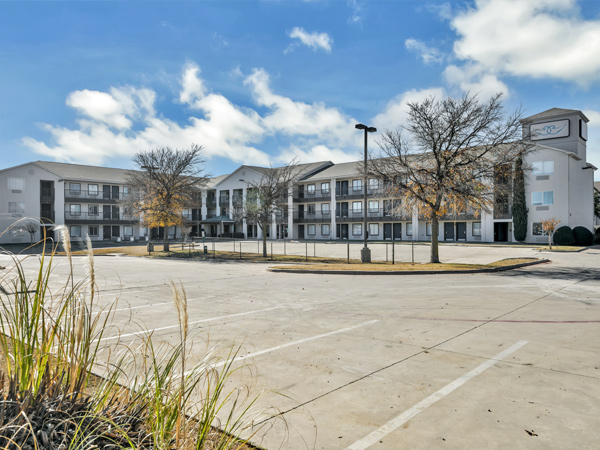 Casa de Esperanza is the largest permanent supportive housing property in Fort Worth, Texas, serving individuals who have experienced chronic homelessness and are vulnerable to COVID-19. Photo courtesy of Fort Worth Housing Solutions.
The COVID-19 pandemic exacerbated homelessness in many cities, requiring the rapid expansion of permanent supportive housing for individuals and families. Fort Worth, Texas, relied on agencies within the city's continuum of care network to innovatively address homelessness in the city. Among these agencies was Fort Worth Housing Solutions (FWHS), a housing service provider that previously had considered the hotel-to-permanent-housing model in discussions with development partner Ojala Holdings. However, it was not until the pandemic, which led to a vulnerable hospitality industry, the availability of COVID relief funding, and an urgent need for more permanent housing, that the developer reapproached FWHS to implement the model. In August 2020, FWHS and Ojala Holding's proposal of Casa de Esperanza, a redevelopment of an extended stay hotel into permanent supportive housing, won a request for proposal by the city to receive Coronavirus Aid, Relief, and Economic Security (CARES) Act funding under the Coronavirus Relief Fund. Supported by partnerships with the city and other local organizations, Casa de Esperanza opened within 3 months of property acquisition to provide housing to individuals that were experiencing chronic homelessness and vulnerable to COVID-19.
Extended Stay Hotel to Permanent Supportive Housing
City officials and advocates urged Ojala Holdings to search for existing hotels near transit corridors. That search resulted in a list of more than 150 properties within the city limits that were evaluated based on their location, proximity to transit, and potential to house onsite services such as case management and medical care. FWHS and the developer ultimately selected a Home Towne Suites extended stay hotel for conversion into Casa de Esperanza because it met these criteria, was far enough from neighboring single-family residences to limit NIMBY resistance, and its units were only lightly distressed.
At the end of September 2020, FWHS received $9.25 million in CARES Act funds to acquire and rehabilitate the property. Project-based vouchers cover rent, utilities, and other operational expenses for all units.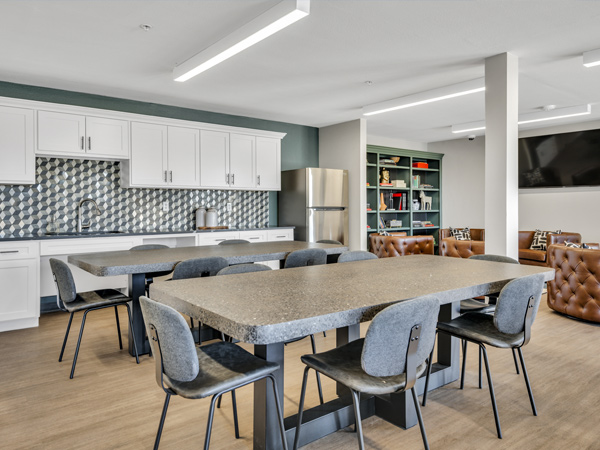 The developer repurposed and consolidated five units of the extended stay hotel to create a community lounge area for new residents. Photo courtesy of Fort Worth Housing Solutions.
Acquisition to Full Occupancy in 3 Months
The agency closed on the property October 1, 2020, and because CARES Act funding required that FWHS use all funds by December 31 of that year, the developer had just 12 weeks to acquire, renovate, and fully lease Casa de Esperanza. The renovation consisted of repainting and replacing all furniture and appliances in 119 efficiency units and a one-bedroom manager's unit. The room upgrades included a full-size bed, television, refrigerator, and microwave. On moving in, residents received a welcome basket of sheets, towels, dishes, and other items to help acclimate them to stable housing.
Amenities include a community garden; a dog park; free laundry facilities; and a community lounge, which the developer created by demolishing five residential units. In addition, a 2,000-square-foot laundry space was converted into a break room and five offices for onsite, full-time management staffed by local service providers. Presbyterian Night Shelter provides case management for all residents, and My Health My Resources of Tarrant County provides case management for residents with mental health and substance abuse issues. JPS Health Network connects residents with specialty clinics or at-home medical care, offering additional support to residents vulnerable to COVID-19.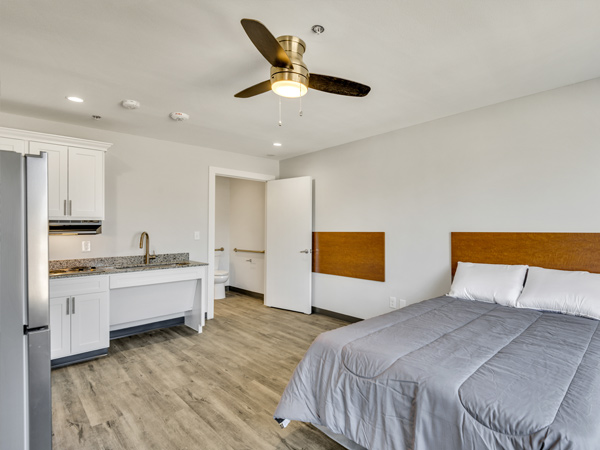 Residents of Casa de Esperanza live in studios that come fully equipped with appliances and furniture as they adjust to and maintain housing stability. Photo courtesy of Fort Worth Housing Solutions.
Concurrent with renovations was the relocation of existing residents of the hotel, which was 75 percent occupied at the time of acquisition. Many of these residents had resorted to extended stay hotels for permanent housing after facing rental housing barriers such as background checks and security deposits, so FWHS needed to find them safe, alternative housing. FWHS used the Uniform Relocation Assistance and Real Property Acquisition Policies Act of 1970 to calculate the amount of assistance and counseling needed to successfully relocate all residents. As renovated units became available, Tarrant County Homeless Coalition's street outreach teams located the most vulnerable residents on the coordinated entry list to move in. Residents on this list either experienced homelessness for at least 12 consecutive months or were at increased risk of becoming severely ill from COVID-19 due to health status or age. Half of the residents came from encampments, and the other half came from shelters. The first residents moved in at the end of November, and a month later, all units were leased. The property has a 95 percent retention rate that Mary-Margaret Lemons, president of FWHS, attributes to the eight case managers who offer one-on-one meetings and facilitate group activities such as art therapy.
Lemons also notes that support from the city and local organizations led to the project's success despite the time constraint. The city fast-tracked processes pertaining to building inspection and legalities. DRC Solutions was another partner who helped locate residents on the move-in list. Presbyterian Night Shelter originally applied for the CARES Act funding, but after speaking with Lemons, the executive director of the shelter agreed to support the Casa de Esperanza project instead. As the largest permanent supportive housing project in Fort Worth, Casa de Esperanza exemplifies how multiagency collaboration can lead to a victory for the entire community.
Source:
Correspondence with Kristin Sullivan, communications manager, Fort Worth Housing Solutions, 25 October 2021; Interview with Mary-Margaret Lemons, president, Fort Worth Housing Solutions, 26 October 2021. ×
Source:
Interview with Mary-Margaret Lemons, president, Fort Worth Housing Solutions, 26 October 2021; Fort Worth Housing Solutions. 2021. "Casa de Esperanza." Accessed 8 November 2021. ×
Source:
Casa de Esperanza. n.d. "Amenities." Accessed 17 October 2021; Interview with Mary-Margaret Lemons, president, Fort Worth Housing Solutions, 26 October 2021; Fort Worth Housing Solutions. 2021. "Casa de Esperanza." Accessed 8 November 2021. ×
Source:
Interview with Mary-Margaret Lemons, 26 October 2021; Correspondence with Kristin Sullivan, communications manager, Fort Worth Housing Solutions, 25 October 2021. ×
Source:
Interview with Mary-Margaret Lemons, 26 October 2021; DRC Solutions. 2021. "DRC Solutions," Facebook post, 14 January. Accessed 15 November 2021; Correspondence with Kristin Sullivan, communications manager, Fort Worth Housing Solutions, 25 October 2021. ×