HUD's Role in U.S. Climate Action Agenda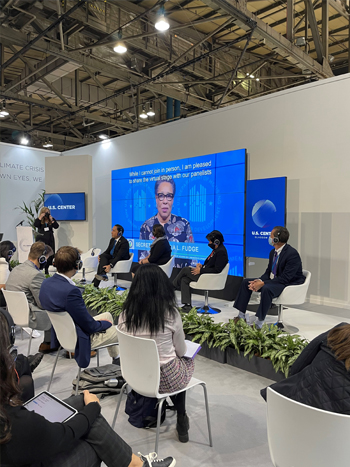 HUD Secretary Marcia Fudge addresses a session at the United Nations Council of the Parties conference (COP26). Photo credit: Cynthia Campbell
Crystal Bergemann and Chris Narducci discuss the 2021 United Nations Council of the Parties conference on climate change.
At November's highly anticipated United Nations Council of the Parties conference (COP26), a delegation from HUD joined world leaders, ambassadors, experts, scientists, activists, and the media in Glasgow, Scotland, for the annual meeting focused on preventing dangerous changes to the environment. This year, perhaps more than any previous year, a great deal is at stake as governments meet to update and strengthen their commitments to reducing greenhouse gas emissions and supporting adaptation to the extreme changes already affecting the planet. New scientific evidence predicts dire consequences from inaction, showing an acceleration of more frequent and intense weather events and extreme temperatures.
The United States, under the Biden administration, has made climate change action a top priority. Much work remains to be done to set the planet on a more sustainable path toward clean energy and to build resilience to the changes that have already begun. Families nationwide are already experiencing the impacts of climate change in their daily lives: one in three Americans experienced a climate-related natural disaster this summer, such as hurricanes, fires, extreme heat, or flooding. In 2021 alone, the United States has already experienced 18 disaster events with losses exceeding $1 billion. Through several executive actions, the Biden administration has charged the federal government with developing strategies that support the reduction of greenhouse gas emissions, adaptation to the impacts of climate change, assessment of both direct and indirect climate risks, and consideration of inequities and disparate outcomes of environmental changes on vulnerable populations and underserved communities.
This multipronged approach is ambitious and enjoins HUD to play a critical role in implementing the administration's climate agenda because of its significant influence on how the nation's households and communities respond to the climate crisis. HUD assists millions of homeowners and rental housing properties through a range of programs, and it provides billions of dollars in disaster recovery and mitigation grants, serving as one of the nation's largest sources of mitigation funding. Further, HUD's mission to support the most vulnerable populations places it at the forefront of the administration's efforts to ensure that the Federal government invests equitably in underserved communities, particularly communities of color, in its response to climate change.
HUD's Climate Action Plan
As a first step toward enacting the administration's agenda, HUD has published a robust, cohesive, and agencywide Climate Action Plan that incorporates carbon reduction and environmental justice actions in addition to adaptation. Through the Climate Action Plan, HUD is committing to reducing the agency's energy and carbon footprint and putting our nation's communities on the path to building more equitable, efficient, and sustainable housing infrastructure. As a critical player in the Biden administration's climate agenda, HUD will take concrete steps to mitigate climate change, adapt to its impacts, and ensure equity across the disadvantaged communities it serves.
Mitigation
Help the nation meet its ambitious goal to reduce greenhouse gas emissions by cutting emissions in public, assisted, and Federal Housing Administration-insured housing.
Generate a full accounting of all utility consumption and expenditures across HUD's entire portfolio.
Strengthen green building standards and update minimum HUD new construction standards to align with established international energy codes, contingent on an affordability analysis.
Align incentives with energy-efficiency goals across HUD's programs.
Foster innovation and remove barriers to energy and water conservation across programs in partnership with the U.S. Department of Energy.
Adaptation
Update climate risk data to generate a complete and accurate picture of climate threats to HUD assets across its portfolios.
Engage in new studies to assess the efficacy of building efficiency codes and recovery programs and identify best practices in resilience.
Enhance mortgage financing procedures to reduce climate-related financial risk.
Update Community Development Block Grant–Disaster Resilience requirements to promote resilience and environmental justice.
Environmental Justice
Promote climate justice in Tribal communities and help them achieve safe, resilient housing and infrastructure.
Encourage equitable community planning and engagement with historically underserved communities by providing resources and technical support to communities with HUD assistance.
Revise the agency's environmental review policies to ensure consideration of climate-related hazards and health risks and environmental justice.
To implement the Climate Action Plan, HUD has established the Climate and Environmental Justice Council, which will be the main driver of HUD's climate work and our effort to embed environmental justice considerations into all that we do. HUD also has recently launched hud.gov/climate as the online hub for all of HUD's climate work; the site will be updated regularly with new information and progress reports.
COP26
Although world leaders made significant progress at the United Nations Climate Summit, by all accounts, that progress is not yet enough. Participating nations will reconvene in November 2022 for COP27 to further strengthen their climate commitments. Just as HUD's Climate Action Plan is a strong starting point for climate and resilience action at the agency, the Glasgow Climate Pact is a decisive step in the right direction toward limiting global warming to 1.5 degrees Celsius. HUD is proud to be part of this effort and will work in partnership with the communities we serve at every step to continue to make progress.