Prequel to PD&R
Kent Watkins, Chair and Chief Executive Officer, American Academy of Housing and Communities
The first column of the PD&R@50 series noted that in 1973, HUD Secretary James Lynn combined the two functions of policy development and research to create the Office of Policy Development and Research (PD&R). This article presents the condensed version of a very long story: a history of the offices that predated PD&R. It is also a story about the importance of HUD's archiving phone directories as a historical resource. Although I participated in some of the events discussed here, the phone books that I have scanned over the past 50 years have proven invaluable for filling in missing parts of the story.
In 1967, after completing my MPA at Harvard, I was in London serving as an assistant clerk in the House of Commons under an extended Ford Foundation Outstanding Congressional Staff Fellowship Grant. I received a call from the Johnson White House asking if I would be interested in joining the newly created Department of Housing and Urban Development as the staff assistant to Secretary Robert C. Weaver. I agreed, and from that point forward, the housing and urban development bug consumed the rest of my career! I served with Secretary Weaver until 1969, when I joined the private sector. Although I left HUD at the end of the Johnson administration, I maintained close communication with Secretary George Romney's team under President Nixon. To this day, I make a point of getting to know each subsequent generation of housing and urban development leaders and convening them regularly to discuss the history and future of the field.
When I arrived at HUD in 1967, the department had not yet moved to the new building, and the many agencies comprising HUD were still scattered in buildings throughout the city. Once all HUD personnel moved into the same building in 1968, I regularly invited the agency's leaders of the time to join me for lunch. Conversations with civil servants such as Henry Schechter, Mort Schussheim, Joe Burstein, Ab Silverman, Sol Ackerman, Carter McFarland, Tony Diamond, Marie McGuire, Bob McCabe, Dick Canavan, Mort Schomer, Ken Cavanaugh, Leigh Curry, Dick Langendorf, Dorn McGrath, Mort Leeds, and many others allowed me to tap into hundreds of years of aggregate experience and gave me substantial knowledge to inform my position in the Secretary's office.
Home and Housing Finance Agency (1947–1965)
The Home and Housing Finance Agency (HHFA) was a conglomeration of existing agencies: the Federal Housing Administration (founded in 1934), Public Housing Administration (founded in 1937), and Federal Home Loan Bank Board (split off in 1955); it added the Federal National Mortgage Association (Fannie Mae) in 1950, and the Community Facilities Administration and Urban Renewal Administration were added in 1954. The Federal Flood Indemnity Administration operated as a HHFA constituent unit from 1956 to 1957. HUD's library collection, which is part of PD&R today, includes reports, documents, and studies from all these agencies that date to the 1930s. The archived phone books and annual reports, as well as my memories, inform this history.
In the years before HUD was created, several offices and agencies within HHFA had research, data analysis, and other functions that eventually fell under the authority of PD&R:
Reporting directly to the HHFA Administrator was the Office of Program Policy, headed by Mort Schussheim. Divisions within this office included Housing Analysis, Urban Studies, Public Improvement and Urban Transportation Studies, and Research Development.

Reporting directly to the HHFA Administrator was the Office of International Housing, administered by Jim Moore. Divisions within this office included Economic Services, Technological Services, and Educational Services.

Within the Urban Renewal Administration was a Demonstration Program Branch, headed by Howard Cayton, and a Program Data and Evaluation Branch that Pete Riemer headed under the Assistant Commissioner for Program Planning (Gordon Howard).

Within the Federal Housing Administration was an International Division, directed by Bill Stansbury, and a Research and Statistics Division that Al Thornton directed that included a Market Analysis & Research Section. These divisions reported to Carter McFarland, the Assistant Commissioner for Programs.

Within the Public Housing Administration was a Program Planning Assistant Commissioner (Sol Ackerman) and a Statistics Branch.

Fannie Mae also had a Research & Operations Analysis staff.
HUD: Secretary Weaver (1966–1968) and President Johnson
When HUD was created in 1965, a reorganization did not happen right away. Under the leadership of Secretary Weaver, the former administrator of HHFA, and Undersecretary Robert Wood, gradual changes began in 1966 and 1967 to implement the HUD Act of 1965 and the Model Cities Act of 1966. These initial changes were small; for example, to implement Model Cities, HUD created the Office of the Assistant Secretary for Demonstrations and Intergovernmental Relations, led by Ralph Taylor.
The most significant change during this period came in 1967, when Undersecretary Wood oversaw the creation of a new Office of Urban Technology Research. Wood combined four programs under this new office — the Low-Income Housing Demonstration Program, the Office of Building Technology, the Urban Planning Research and Demonstration Program, and the Urban Renewal Demonstration Program — and appointed Tom Rogers to be the new office's director.
The biggest opportunity for consolidating research and development functions came in 1968, when all the offices moved into the current HUD Headquarters building in Washington, DC.
The Office of Program Policy at HHFA became the Office of the Deputy Under Secretary for Policy Analysis and Program Evaluation, headed by Bill Ross, and had several divisions that included some functions that originally fell under the Model Cities program.

The Office of Urban Technology Research, PD&R's chief predecessor, moved to the 4th floor of the Headquarters building.

The Federal Housing Administration (FHA) continued its independent research functions.

The new Office of the Assistant Secretary for Metropolitan Development assumed several functions related to today's PD&R: a Metropolitan Area Analysis Division within the Office of Planning Standards; the Office of Urban Transportation Development and Liaison, with its System Research and Development Division, which had moved from the Secretary's office; and the Office of Plans, Programs and Evaluation.

Within the Model Cities Administration, the Division of Program Development and Evaluation added a robust set of experts.

The Renewal and Housing Assistance Office also built their capacity with the newly added Plans, Program and Evaluation staff.

HUD also began the new Surplus Lands for Community Development demonstration.
As HUD's expanding policy development and research needs clashed with Congress' reluctance to fund those needs proportionately, HUD also tried to leverage the billions in regular program funding with the various HUD programs: public and assisted housing, transportation and land planning, mortgage financing; and urban renewal. We encouraged the development of pilot programs that were designed with a rigorous research and development focus and evidence-based outcomes and that could be cobbled together with the help of willing local and state grantees. Our hope was that these programs would show Congress how such innovations could be replicated and funded as separate programs. Many years later, Secretary Shaun Donovan adopted this strategy.
HUD: Secretary Romney (1969–1973) and President Nixon
When George Romney became the secretary in 1969, HUD's organizational chart didn't change much at first. Romney's HUD inherited most of the career personnel and their offices from Secretary Weaver.
The Office of Urban Transportation Development and Liaison as well as its research and development office left HUD to join the new U.S. Department of Transportation. A new Assistant Secretary for Equal Opportunity had a Division of Special Projects. FHA lost its international office, although it kept its Research and Statistics Division.
Metropolitan Development retained some of its functions from before the creation of PD&R, but the change from grants funding to block grant funding was not far in the future. The Model Cities demonstration continued to expand grant funding following the Weaver administration, but major changes were on the horizon.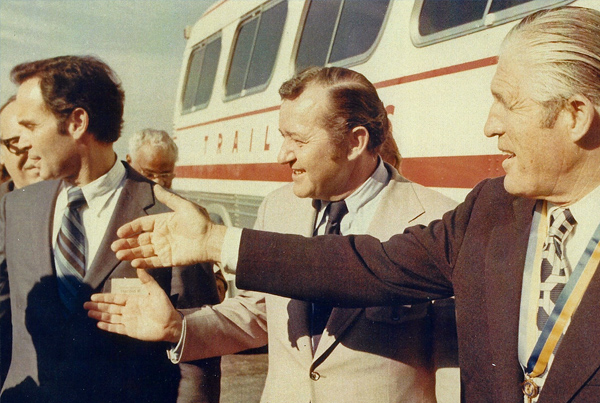 In 1970, Chuck Orlebeke replaced Bill Ross as the Deputy Under Secretary for Policy Analysis and Program Evaluation.
That brings us to the era's most significant historical change for PD&R: the migration from the Office of Urban Technology Research to one bearing an Assistant Secretary title in the interests of Research and Technology. Dwight Ink, the assistant secretary of Administration under Secretary Weaver, recruited a colleague with whom he had previously worked at the U.S. Atomic Energy Commission and the National Aeronautics and Space Administration, and, with the assistance of Congressman Chet Holifield, head of the House Government Operations Committee, successfully recruited Harold Finger, a scientist, to HUD. The programs begun under Secretary Weaver, based on Section 108 of the Housing and Urban Development Act of 1968, morphed into a building technology program newly christened by Romney as Operation Breakthrough. This change was outlined in May 1969 at meetings Finger held with members of the building industry, labor unions, and state and local governments. Thus, Operation Breakthrough became the largest program for the Assistant Secretary for Research and Technology from 1969 to 1971. See Finger and Romney in the photo above on a field trip with an aide, Art Rosfeld.
The figure below summarizes HUD's research and development efforts before the creation of PD&R.
PD&R Family Tree: 1947 to 1973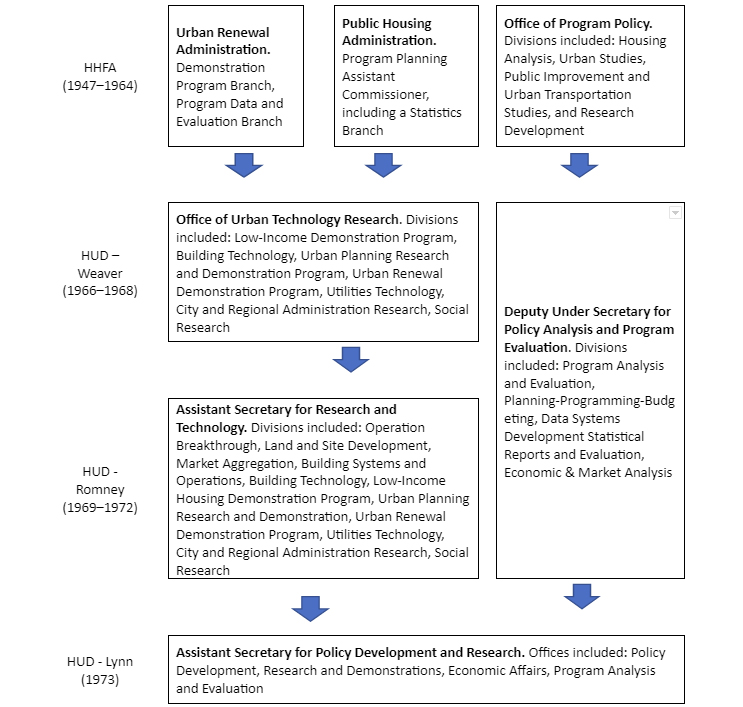 Finger built a staff that included Al Perry, Director of Operation Breakthrough; Milt Edlin, Director of Land and Site Development; John Betz Director of Market Aggregation; Art Newburg, Director Building Systems and Operations; and Jim Simpson, Director of the Office of Building Technology.
Other initiatives such as the Low-Income Housing Demonstration Program, Urban Planning Research and Demonstration, Urban Renewal Demonstration Program, Utilities Technology, City and Regional Administration Research, and Social Research continued. Many of these initiatives were housed in the General Services Administration building across the street; apparently, HUD was already outgrowing its new headquarters!
And the Library, which previously had been little known, was now on the 8th floor of the HUD Headquarters building.
HUD: Secretary Lynn (1973) and President Nixon
President Nixon began his second term in 1973, which brought considerable change to HUD, beginning with James Lynn replacing George Romney as Secretary of HUD. A task force headed by Secretary Lynn reviewed all the existing programs and began to prune and reinvent them.
The first Assistant Secretary for Policy Development and Research, Michael Moskow, combined the staff of the Assistant Secretary for Research and Technology with the staff of the Deputy Under Secretary for Policy Analysis and Program Evaluation into his new office. Harry Finger and Chuck Orlebeke, who had headed these respective offices, departed with Romney.
During this period, two important changes took place. First, HUD reorganized the office to include policy, which brought the engineers and non-engineers together. The previous Assistant Secretary (Finger), an engineer, was replaced by an economist (Moskow) with different program priorities; these differences were most clearly demonstrated through the ending of Operation Breakthrough and the expansion of the Experimental Housing Allowance Program. I was pleased to talk with Moskow recently as he explained some of the rationale behind the task force and the changes that he made.
The structure of the PD&R of 1973 is very similar to PD&R's structure today. The organization chart shown here, taken from the March 1974 issue of HUD Challenge, shows two offices that remain the same today — Policy Development and Economic Affairs — and two other offices — Research and Demonstrations and Program Analysis and Evaluation — that have since merged into the Office of Research, Evaluation, and Monitoring.
This article tells the story of some of the antecedents and key personnel who contributed to PD&R's present-day structure and program management. I would be happy to hear from anyone listed here to learn their perspective and history as they remember it.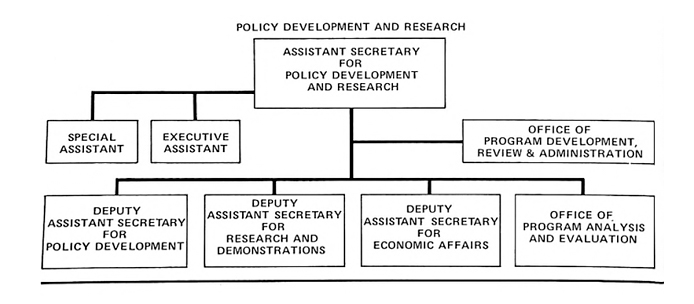 HUD CHALLENGE / March 1974
Harold Finger (Assistant Secretary of Research and Technology)
A happy footnote: In March 2022, I brought Harold Finger, now 98 years old, downtown to revisit his old office, where we met with Deputy Secretary Adrianne Todman (see below left) and senior managers of PD&R, including Research Engineer Mike Blanford; Regina Gray, director of the Affordable Housing Research and Technology Division; and Todd Richardson, PD&R general deputy assistant secretary (center). Finger engaged with the staff and not only reminisced about the program that he managed but applauded the current team's efforts to build research technology. I've also been pleased to assist the historian and professor Kristin Szylvian (below right, with Finger) with her research for a forthcoming book on Operation Breakthrough.


Later, while serving in the private sector, I implemented three of these programs using surplus funds from a little-known program within public housing: a work-incentive (bonus) demonstration for maintenance and other staff, translated from the London public housing department; a consortium of public housing agencies to test new computer software programs; and a demonstration involving aggregating all Illinois public housing agencies (except for Chicago) to drive down and improve the quality of insurance for various functions. ×