The Native American Housing Needs Study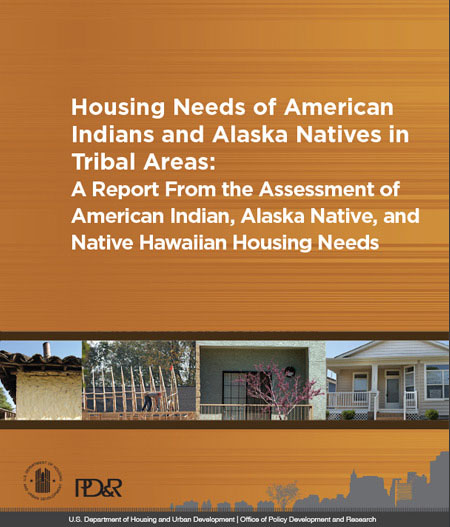 In 2009, Congress directed HUD to produce a national assessment of Native American housing needs. Seven years and $6 million later, the Assessment of American Indian and Alaska Native Housing Needs is complete. (The study of Native Hawaiian housing needs is also complete, but not yet published.) The study produced new knowledge about Native American housing conditions and tribal experiences with the Native American Housing Assistance and Self-Determination Act of 1996 (NAHASDA), a law that fundamentally changed HUD's Indian housing programs by shifting spending control to the tribes.
Assessing Native American housing needs nationwide was very difficult. The tribes range from the Seminoles in southern Florida to Inupiaq villages in northwestern Alaska, many of them remote from airports and some of them lacking complete information on housing units in their jurisdiction. All of them expected HUD to train tribal members to conduct the household survey on reservation land.
The study has so far produced the following reports:
The research finds that housing conditions for Native American households are substantially worse than for other U.S. households. More Native Americans live in housing that is overcrowded, lacks complete kitchens and bathrooms, has heating and electrical problems, or is structurally unsound than do their fellow citizens.
Overcrowding affected 16 percent of American Indian and Alaska Native households in tribal areas and 10 percent in urban areas compared with 2 percent of all U.S. households. The problem of overcrowding overlaps with the doubling-up phenomenon; 17 percent of households in Indian country had one or more people staying with them only because they had nowhere else to go.
Among American Indian and Alaska Native households in tribal areas, incomplete plumbing and incomplete kitchens were found in 6 percent and 7 percent of homes, respectively, compared with less than 2 percent of all U.S. households.
The research team estimates that 68,000 additional units would be needed to both replace severely inadequate units and eliminate overcrowding in tribal areas.
Housing conditions vary widely across tribal lands. To assess regional differences, the research used data from the American Community Survey (ACS). Analyses of ACS data show that in Alaska, for example, overcrowding is more than twice the rate for tribal areas overall, with 36 percent of households having incomplete plumbing, incomplete kitchens, or overcrowding. In the North Central region and in the Pacific Northwest, one-quarter of households were cost burdened compared with 12 percent of households in the Arizona/New Mexico region.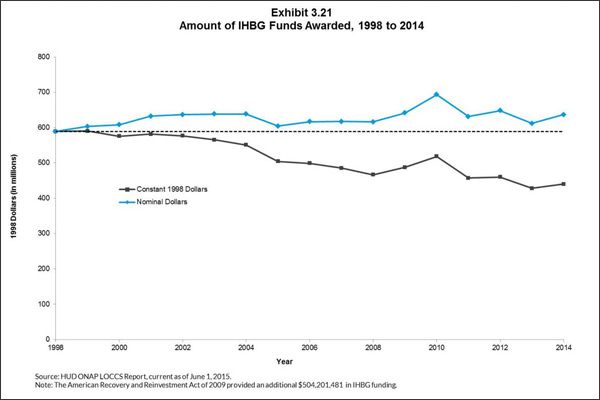 On the one hand, the federal government has treaty obligations to promote the welfare of Indian nations; on the other hand, Indian tribes are sovereign nations, and policy aims for tribal self-determination. This study confirms the success of the self-determination that NAHASDA enabled. Tribes have produced and maintained low-income housing more effectively since NAHASDA and have further demonstrated capacity by their effective utilization of American Recovery and Reinvestment Act (ARRA) housing funds.
Before NAHASDA (1990 to 1998), tribes added about 1,800 units per year.
After NAHASDA (1998 to 2014), tribes added about 2,200 units per year through construction or acquisition and rehabilitated 4,300 units per year.
Under ARRA (2009 to 2012), tribes added 1,954 new units and completed 13,338 rehabilitations, spending 99 percent of their ARRA housing funds within the allotted period.
Tribes have increased production even though in nominal dollars HUD funding for the Indian Housing Block Grant has remained between $600 million and $700 million per year since 1996, representing a decline in buying power of about 25 percent (based on the Consumer Price Index).
HUD's last comprehensive assessment of Native American housing needs was completed more than 20 years ago, in 1996, just as NAHASDA was initiating major shifts in HUD's Indian programs. The current study is another milestone in measuring both the extent of the problem and federal efforts to address the housing needs of Native Americans.