German - U.S. Cooperation: Working Together To Find New Solutions for Our Cities
By Kate Reynolds, a Robert Bosch Foundation Fellow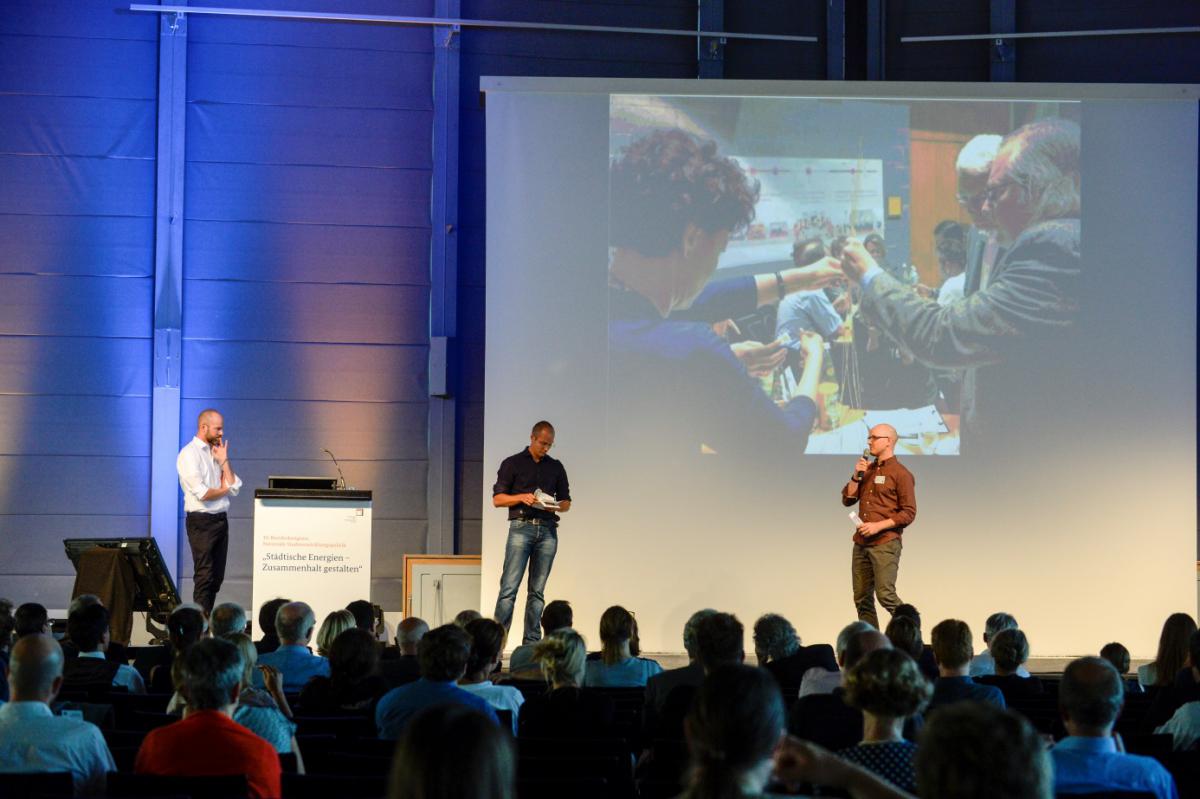 Presenters from the city of Stuttgart discussed their innovative program designed to bring new voices into the discussion of city projects. This program, "Salt and Soup," brings people from different social milieus together over dinner.
Each year, German policymakers and practitioners gather to discuss the most pertinent issues and advancements in urban development. This past September in Hannover, Germany, the 10th annual National Urban Development Conference focused on how government policies can best promote sustainable, inclusive growth in cities. The event emphasized strategies for creating better outcomes for vulnerable populations such as recent immigrants, racially diverse citizens, and other underrepresented groups. Despite Hannover's distance from Washington, DC, the urban development challenges and opportunities facing both U.S. and German cities were strikingly similar, illustrating the importance of sharing best practices across borders.
At the conference, Germany's Federal Ministry for the Environment, Nature Conservation, Building, and Nuclear Safety (BMUB) provided a platform for innovative local actors to present how they were building social cohesion in place and minimizing inequalities for the nation's influx of new immigrants. In 2015 alone, Germany received more than 1 million new migrants, many from the war-torn Middle East and northern Africa.1 At the conference, BMUB created incentives for innovation by awarding 10 small grants to cities across Germany that had demonstrated unique approaches to the issue. One such grant was awarded to the city of Thüringen for its Arrival STADTLAND project. With the grant, the city will hold a local competition for projects that convert vacant buildings into living, social, arts, or training spaces with the goal of fostering unity and developing opportunities for newly arrived citizens. In 2016, the minister of BMUB also announced a new program to be supported by €200 million each year between 2017 and 2020 called Social Integration in Neighborhoods. This program provides grants for building local social infrastructure, such as kindergartens, schools, community centers, and anchor institutions, to create spaces for community building and improve the integration of new residents.
In the United States, federal, state, and local policymakers are equally interested in improving the lives of the most vulnerable citizens. Important new research shows that intergenerational economic mobility is closely linked to the neighborhood in which one resides and the opportunities, or lack of opportunities, afforded there.2 As a result, the way each country handles these challenges can and should influence the other's policies. In fact, HUD has a longstanding partnership with BMUB, which was articulated in a memorandum of understanding between the two nations in 2011. Beginning in 2012, under this agreement, the United States and its German counterparts partnered with the German Marshall Fund of the United States to create Dialogues for Change (D4C), a platform for innovative peer-to-peer learning between U.S. and German cities. The program pairs revitalizing cities in Germany and the United States to explore best practices in urban development policies.
This year, D4C is working with its third group of transatlantic cities: Pittsburgh, Baltimore, and Charlotte are partnering with Karlsruhe, Leipzig, and Bottrop. Each pair is working together to develop integrated urban development policies in the context of global trends such as the migration crisis, racial and social unrest, and difficulties of effective integration. Representatives from these cities and a local partner organization will meet several times during the 18-month program period.
At the most recent transatlantic meeting in Baltimore in November 2016, participants discovered similar housing challenges in their cities, such as issues of affordability, supply, quality, and location. Representatives from HUD and German government agencies presented their nations' strategies and policies for affordable housing and community development. One of the most promising areas of exchange involved promoting public participation. Both the U.S. and German cities acknowledged that engaging their most vulnerable populations in housing decisions was difficult. Leipzig has created a coordination center for public participation. The goal is to expand the participatory culture in the city. Within a multistage participatory process consisting of a series of "future workshops," Leipzig's citizens and local actors are shaping a livable city that embraces multiple generations, energetic redevelopment, sustainable financial policy, and mobility. The city is using the D4C platform to discuss some of its challenges with this approach — specifically, how to engage new citizens to avoid the sole participation of the "usual suspects" and how to adequately train city staff in proper moderation and mediation techniques. The next meeting of D4C participants is planned for summer 2017.
Through trans-Atlantic partnerships such as D4C, Germany and the United States can achieve innovative solutions to shared challenges. As BMUB Minister Barbara Hendricks stated at the recent conference in Hannover, "improving social cohesion within communities is the greatest challenge of our time." Perhaps together, German and the U.S. cities will make this challenge the greatest opportunity of our time.