Addressing Vacant Properties With Land Conservancies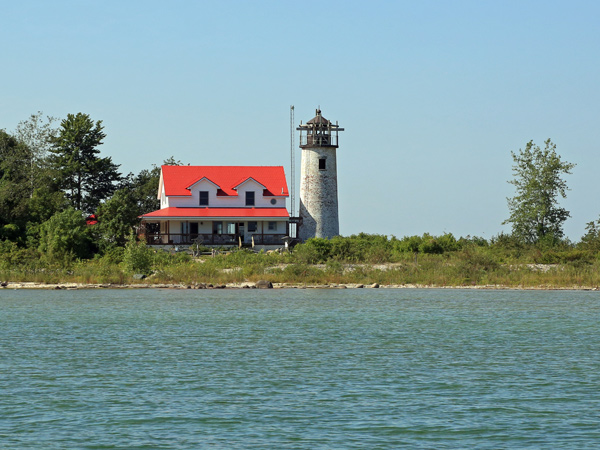 The Saginaw Basin Land Conservancy (SBLC) was established to protect wetlands in the watershed of Lake Huron's Saginaw Bay (shown). In a recent webinar, SBLC staff members highlighted the conservancy's positive impact on remediating blighted and vacant properties.
Vacant and blighted properties pose a problem in cities across the United States. A blighted lot is not just unsightly; it can attract petty crime, depress the value of nearby properties, and even pose a threat to the health of the local environment. In 2016, the city of Saginaw, Michigan, gained a new, if nontraditional, partner in addressing blight: the Saginaw Basin Land Conservancy (SBLC). Land conservancies, also called land trusts, are nonprofit organizations dedicated to preserving, remediating, and monitoring sites of natural beauty and ecological importance to ensure their survival in perpetuity. Many of these organizations work primarily in rural communities, managing large, remote areas set aside as preserves. In October 2019, the Center for Community Progress sponsored "Bringing Nature to Communities: The Role of Land Conservancies in Addressing Vacant Properties," a webinar in which SBLC staff members discussed their organization's nontraditional decision to pursue urban work and highlighted the conservancy's positive impact on remediating blighted and vacant properties.
The Saginaw Basin Land Conservancy Begins Urban Work
SBLC was established in 1997 to protect and remediate wetlands in the watershed of Lake Huron's Saginaw Bay. The Saginaw Basin is the largest watershed in the Great Lakes region, spanning 22 Michigan counties and containing the largest contiguous freshwater coastal wetland system in the country. By 2014 the conservancy had amassed more than 6,000 acres in the 9 counties for which it was responsible, but SBLC chief executive officer Zachary Branigan explained that the organization had little local name recognition and therefore a limited ability to secure financial support for this work. SBLC wanted to cultivate a more direct relationship with the region's public, and later that year, SBLC secured a $100,000 grant to launch the Outdoor Urban Recreation (OUR) Bay City project in its hometown of Bay City. To maximize the grant's impact, SBLC and its partners divided the money over four projects. Three of the projects involved rehabilitating and improving existing public properties: the Bay City Rowing Club, a section of Euclid Linear Park now renamed Discovery Preserve, and the Golson Nature Area. In the fourth project, OUR Bay City reclaimed a vacant 33-acre island in the Saginaw River, transforming a blighted, trash-strewn property into the Michigan Sugar Trails, a network of paths for hiking and mountain biking. Although SBLC's work in Bay City was nontraditional for a land conservancy — none of the projects it undertook there were part of the organization's portfolio, and none of them were permanently set aside for conservation — they were resounding successes and fulfilled the organization's desire for engagement and impact.
From Blight to Blooms in Saginaw
After the success of its urban work in Bay City, SBLC began investigating potential projects in nearby Saginaw in 2015. To this end, the conservancy launched a yearlong series of workshops and open houses, a period that Branigan described as "taking root." During these conversations, the conservancy found that vacancy and blight were major concerns among residents. As was the case in many former manufacturing cities in the northeastern United States, Saginaw's population declined in the late 20th and early 21st centuries, ultimately resulting in thousands of empty properties. In 2016, SBLC launched OUR Saginaw, a project similar to OUR Bay City, with the goal of remediating blight.
SBLC partnered with public and private organizations around Saginaw to create spaces where people could engage with nature. The Trails at SVSU are a network of fitness trails that OUR Saginaw's partners built on an unused section of the Saginaw Valley State University campus. The trails include a certified cross-country running course. OUR Saginaw constructed the Zoo Trail, a nature trail that is 2,000 feet long and composed of recycled aggregate, on 16 acres of vacant land adjacent to the Children's Zoo at Celebration Square. In addition to providing a family-oriented experience with its interpretive signs, the Zoo Trail offers walkable access to the zoo for a large residential neighborhood on Saginaw's East Side. Finally, for the project that Branigan called "the pearl on the necklace" of OUR Saginaw's work, the partners transformed a disused three-acre parking lot in the city's downtown into an attractive wildflower prairie. The Janet H. Nash Riverfront Preserve provides access to the Saginaw River in a pleasing natural environment that once was only asphalt.
The Janet H. Nash Riverfront Preserve ultimately functioned as both an inspiration and a test case for OUR Saginaw's final undertaking, the Pollinator Project. The project saw SBLC partner with the Saginaw County Land Bank to address blighted properties. In previous years, the land bank had used federal grant money to obtain 3,000 vacant lots and demolish any abandoned structures; however, it lacked the resources to further maintain these properties. Launched in 2016 with a handful of test lots, the Pollinator Project replaces trash, downed timber, and tall weeds on Saginaw County Land Bank properties with wildflower meadows.
The remediated lots confer numerous benefits. The native plants provide habitat and forage for pollinating insects, and the removal of trash ultimately preserves water quality. "If we pick it up, it doesn't end up in the river," said Ted Lind, SBLC's director of community conservation, recounting one case in which a Pollinator Project work team removed so much garbage from one long-neglected lot that four dumpsters were required to haul it all away. The planted lots are not only more attractive for residents to look at but also safer — the flowers and grasses the Pollinator Project plants naturally grow shorter than the weeds, which can reach heights of 7 feet, disrupting sightlines and isolating what homes remain on blocks with high rates of vacancy. The project also partners with First Ward Community Service's youth jobs program, employing 40 local young people to help convert lots.
The Pollinator Project has completed 1,200 lots and aims to finish 1,500 by the end of 2020. Lind estimates that project teams have set foot on approximately 1,900 lots in the course of evaluating or remediating them.
Taking the Long View
The speakers concluded their presentation by stating that blight remediation and vacant land cleanup is now a permanent part of SBLC's mission. Although the recent urban work has been nontraditional for a land conservancy, Lind and Branigan noted that, as a land conservancy, SBLC is accustomed to taking the long view — a perspective that is helpful when taking on entrenched urban problems. "These problems did not arise over a short period of time, and they will not be solved in a short period of time," said Branigan.