Bridging the Wealth Gap: Asset Building and Economic Justice
Parker A. Lester, Social Science Analyst, HUD PD&R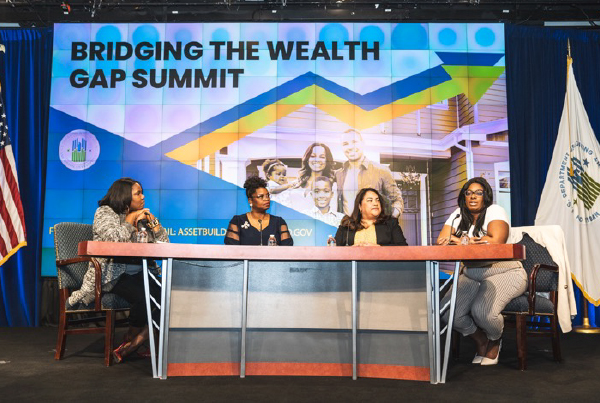 Building wealth is an important aspect of achieving security and upward mobility for individuals and their families, yet a lack of access to information, credit, and banking services prevents many low-income households from doing so. Panelists discussed federal asset building programs to help close the wealth gap. Photo credit: Jenni Miller
On May 1, 2023, HUD hosted a summit dedicated to policies and strategies designed to close the racial wealth gap in today's financial markets. Titled "Bridging the Wealth Gap: Asset Building and Economic Justice," the summit included participants from local, state, and federal organizations who ensure that residents of subsidized housing or historically underserved populations can access the tools and resources they need to establish and grow their assets and secure their long-term financial well-being.
In her opening remarks, HUD Secretary Marcia Fudge addressed the need to adjust federal and local systems to ensure that homeownership is available for all, that low-income families have opportunities to build their credit, and that people know that they matter regardless of their economic station. These principles, Secretary Fudge noted, are all part of HUD's economic justice agenda to help low-income renters build assets. Secretary Fudge also noted that HUD has amended its programs to allow any adult member of a household living in privately owned Section 8 housing to apply for the Family Self-Sufficiency (FSS) program. In addition, HUD has eliminated savings caps on higher earners in various programs.
Following Fudge's remarks, a panel discussed federal programs devoted to asset building for HUD program participants, including the programs' successes and areas for improvement. Moderating the panel was Adjoa Asamoah, senior advisor for racial equity at HUD, and panelists included Akirah Pressley, special education assistant for the Philadelphia School District and ambassador for the FSS program; Shantel Macon, client outreach and engagement specialist for Compass Working Capital; and Walda Yon, chief housing programs officer of the Latino Economic Development Center.
Pressley and Macon, both of whom participated in HUD's FSS program, agreed that the program was instrumental in their ability to leverage resources to successfully build credit and, in Pressley's case, become a homeowner. Macon used the FSS program to open a savings account devoted to emergencies and other life events. Pressley and Macon agreed that their financial coaches were key to their success in the program because the coaches taught them how to budget and build credit while also keeping them accountable for reaching their financial goals. Pressley and Macon both credited their success in the program to their commitment to providing a better economic outlook and quality of life for their children and the generations to come.
Yon, who establishes families in asset-building programs, noted that when families become discouraged at the work required to create assets, service providers should use the FSS workplan to adjust their priorities. Program participants need to understand that building wealth is a long-term process that takes time to learn and enact and that learning to set a budget is a vital skill. Yon further explained that the U.S. credit system is foreign to many first-generation Americans. Many of these families believe that not having debt means that they have robust credit scores, and that, as a result, they are ready to take steps to build assets. Education helps to dispel the myth that families engaging solely in cash transactions are ready to take on homebuying or other credit-based transactions. Finally, Yon stressed that program administrators need to step up their efforts to expand language accessibility to ensure that members of underserved communities benefit from these programs.
After a series of breakout sessions focused on asset building, HUD Deputy Secretary Adrianne Todman addressed the attendees, noting that the FSS program inspires hope in its participants. Todman remarked that the hope she sees at FSS program graduations is worth more than the balance of the escrow accounts of the graduates. "For those of you who are on this journey," said Todman, "we've got your back."
After Todman's remarks, the summit hosted a final plenary session. Moderated by Victoria Brown, deputy chief of staff for policy at HUD, the session's panelists included Chad Maisel, special assistant to the president for housing and urban policy at the Domestic Policy Council; Diane Thompson, senior advisor for the Office of the Director at the Consumer Financial Protection Bureau; Gbenga Ajilore, senior advisor for the Office of the Undersecretary for Rural Development at the U.S. Department of Agriculture; and Raessa Singh, senior advisor for the Administration of Children and Families at the U.S. Department of Health and Human Services.
The panelists highlighted the Biden-Harris administration's focus on ensuring that the poorest Americans find paths to asset building and have opportunities for upward economic mobility. Maisel spoke to President Biden's charge to agencies to look at tools and programs to advance resources to all, including determining the barriers that prevent marginalized communities from accessing the programs for which they are eligible. Maisel cited the American Rescue Plan Act of 2021's expansion of the Child Tax Credit — a move credited with cutting child poverty in the United States by nearly 40 percent in 2021. Thompson mentioned that comments from the public are vital for federal agencies — if stakeholders don't offer feedback to agencies, the policies created may be incorrect or incomplete. Thompson also noted that, after homeownership, small businesses ownership is key to long-term asset building for marginalized communities. The Consumer Financial Protection Bureau recently finalized a rule that mandates more robust data collection in the area of small business lending, and Thompson hopes this move may help agencies ensure that these businesses receive more equitable treatment in the lending space.
Singh discussed the "benefits cliff," which occurs when a family's income increases and, subsequently, their public benefit falls below the amount they were receiving before the increase of income. To address this issue, the U.S. Department of Health and Human Services is devoting time and resources through demonstration programs to ease the benefits cliff for those most affected by it. Finally, Ajilore discussed the issue of residents of rural areas who move to urban areas seeking more economic opportunities, which he said highlights the need for government programs that provide opportunities for individuals to survive and thrive in place. To address this need, said Ajilore, the Rural Partners Network initiative provides needs assessments to rural communities to target federal grants and programs to their specific needs.
Please see the recording of the event here:
Bridging the Wealth Gap Asset Building & Economic Justice Summit - YouTube
.