Housing Summit Highlights Challenges Facing LGBT Elders
This past December, HUD's Office of Policy Development and Research, the Department of Health and Human Services' Administration on Aging, and the National Center for Lesbian Rights co-hosted the first-ever LGBT [lesbian, gay, bisexual, and transgender] Elder Housing Summit at HUD headquarters in Washington, DC. The landmark event included panel discussions by leading professionals who are working to improve the lives of LGBT elders by addressing the disproportionate challenges facing the population.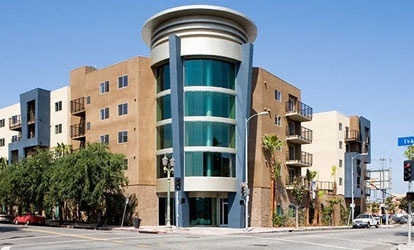 Located in Los Angeles, Triangle Square is the first affordable housing development in the country for LGBT elders. Photo Credit: Gay and Lesbian Elder Housing
For the LGBT population, aging presents challenges not widely experienced by heterosexual elders. The LGBT elder population:
May face discrimination and prejudice in accessing housing, health care, and other supportive services;
May have caregivers who do not have the same legal rights and protections as those in other familial relationships; and
Is subject to unequal treatment under state and federal laws.
These challenges affect LGBT elders' financial security, health and wellness, access to social support networks, and interpersonal relationships — all factors critical to successful aging.
Social service providers and other nonprofit organizations have taken the lead in addressing many of the challenges facing the LGBT population. The panel discussions at the housing summit highlighted program models designed to expand and improve LGBT elder housing and long-term care in both institutional and noninstitutional settings.
The Gay and Grey Program at Friendly House in Portland, Oregon is improving the lives of LGBT elders through advocacy, outreach, and resource development strategies. Gay and Grey provides a safe place for LGBT elders to socialize through organized activities and educational programs that keep participants informed on key issues. The program also provides diversity training to healthcare professionals and providers of eldercare, as well as social services to increase awareness of — and sensitivity to — the specific needs of LGBT elders. Recently, Friendly House developed an institutional housing assessment tool to evaluate eldercare facilities and their existing capacity to meet the needs of the LGBT elder population. The assessment is voluntary, but completing it allows facilities to be listed as "LGBT elder friendly" based on the outcome of the evaluation.
Services and Advocacy for Gay, Lesbian, Bisexual, and Transgender Elders (SAGE) in Harlem is applying the naturally occurring retirement community (NORC) model to expand services to LGBT elders. The NORC model is based on "aging in place," making it possible for elders to remain in their existing buildings or neighborhoods. Much of SAGE's work in Harlem has involved building partnerships with existing organizations and service providers to expand services to LGBT elders. Along with these partnerships, SAGE Harlem has established a community space for LGBT elders to gather for social events, educational workshops, and other programming.
While the Gay and Grey program and SAGE Harlem work to build the capacity of existing organizations and service providers to effectively meet the needs of LGBT elders, other organizations are focusing on constructing new supportive housing that's friendly to LGBT elders. Triangle Square in Los Angeles is the first affordable housing development in the county targeted specifically to low-income LGBT elders. Completed in 2007 by Gay and Lesbian Elder Housing of Los Angeles, the 104-unit complex combines high-quality affordable housing with onsite supportive services to provide comprehensive care for low-income LGBT elders.
The Center on Halsted in Chicago has pioneered an innovative LGBT Homesharing program that matches renters with housing providers in an effort to help LGBT elders age in place in a non-institutional setting. The Homesharing program offers an affordable housing option for renters while providing LGBT elders with supplemental income and companionship; factors that may influence their ability to continue living independently. Serving as an intermediary between renters and housing providers, the Center on Halsted performs background checks and screening to ensure the safety and security of participants for all housing matches.
The LGBT Elder Housing Summit at HUD highlighted the significant challenges facing the LGBT population. Many of these challenges are the result of laws that do not afford the same legal protection and status to LGBT elders as is afforded to the straight population, years of social stigma, and discriminatory practices that affect access to programs and services. Current program models address these challenges by raising awareness of LGBT elder-specific issues through education and advocacy to health and long-term care providers in institutional settings, and by expanding housing opportunities in environments that are supportive and sensitive to the needs of LGBT elders.
A two-part webcast of the event is available for viewing.