The Housing Affordability Opportunity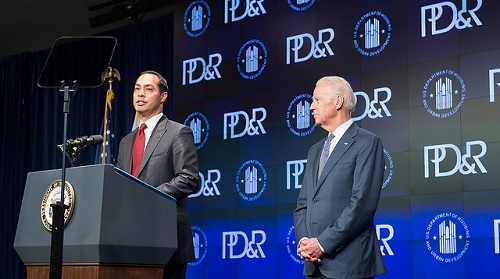 HUD Secretary Julián Castro, joined onstage by Vice President Joe Biden, speaks about affordable housing as a platform for opportunity.
An estimated 1.6 billion people worldwide lack access to affordable housing. In the United States alone, as many as 34 million households face significant problems associated with housing affordability, and 19 million households are "housing insecure," meaning that they are homeless or are severely cost burdened, spending more than 50 percent of their income on housing. At the metropolitan level, 3 out of 5 low-income households in the 11 largest U.S. cities are severely cost burdened. As Vice President Joe Biden said, "[F]or millions of families, housing costs are simply too high." HUD Assistant Secretary for Policy Development and Research (PD&R) Katherine O'Regan notes that there is "a continued housing affordability crisis, one that is felt broadly throughout the nation but also is most acute for those with the least resources."
The housing affordability crisis has widespread ramifications; evidence suggests that the high cost of housing is a drag on the economy and contributes to increased inequality. HUD Secretary Julián Castro said that "ultimately, housing affordability really is about opportunity." Secure, stable, and affordable housing in areas of opportunity is a platform for a range of life outcomes, including those related to health and education. For this reason, neighborhood characteristics such as transportation options and proximity to jobs and amenities such as high-quality public schools must be considered as part of the housing affordability challenge.
On April 7, 2015, PD&R and cosponsors Habitat for Humanity International and Enterprise Community Partners hosted a discussion of the evidence regarding the nature of the housing affordability challenge and promising practices and solutions for lowering housing costs and expanding supply. Vice President Biden, Secretary Castro, and two expert panels considered how the housing affordability crisis might be turned into a housing affordability opportunity. PD&R Deputy Assistant Secretary for Policy Development Lynn Ross identified five themes that emerged from the conversation: evidence, policy, partners, narrative, and action.
Evidence
The first panel focused on the evidence regarding the scope and causes of the affordability challenge. Along with quantifying the problem and assessing needs, evidence suggests that a lack of housing supply, stagnant wages, and increasing costs all play a role in restricting affordability. Citing a study of the 11 largest U.S. cities, Max Weselcouch of the Moelis Institute for Affordable Housing Policy reported that "across the board, rent levels are increasing at rates faster than inflation and much faster than income." Michael Spotts of Enterprise Community Partners observed that there is no single solution; rather, "we're going to have to press multiple levers at once." A recent McKinsey Global Institute report identifies four of the most important levers for making housing more affordable. McKinsey's Jonathan Woetzel summarized these levers as unlocking land, improving productivity in construction, increasing efficiency in management, and reducing financing costs.
Policy
Each of these factors is linked in some way to policy. Policies shape the rules of the market and can be a positive force in creating and preserving affordability, as in inclusionary zoning, or an impediment, as in density limits. Policies can affect the levers that influence housing affordability, including the key lever of unlocking land. Jan Mischke of McKinsey discussed three land-related policy strategies for increasing supply and cutting costs — activating idle land through taxation or by making public land available for development, encouraging transit-oriented development, and capturing land value. Mischke observed that "bringing in infrastructure and redeveloping city areas is at least as valuable as it is expensive." By capturing some of that value through property taxes, local governments can pay for development that would not otherwise be undertaken. Betsy Spencer, director of neighborhood housing and community development for the city of Austin, Texas, pointed to the city's Mueller transit-oriented development, in which 25 percent of rental and homeownership units are affordable, as an example of activating public land, in this case to redevelop the site of a former airport.
Partners
Affordable housing policies encourage and ultimately rely on partnerships with the private sector, including for-profit developers, nonprofits, and philanthropies. For example, Spencer noted that Austin had leveraged almost $200 million in private investment from a $55 million general obligation bond that created 3,400 units, 2,500 of which were affordable. Another promising partnership highlighted by Cynthia Parker of BRIDGE Housing is the Housing Partnership Equity Trust, a nonprofit real estate investment trust with 12 nonprofit members, including BRIDGE Housing. The trust has raised $150 million to acquire affordable units. Among other objectives, the fund facilitates a smoother financing process. Parker noted that assembling the various financing pieces for a typical affordable housing development can take as much as three times as long as a fully market rate development. At best, the extended time drives up development costs; at worst, it keeps affordable developments from ever breaking ground.
Narrative
Another barrier to affordable housing is community opposition, often referred to as NIMBYism. ("NIMBY" stands for "not in my back yard.") Spotts pointed to a study by the state of California finding that such opposition actually adds to the cost of development. Overcoming NIMBYism and galvanizing "the collective will" to meet the housing affordability challenge, said Lisa Davis of the Ford Foundation, require a new way of talking about affordable housing that goes beyond the number of units completed and touts the myriad external benefits that evidence shows accrue when people have safe, stable, affordable places to live. Davis noted that the places that have been best able to avoid or minimize community opposition are those with diverse coalitions of supporters and with developers who have listened to community concerns. Spotts added that highlighting successful developments can help combat people's misconceptions.
Action
Turning the housing affordability crisis into an opportunity requires both action and leadership. Arthur Jemison, director of housing and revitalization for the city of Detroit, noted that creating a metric — announcing a goal of creating 10,000 affordable units in the state of Massachusetts, for example — can drive progress. It requires innovation in construction, management, and financing. Using modular construction, for instance, is saving BRIDGE Housing 13 percent in hard costs for a new affordable development. And, as O'Regan noted, it requires "collaboration — across groups, silos, and geography — to tackle this issue." The panelists and speakers acknowledged the vast scale of the problem, yet they remained optimistic that, as Habitat for Humanity International's senior director of global design and implementation Stephen Seidel said, "it is possible to effectively address the affordability challenge for lower income families."
Deputy Assistant Secretary for Policy Development, Lynn M. Ross, offers additional insight on the event in her Message from PD&R Senior Leadership: Perspectives on the Opportunity of Expanding Housing Affordability. For additional resources on topics covered by the panelists, please visit www.huduser.gov/housingAffordability/resources.html.