Shanghai's Road to a Global City: Innovations in Human-Centered Design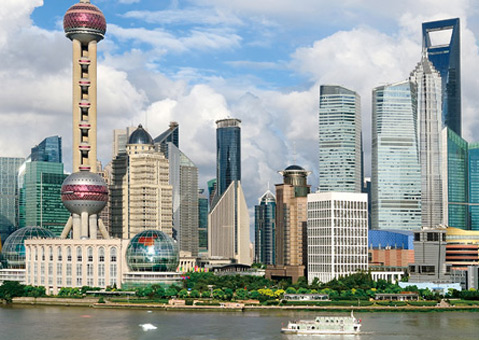 Shanghai, China.
Tokyo, Delhi, and Shanghai are the most populous urban agglomerations in the world; however, each is unique in its approach to urban planning and design. Shanghai is not just the only noncapital city in this group but also the most populated city in the country with the most urbanites in the world. The future of urban development in this megacity of 24.15 million people will influence the direction of design and planning for cities worldwide. In this article, we examine Shanghai's innovations in design as it aspires to become a competitive and sustainable world-class city by 2050.
To position itself as a global city of the future, Shanghai developed a multifaceted plan with both short- and long-term strategies designed to meet the needs of its growing urban population. These strategies address various issues including housing, infrastructure, transportation, energy, employment, education, and healthcare. Uniting these issues is Shanghai's emphasis on human-centered design (HCD).
HCD focuses on the interactions between humans and the spaces they occupy. By incorporating HCD, Shanghai's urban planners intend to optimize the urbanization process for the city's residents and transform Shanghai from a frenetic metropolis into a cultivated global center. As part of that process, urban planners will use spatial, economic, and environmental approaches to realign typical urban priorities with the principles of HCD.
Spatial
Until 2030, Shanghai is adopting smart growth policies to encourage development in underutilized areas through such strategies as planned densification, mixed-use land policies, and transit-oriented development (TOD). These HCD policies will maximize the use of space and land in Shanghai through comprehensive development and strict enforcement of regulations on land size and use.
Shanghai's urban planners are following a diversified plan to prioritize public transport. The plan strengthens rail transportation by using deep underground space, improving transfer nodes, and better integrating rail with highways. The plan also advocates green commuting, including special bike paths as well as separate motor and nonmotor lanes.
HCD policies in TOD not only reduce traffic congestion and commute times but also offer innovative ways to give neighborhood residents access to quality employment opportunities.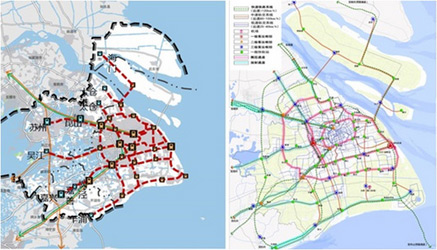 Economic
Shanghai attracted international attention in 2015 as the city became the first highly developed urban area in China to transition away from official economic growth targets. This shift reflects policymakers' focus on the quality of economic development rather than the rate of economic growth.
To create quality, inclusive economic development, urban planners focus on bridging income inequality through well-paying jobs accessible by all segments of society. Immigration from other provinces, including rural areas, is the primary driver of population growth in the city. By efficiently integrating low- and moderate-income families into Shanghai's urban plan, policymakers hope to develop their skills and livelihoods while improving Shanghai's international competitiveness.
Designating functional zones with specialized sector functions is one approach that Shanghai takes to attract human capital. To foster quality, inclusive economic development, HCD focuses on six functional zones: innovation, business, recreation, gateway, manufacturing, and goods delivery. As the hub of the Yangtze River Delta region, Shanghai will partner with small- and mid-sized satellite cities to grow the region's economy.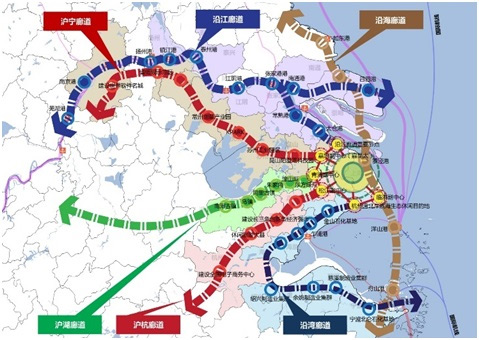 The Shanghai Regional Development Plan involves 6 corridors and 16 satellite cities. Credit: Shanghai Metropolitan Area Strategic Plan, May 20, 2015.
Environmental
Experts predict that Shanghai's population will grow from 27 to 34 million by 2050. This population growth will increase pressure on both resources and the environment during the period that the city is putting its urban development plans into place. Unplanned development will increase the consumption of natural resources and space, constrain growth, and limit sustainable development.
To build low-carbon communities, urban planners promote the application of green technology and clean energy into their designs, including open public spaces. The urban plans for new communities include 3,500 square kilometers of protected "ecological land." These areas also serve to promote economic development through eco-tourism. Disaster resilience prevention efforts are being implemented in Shanghai's coastal areas, including a smart floodwall.
Implementing energy-efficient policies and preserving open-space areas will increase household wealth in Shanghai while improving environmental quality. Ultimately, environmental HCD will limit future resource bottlenecks to zero-growth consumption by 2040.
Efforts to improve Shanghai's economic competitiveness and promote sustainable development will help facilitate the city's global ambitions over the next 35 years. Moreover, Shanghai's emphasis on HCD principles in urban planning and design is comparable to community development efforts in cities in the United States. U.S. cities are also focusing on smart growth strategies to build strong communities with affordable housing for sustainable development. Policy exchanges between the U.S. and China on innovating and transforming urban planning and HCD can expand global efforts to cooperate and promote strong communities underpinned by sustainable development.