Combating Housing Discrimination To Build Inclusive Communities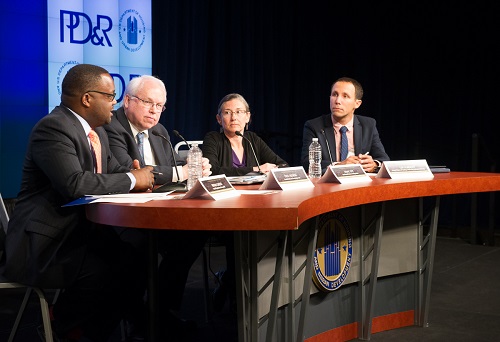 Bryan Greene (far left), General Deputy Assistant Secretary of HUD's Office of Fair Housing and Equal Opportunity, speaks with panelists about fair housing issues, including efforts to address housing discrimination and racial segregation. Despite progress made in the fight against housing discrimination and segregation, many people still face illegally constrained housing choices and are relegated to high-poverty neighborhoods, negatively affecting health, education, and other life outcomes. In July, HUD's Office of Policy Development and Research (PD&R) hosted its quarterly briefing, in which a panel of academics and practitioners discussed the effects of housing discrimination and residential segregation as well as efforts to understand and combat these problems. The panel included Bryan Greene, general deputy assistant secretary of the Office of Fair Housing and Equal Opportunity; Fred Freiberg, executive director of the Fair Housing Justice Center; Diane Levy, senior research associate at the Urban Institute; and Len Albright, assistant professor of sociology and public policy at Northeastern University.
Uncovering Evidence of Housing Discrimination
"The persistence of discrimination," said Katherine O'Regan, the new assistant secretary for PD&R, "albeit frequently in more subtle forms than decades ago, and continued high levels of segregation are fundamental barriers to equal opportunity in this country. HUD cannot make substantial progress on its mission without addressing both of these fair housing issues — discrimination and persistent segregation — regardless of the cause of the segregation." HUD's decennial housing discrimination studies confirm these trends. As Levy notes, researchers have seen a shift from "door slamming" discrimination to more "subtle forms of differential treatment [in which] a landlord or property manager might very apologetically tell a person who is Asian, or Hispanic, or black that there are few apartments available or there are no apartments available; they might not mention that two-month rent special … or they might require a background check — and the white person gets none of that."
Housing discrimination investigations usually begin when people who feel that their fair housing rights were violated contact a fair housing organization, a local or state fair housing agency, or HUD to file a complaint. These organizations, according to Greene, aggressively pursue complaints when the investigation reveals discrimination, typically gathering evidence through testing. Testing, which compares the treatment received by similarly situated individuals who pose as housing applicants, is often the best tool for uncovering evidence of subtle housing discrimination. Discriminatory housing providers, says Freiberg, attempt to mask their illegal behavior by minimizing contact with minority groups through selective advertising, camouflaging discrimination with common courtesies, or unevenly apply seemingly race-neutral policies. Testing brings to light evidence that helps overcome these surreptitious barriers that may be invisible to a single individual by comparing the experiences of multiple people. Furthermore, investigations with evidence from testing result in more favorable outcomes for victims and are less likely to be dismissed than investigations without testing evidence.
Consequences of a Dynamic Housing Market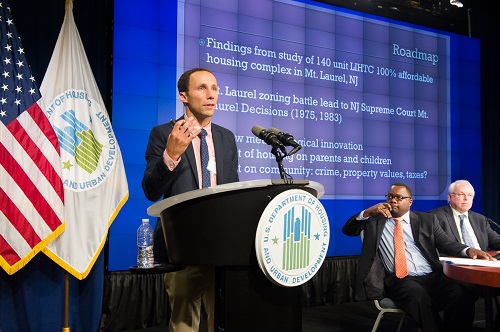 Panelist Len Albright discusses research on the Ethel Lawrence Homes in Mount Laurel, New Jersey. The changing nature of discrimination is reflected in the dynamism of housing markets, creating new challenges for testing. Advertising has moved largely from print-based media to online listings, and communication between consumers and housing providers has become more dependent on text messages and emails. Corporations own an increasing amount of the available housing in a city or region, and many use a centralized office for all their units and a database that tracks housing applicants across properties. Tracking applicants could limit a tester's effectiveness if he or she is identified as a tester and, as a result, unable to observe the normal actions of the housing provider.
Levy contends that researchers need to adapt their testing methodologies to ensure that they reflect the most up-to-date information and housing market practices. In this respect, enforcement may be able to inform research. Enforcement agencies have greater flexibility to implement new testing structures and have more direct access to victims, consumers, and housing providers. Researchers also need to find ways to study discrimination that happens later in the housing search process. Currently, testing is limited to the preapplication stage because testers cannot sign documents such as an application or lease.
The Case for Systemic Enforcement
As Greene noted, one of the "biggest challenges to complaint-based enforcement is that not everyone who encounters discrimination reports it." Individuals may not know that they have been discriminated against or may not know their rights. Even when they are aware of discrimination and the law, victims may feel that pursuing the case is not worth the emotional and (expected) financial cost. To overcome this limitation, HUD has begun pursing more systemic investigations, such as a recent investigation into lending discrimination against women on maternity leave. HUD has the authority to begin investigations without a complaint when other evidence suggests that discrimination exists or to expand an existing investigation to help more people than the original complainant.
Freiberg echoes this recommendation for proactively engaging in systemic investigations. The Fair Housing Justice Center (FHJC) uses census data analyzed by a customized geographic information system mapping tool to identify "areas of interest" — for example, a neighborhood that has both a high percentage of affordable rental units in buildings with 50 or more units and a paucity of African American renters. Within these areas of interest and without a complainant, FHJC sends testers to each large housing provider, often finding one or more fair housing violators. Using technology to augment testing and systemic investigations enables a more strategic use of scarce fair housing resources than the current system of reactively responding to discrimination.
Fair Housing Policy Becomes Health Policy
Ultimately, ensuring access to inclusive, high-quality communities is the goal of systemic investigations, HUD policies, and fair housing law. Researchers who have studied affordable housing development in high-quality communities, such as the Ethel Lawrence Homes (ELH) in Mount Laurel, New Jersey, attest to the value of these communities for residents. ELH resulted from two fair housing court decisions that required each New Jersey municipality to provide its fair share of affordable housing. When ELH was originally debated, many Mount Laurel residents were concerned about the negative impacts the development would have on their community. Fortunately, according to Albright, who studied ELH and was a coauthor of the book Climbing Mount Laurel: The Struggle for Affordable Housing and Social Mobility in an American Suburb, the negative externalities never came to pass; Mount Laurel saw neither a drop in property values nor a rise in crime or taxes.
Instead, what accrued were tremendous health and educational benefits to the residents of ELH, many of whom left high-poverty neighborhoods in Camden. By moving to high-quality affordable housing in a low-poverty neighborhood, ELH residents were given a "space to breathe"; they saw a drop in their anxiety and stress levels resulting in an increased ability to plan for the future and work toward economic self-sufficiency. These improvements led Albright to conclude that "all kinds of health benefits come from this. So housing policy becomes health policy." ELH residents experienced the benefits of expanded opportunities through their new housing choices. Because place matters, efforts to reduce housing discrimination and residential segregation increase the opportunity of individuals and families and ensure better life outcomes for children.
For more on the challenges of housing discrimination and residential segregation and their solutions, please see the Spring/Summer 2014 issue of Evidence Matters.
A webcast of the panel discussion is available here.