New Opportunities for American Indian Youth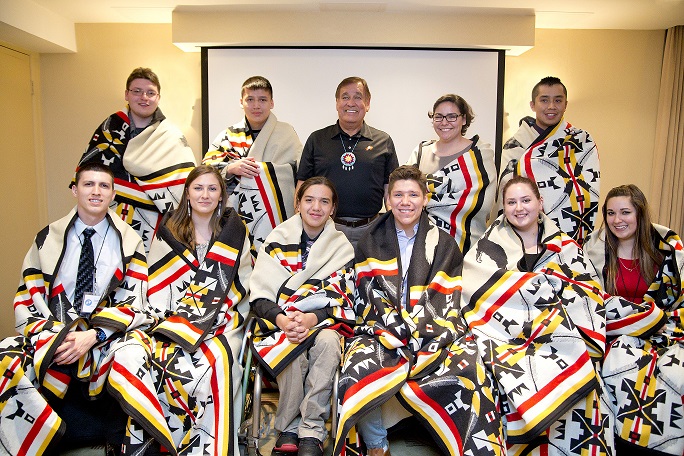 2015 Running Strong Wellness Dreamstarters with Billy Mills. Each Dreamstarter was wrapped in an heirloom "Wings of an Eagle" Pendleton blanket by their mentor and Mills in support of their dream. Photo courtesy of Running Strong for American Indian Youth.
Indian youth face many challenges. American Indian youth have the highest rate of suicide among all ethnic groups; several clusters of youth suicides swept through Indian Country this year. Native communities through community leaders, families, nonprofits, and federal agencies nationwide, are offering an innovative movement empowering Native youth to dream. One of these new opportunities is DreamstarterTM , launched by Running Strong for American Indian Youth and American Indian Olympic hero Billy Mills.
Mills, an Oglala Lakota (Sioux) who was born and raised on the Pine Ridge Indian Reservation, was an American Indian youth with a dream. Despite growing up surrounded by poverty and becoming orphaned at age 12, Mills won a gold medal in the 10,000-meter race at the 1964 Tokyo Olympic Games, an upset that Running Times magazine called the second-greatest moment in distance running history. Mills' dream came true.
Among the Lakota, those who achieve great success have a "giveaway" to thank the support system of family and friends who helped them achieve their goal. As his giveaway, Mills cofounded Running Strong for American Indian Youth, a national nonprofit dedicated to creating opportunities for American Indian youth. Inspired by the 50th anniversary of Mills' gold medal victory, Running Strong launched Dreamstarter, which each year awards $10,000 to 10 American Indian youth who dream of helping their community.
Responding to the theme of "Wellness," this inaugural class of Dreamstarters offered a startling diversity of ideas. Dreamstarter Samantha Yellow Fat wants to create a youth grief support group. Noah Blue Elk Hotchkiss wants adaptive sports for the disabled, and Breanna Potter dreams of working with other youth leaders to prevent diabetes. James Pine and Darius Sparks want to create camps for running and basketball to build healthy lifestyles and coping mechanisms, while Ronnie Godfrey and Rashaun Nez dream of school fitness equipment and safe workouts to improve the strength and well-being of community members. Nathaniel Christenson envisions using media to connect the youth in his community, whereas Jacquelyn Nielsen will create a cadre of peer mentors who help youth connect to their environment and Cristin Haase dreams of equal representation in healthcare.
"The pursuit of a dream can heal a broken soul." – Billy Mills
Each Dreamstarter works with a local mentor organization. The Dreamstarters also participate in Running Strong's Dreamstarter Academy, a multiday training program in Washington, DC, where they not only learn from each other and others in their field but also learn to tell their own stories. Running Strong also offers funds for Dreamstarters to support and visit each other's projects. A new network of Native youth leaders is being born.
The 2015 Dreamstarters have already started to bring new experiences to the youth in their communities. In July, Dreamstarters, along with more than 1,000 American Indian, Alaska Native, and Native Hawaiian youth from nearly every state, gathered in Washington, DC. Each had taken the Generation Indigenous Challenge to make a positive contribution to their community. At this inaugural White House Tribal Youth Gathering, Cabinet secretaries and Cabinet-ranked officials, including Secretary Julián Castro (U.S. Department of Housing and Urban Development), Secretary Sally Jewell (U.S. Department of the Interior), Secretary Sylvia Mathews Burwell (U.S. Department of Health and Human Services), Attorney General Loretta Lynch (U.S. Department of Justice), and Administrator Gina McCarthy (U.S. Environmental Protection Agency), along with Senator Heidi Heitkamp of North Dakota, First Lady Michelle Obama, and White House officials, fielded questions and gave advice. Tribal chairs and Native nonprofit and business leaders came with their children. Connections were made, sign language interpreters danced, #NativeYouth trended, and dreams began to grow.
"Everyone in this room has your back. Everyone who's speaking at this Summit — all those Cabinet Secretaries, all those powerful people who have come here for you — they have your back. And you definitely have a President and a First Lady who have your back." – First Lady Michelle Obama, White House Tribal Youth Gathering
Applications for Running Strong's second Dreamstarter year, with the theme "Arts and Culture," became available on October 14, 2015, and are due on December 14, 2015. This year, Running Strong will work in collaboration with the Smithsonian's National Museum of the American Indian. Future themes include "Education" and "Science and the Environment." To learn more about Dreamstarters, how to apply, or how you can get involved, please visit www.IndianYouth.org/Dreamstarter.