Low Carbon Development in the Pacific Rim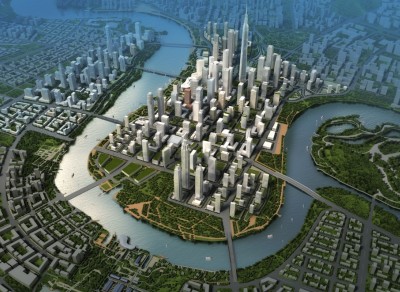 Rendering of the Yujiapu District as a Low Carbon Model Town.
A key component of President Obama's Asian collaboration policy is the exchange of experiences related to sustainable and energy-smart communities. During his recent trip to the Asia-Pacific Economic Cooperation (APEC) meeting in Honolulu, Hawaii, the President emphasized the importance for the U.S. of collaborating with APEC on the organization's Energy Smart Community Initiative (ESCI) which promotes green growth, sustainable development, and long-term job creation in the Asian Pacific region.
ESCI's focus areas — smart transport, smart buildings, smart grid, and smart jobs — align strongly with those of U.S. efforts and especially with HUD's strategic goal of creating "strong, sustainable, inclusive communities and quality homes for all." HUD Secretary Shaun Donovan has identified energy efficiency as one of the agency's key priorities and has called the retrofitting of HUD-assisted and public housing "a model for greening the nation's housing." To support ESCI, the U.S. Departments of Energy (DOE) and State invited Alven Lam, Director of International Research for HUD's Office of Policy Development and Research, to conduct policy exchanges with the APEC economies in 2011 on low-carbon development currently underway in Tianjin, China.
One of APEC's flagship projects is the Low Carbon Model Town (LCMT), which promotes shifting urban development to a low carbon model. Japan and China are taking the lead in developing the concept, technology, and implementation strategies. The first LCMT is located in Yujiapu, the old seaport district of Tianjin, China. The city of Tianjin is 70 miles from Beijing and has a population of 12.9 million. The Yujiapu LCMT will transform an underused site filled with vacant industrial sites and farmland into a new global financial center in northern China. The 2030 Master Plan outlines the development of 950 acres to serve a daytime population of 500,000. Phase I is already underway, with the development of 98 acres and 31 million square feet of office, commercial, residential, and institutional spaces. Because the need for similar large-scale urban development is rising in many APEC economies, this project can serve as a model for other cities wishing to use low-carbon development models to increase the sustainability and livability of their communities.
The Master Plan sets 6 direct indexes and 28 indirect indexes to monitor carbon emission. For example, the target is to reduce transportation and building CO2 emission by 30 percent in 2020 and 50 percent in 2030 compared with the 2010 business as usual levels.
To meet these goals, strategies being examined for the Yujiapu LCMT include the following:
Central business districts: low-carbon construction, untapped energy, solar and wind power generation.
Housing districts: low-carbon housing, solar power generation.
Farming districts: low-carbon housing, biomass power generation.
Transit: intercity railways, light rail transit, and electric vehicles EV
The technologies and other key elements that drive the low-carbon development in Tianjin Yujiapu will be analyzed to produce benchmark metrics. These measures will be shared with member nations at the 2012 meeting of APEC's Energy Working Group.
According to Dr. Phyllis Yoshida, a Deputy Assistant Secretary at DOE, in 2011 "this initiative will start providing important data by disseminating best practices on how APEC's urban areas are meeting the global low-carbon challenge and providing an important holistic view of how various renewable energy, energy efficiency, and urban planning policies and tools can be used together to move APEC toward a low-carbon, sustainable future."
To facilitate best practice and policy exchange among those developing low-carbon cities, a Knowledge Sharing Platform is being established by the University of Pennsylvania's Institute of Urban Research and Chinese Taipei's Taiwan Institute of Economic Research, with the participation of nearly all 21 APEC nations. A beta test site is currently online for viewing.