Message From PD&R Senior Leadership
The Evolution of Anchor Institutions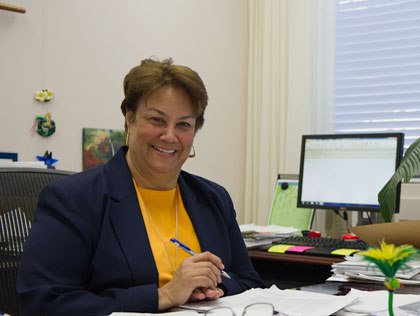 Sherone Ivey, Deputy Assistant Secretary for University PartnershipsAnchor institutions are schools, institutions of higher education (IHEs), hospitals, faith-based organizations, and community-based organizations that have deep roots in the community and are longstanding contributors to the community's stability and strength. Often these institutions are the largest employers, purchasers, and landowners in the community and as a result are the largest contributors to the community's economy and well-being.
Before we truly understood or appreciated the value of anchor institutions and their potential role in the community, the scholars and institutions involved in the university engagement movement helped move IHEs out of the shadows and into the forefront of community life. HUD's Office of University Partnerships (OUP), along with a group of IHEs and practitioners, played a pivotal role in the university engagement movement. OUP's grant programs were early demonstrations of "collaborative federalism," which embraces partnerships among local governments, community residents, nonprofit groups, IHEs, and philanthropic organizations to provide creative solutions to longstanding problems. Anchor institutions and their partners are uniquely positioned with a broad range of skills and resources—intellectual, human, technological, and social—to address these urban challenges. The assets of anchor institutions enable communities to craft solutions to their challenges; without a prescribed cookie cutter approach; these efforts help build capacity for community partnerships.
At the close of 2011, OUP concluded its Empowerment Series with "Anchor Institutions: Focus on the Future," a forum cosponsored by the Anchor Institutions Task Force, the Association of Public and Land-Grant Universities, and the Coalition of Urban Serving Universities. The forum included three leading scholars and practitioners from organizations that have distinguished themselves as model anchor institutions. Dr. Henry Taylor, director of the Center for Urban Studies at the University at Buffalo, State University of New York (UB), shared how UB has merged its OUP- funded community outreach efforts in inner-city Buffalo with the local Community Action Agency to lead a coalition that was successful in receiving a Planning Grant through HUD's Choice Neighborhoods Program. Dr. Hassan Minor, vice president and chief technology officer at Howard University, discussed Howard University's work with community and business partners to redevelop the historic LeDroit Park neighborhood adjacent to the university, creating safe, affordable housing opportunities for District of Columbia residents. Richard Cook, director of the Social Work Community Outreach Service at the University of Maryland at Baltimore, described the university's work with its neighbors to successfully construct a bio-medical research facility affiliated with the University of Maryland Medical Center in a neighborhood once noted for blight and crime. The new facility provides community residents with jobs and viable business opportunities.
OUP's most recent event was "Building Resiliency: The Role of Anchor Institutions in Sustaining Community Economic Development," a forum it cosponsored with the Federal Reserve Bank of Philadelphia and Widener University. The forum included a keynote address from Dr. Barbara Holland, an academic leader and past visiting director of OUP. Dr. Holland's address, "Making It Happen: Creating a Shared Future Through Partnerships," challenged the 40 participants from IHEs, local governments, economic development authorities, and the community to work together to address the new realities brought about by the recession. Dr. James Harris, president of Widener University, shared the story of the university's transformation from an institution with no community outreach effort to the leading anchor institution for the economically depressed city of Chester, Pennsylvania. Under Dr. Harris's leadership, Widener University has taken on many key leadership functions within the community, including assisting the school system; helping residents to form a task force on healthy lifestyles; and improving local economic development in collaboration with several community groups, and the city government. Widener University also has been working very closely with the Strong Cities, Strong Communities (SC2) Community Solutions team in Chester. Mark Linton, executive director of the White House Council on SC2, led a discussion on the purpose of the SC2 initiative and the leveraging of community partnerships. Linton also acknowledged Widener University as a model for anchor institutions providing leadership and resources to address critical community problems and concerns.
Difficult times have made partnerships between anchor institutions and their communities more important than ever, with many communities depending heavily on the intellectual capacity and service-learning strengths of these institutions. Through their expertise in such areas as education, research, employment, housing, job training, purchasing, real estate development, and business and cultural development, anchor institutions help sustain the vitality of our nation's communities.
OUP will continue to work with anchor institutions as well as local, state, and federal government representatives; community organizations, and philanthropic institutions to form community-empowered partnerships that implement local solutions for local problems.