Message From PD&R Senior Leadership
New Leadership Ties Research to Mission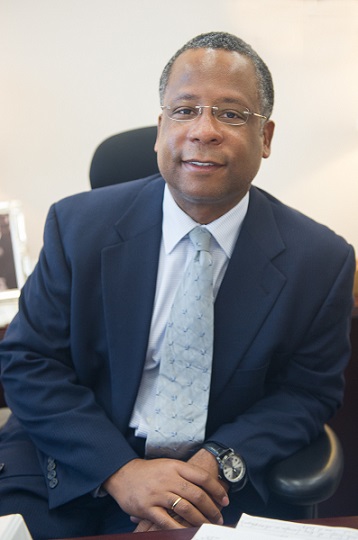 Calvin Johnson, Deputy Assistant Secretary for the Office of Research, Evaluation, and Monitoring.As the newest member to the Office of Policy Development and Research (PD&R) leadership team, I want to take this opportunity to introduce myself to the Edge community.
I joined HUD in June 2013 as the Deputy Assistant Secretary for the Office of Research, Evaluation, and Monitoring (OREM). It has been an amazing three weeks of learning OREM projects and how they contribute to HUD's mission. From my first day on the job and every day thereafter, I have become more excited about the opportunity to work with so many talented staff committed to tackle challenging research, evaluation, and demonstration projects in support of HUD's mission – to create strong, sustainable, and inclusive communities and quality, affordable homes for all.
Prior to coming to HUD, I worked for the Court Services and Offender Supervision Agency for the District of Columbia (CSOSA), where I was the Associate Director for the Office of Research and Evaluation. At CSOSA, I worked with statisticians, analysts, and data management and business intelligence professionals to use data as an asset to be brought to bear on community crime control policies and strategies. My role there was to facilitate and contribute to a broad discussion about how to transform neighborhoods and communities to support the health and well-being of their residents. Specifically, I learned to appreciate the power of collaboration among employment, housing, and health and human services agencies to spark these transformations.
As I begin my fourth week with OREM, I am beginning to process the work that OREM performs in terms of alignment with HUD's strategic plan. In addition to understanding the breadth of OREM's research, evaluation, and demonstration projects, this exercise presents a picture of where the opportunities are to address unmet research needs. It is in these areas of unmet need that we have the opportunity to close knowledge gaps and explore additional ways to inform policy and program decision making. I love research and evaluation, but I REALLY LOVE the type that addresses unmet needs and answers questions that drive performance on key strategic objectives. So, OREM staff can always count on me to ask three questions about any proposed or planned project: How does this project support a strategic goal or objective? Will this project answer an important research question? And will the public understand why this project is important?
It comes as no surprise to me that PD&R's projects are closely aligned with HUD's Strategic Plan. OREM staff have either conducted or are in the process of conducting large-scale research, evaluation, and demonstration projects that focus on assessing the effects of different types of pre-purchase homeownership counseling on home loan performance (Goal 1); assessing the housing needs and quality of housing experienced by Native Americans, Alaskan Natives, and Native Hawaiians (Goal 2); assessing promising practices to move homeless populations into more stable housing arrangements (Goal 3); and understanding the discrimination that racial/ethnic minorities and same-sex couples experience in their housing search (Goal 4). Examples of this type of alignment are fairly consistent across all OREM projects.
So, what is there for me to do?
As readers may know from previous Edge issues, former Assistant Secretary for Policy Development and Research Raphael Bostic and former Acting Assistant Secretary Erika Poethig led the development of a 5-year plan for HUD's research and demonstration projects – more affectionately known as the Research Roadmap. This roadmap outlines projects intended to inform work under each of the HUD's strategic goals (at the strategic objective or activity level). PD&R staff solicited feedback from internal and external stakeholders regarding research that would inform HUD's future work. We received nearly 1,000 responses, which were distilled into 85 priority research questions. What better place to begin?
As I have already stated, I love conducting research and evaluation. So, the Research Roadmap provides an excellent opportunity to work collaboratively with staff across PD&R to provide HUD with research and evaluation findings that inform the work it does and plan to do to create strong, sustainable, and inclusive communities and quality, affordable homes for all.