DISCLAIMER: The information presented on this page are those of the author and do not reflect the views or policies of the U.S. Department of Housing and Urban Development or the U.S. Government. Inclusion of these reports on the HUD USER web site does not mean an endorsement of these institutions or their viewpoints.
Evaluating the First Year of U.S.-Germany City Exchange Program for HUD Grantees
By Geraldine Gardner and Alissa Akins, The German Marshall Fund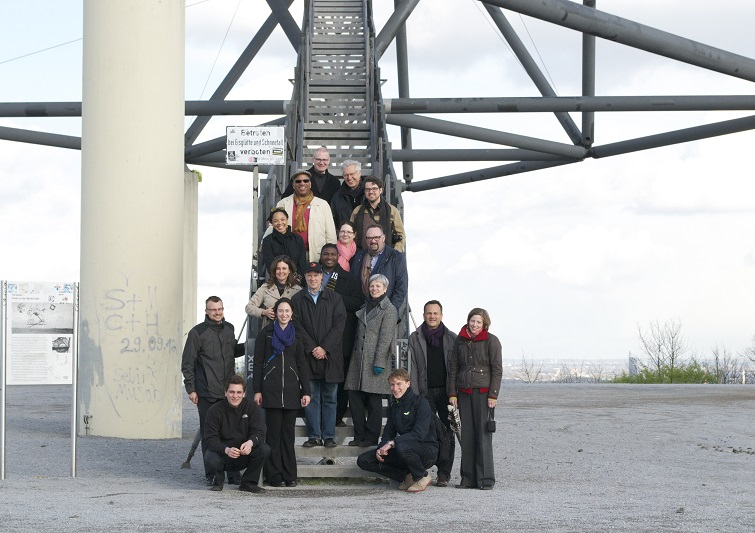 U.S. and German D4C participants pose at The Tetrahedron, a landmark in Bottrop, Germany that honors the post-mining redevelopment of the region. Photo Credit: German Marshall Fund.

The German Marshall Fund of the United States (GMF) recently released a Report looking at the first year of the Dialogues for Change (D4C) initiative, an innovative, international peer-to-peer exchange network that engages city leaders in substantive and meaningful dialogue to find common solutions to shared community development challenges.
Launched in 2012, D4C is part of a 2011 Memorandum of Understanding (MOU) between HUD and the German Ministry of Transport, Building, and Urban Development. The MOU, administered by PD&R's Office for International and Philanthropic Innovation (IPI), authorizes collaboration around sustainable urban development, highlighting the shared interests of the U.S. Livability Principles and the Leipzig Charter on Sustainable European Cities. Under the MOU, the nonprofit organization GMF was selected to develop and coordinate the D4C initiative.
D4C is an illustrative example of how international comparative exchange opportunities can enhance the capacity of local community development professionals, including HUD grantees, to address common challenges by finding common solutions and move the needle forward on critical urban issues.
Year One: A Partnership Model
In addition to setting goals and testing out strategies, a main component of the D4C initiative is peer-to-peer dialogue-based workshops that allow cities to share experiences and innovative tools with each other. In the first year of the D4C initiative, policymakers and planners from the U.S. cities of Austin (OSHC grantee), Flint (OSHC grantee), and Memphis (SC2 Grantee) and the German cities of Bottrop, Leipzig, and Ludwigsburg, came together through a series of in-person and virtual convenings. In each of these cities, a planning process was underway.
Both Germany and the U.S. are experiencing heightened interest in revitalizing urban cores and similar demographic shifts that require planning and policy responses. Soliciting and incorporating public dialogue into the planning and policymaking process is critical to ensuring that changes are equitable and effective. Although civic engagement is required for urban planning projects and major public investments in both countries, localities often only meet the minimum requirements and fail to pursue innovative methods of fostering meaningful dialogues with stakeholders within and outside of the planning process. D4C's meetings offered participants a forum in which to discuss civic and community engagement strategies that move engagement beyond the planning process, to a more sustained, institutionalized practice.
HUD and GMF are uniquely suited to facilitate the international initiative. HUD provides the policy framework and GMF's convening powers provide a grassroots, dialogue-based approach to the work. As a "do-tank" and not a "think-tank," GMF brings people together to focus on project-specific outcomes through workshops and peer-to-peer dialogue. Together, HUD and GMF work in a synergistic partnership by approaching the same issue from different angles.
GMF's transatlantic cooperation and knowledge exchange programs are predicated on the idea that neither side of the Atlantic has everything right. The Dialogues for Change approach was less about bringing a group of people to another country to see how things are done and more about bringing a group of peers together to discuss their challenges and share strategies and approaches to their common work. The D4C cities have formed unique partnerships, and even though they may be at different stages in their process of engaging citizens and planning for change they can still benefit from peer-to-peer dialogue. Everyone in the group is an expert at something, and because of this, each participant has something to share and something to learn.
D4C Community Engagement Outcomes
GMF is dedicated to measuring outcomes of this work using both quantitative and qualitative data. On the quantitative side, keypad polling of planners and policymakers from participating cities was used to help identify outcomes of learning objectives. These results indicate that D4C positively impacted planning processes and projects in each city; the results also illustrate that impact accrued not only to the participants but also to other community members. Examples of qualitative data gathering include testimonials from participants who have convened others around this work, for example through a new partnership office on community engagement or political leadership engagement.
Each U.S. city cited examples of innovation transfer. Austin borrowed Ludwigsburg's strategy to use "civic engagement walks" in their efforts to rewrite the Land Development Code to align with the Imagine Austin Comprehensive Plan. Flint adopted two workshop tools in their Master Planning process: keypad polling to collect demographic data and Textizen, a text message-based survey tool, to reach unengaged constituents. Memphis also incorporated keypad polling into their work, and used a stakeholder mapping exercise to identify a key overlooked political ally.
Importantly, lessons from D4C did not stay within a single government department but were shared widely with colleagues around the city. For example, Flint cited Leipzig's efforts to creatively address population loss as informing their work more broadly. And Memphis is looking to adopt other cities' "Positive Journalism" tactics to better brand the city.
Moving forward, GMF anticipates continued peer-to-peer dialogue and learning and strengthening the relationships between the network cities. GMF is looking forward to the next phase of D4C because of the emphasis on advancing city projects and creating an even stronger, sustainable peer leaning environment. There is also an expectation that the lessons from D4C will be integrated into the broader U.S. and German urban networks.