Residential Renovations Help Revitalize Allentown's Downtown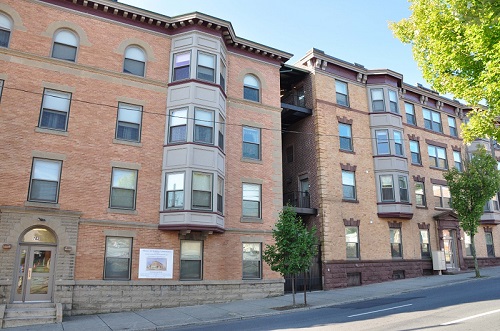 In 2012, Alliance for Building Communities completed renovations on the Greystone Apartments, providing 24 affordable apartments adjacent to Allentown's Neighborhood Improvement Zone. Image credit: Keenan-Nagle Advertising. Allentown, Pennsylvania, once home to thriving iron and silk trades, has suffered from the decline of its manufacturing sector since the mid twentieth century. In addition, the economic downturn of the late 2000s left the city with an unemployment rate of nearly 10 percent and a poverty rate almost twice as high as that of the state of Pennsylvania in 2013. Allentown is sponsoring several economic development programs to revitalize its downtown and waterfront districts, as well as to improve economic conditions throughout the city. To support these efforts, the city is strengthening neighborhoods near its downtown to attract workers and customers for the new businesses. To address the roughly 800 foreclosures in Allentown as of 2014 a nonprofit housing provider, Alliance for Building Communities (ABC) is renovating vacant, condemned, and deteriorating housing in the area and designating the units as affordable housing for low- and moderate-income households.
Affordable Housing Complements Economic Development in Allentown
One of the economic development programs Allentown has initiated is the Neighborhood Improvement Zone (NIZ) to encourage development in the downtown and in a declining industrial area along the Lehigh River. The special taxing district, authorized by the state of Pennsylvania in 2009, allows the city to devote certain state and local tax revenues generated in the NIZ to help fund economic development projects in the district. The 128-acre district was initially created to fund the PPL Center, an arena for a minor league hockey team and special events that opened in September 2014. Several other economic development projects have been funded by NIZ, including new and retrofitted Class A office and retail space, a full-service hotel, and high-rise residential units.
In addition to NIZ, other programs are helping to spur the revitalization of Allentown. The city and several organizations are partnering to encourage economic development in areas of downtown outside of the NIZ; focused on historic preservation, this program provides money for façade improvements and upgrades to lighting and signs. Grants from the U.S. Environmental Protection Agency (EPA) are also being used to transform brownfield sites throughout Allentown into development opportunities; and an EPA Brownfields Sustainability Pilot has targeted environmental remediation and redevelopment of a former industrial site on the Lehigh River waterfront that was incorporated into the NIZ when the district was created. In addition, a HUD Sustainable Communities Regional Planning Grant is funding a reindustrialization strategy for the city that will include detailed plans for redeveloping the Little Lehigh Creek corridor and the Allentown Metal Works site.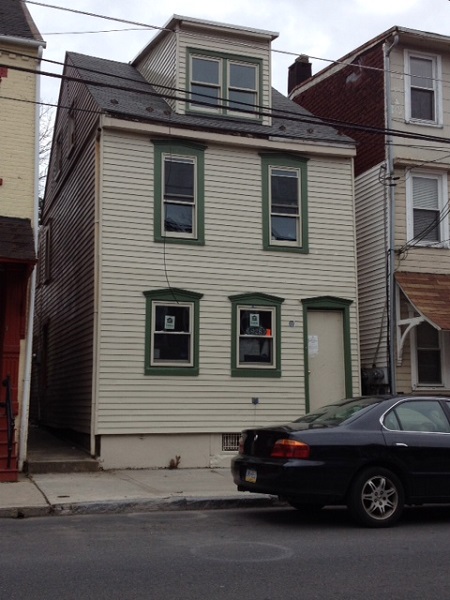 Alliance for Building Communities is renovating residential properties throughout Allentown, such as this home at 928 W. Chew St., to create affordable rental housing. Image credit: Keenan-Nagle Advertising. Revitalizing vacant and distressed properties for use as affordable housing complements these economic development efforts. Research shows that vacant and abandoned properties have negative effects on communities that can be reversed when the properties are revitalized. Repurposing these properties as affordable housing can also yield economic benefits. Studies have also shown that affordable housing development not only helps stabilize neighborhoods by reducing foreclosures but also boosts economic development efforts through increased spending in the area. Affordable housing can also help attract workers for the new businesses, and housing construction creates additional jobs that bring more money into the local economy.
Alliance for Building Communities' Revitalization Efforts
ABC is a nonprofit that revitalizes and manages affordable housing and provides access to HUD-certified housing counselors. ABC manages more than 500 units in 6 counties in northeastern Pennsylvania. ABC's properties in Allentown include the Greystone Apartments adjacent to the NIZ.
Greystone Apartments' three buildings, comprised of 24 one-, two-, and three-bedroom units, were originally constructed in the early 1900s. The buildings had fallen into disrepair by the time ABC began revitalizing the property in 2010. ABC undertook extensive renovations to the property, including improvements to the heating, air conditioning, and plumbing systems. ABC also installed additional insulation and replaced the windows.
The roughly $5 million cost to renovate the property was funded through low-income housing tax credits and the Tax Credit Assistance Program. ABC also used funds from HUD's Housing Choice Voucher program to make the 24 units affordable to low-income households, ensuring that tenants pay no more than 30 percent of their income toward rent. Renovations were completed in 2012, and the building quickly exceeded 95 percent occupancy.
Renovations of Vacant Single-Family Homes
In 2013, ABC initiated a program to renovate between three and five vacant houses per year in neighborhoods throughout the city. ABC is purchasing the condemned homes from the city's redevelopment authority to repair and rent to low- and moderate-income households. According to ABC president and chief executive officer Gerald Alfano, the organization's strategy is to select homes in clusters, so that their renovation will foster revitalization in the surrounding neighborhood.
To kick-start the program, ABC renovated four homes in 2014 (at an average cost of $100,000 each) and is acquiring and renovating additional houses. Some of the homes have been converted from two- or three-unit buildings to single-family homes, with gutted interiors and repairs to exterior walls and roofs. According to Alfano, the city's HOME Investment Partnerships program has funded most of the renovations, requiring the renovated units to remain affordable for a minimum of 15 years. Alfano notes that these rental units are in high demand, and ABC has waiting lists for properties whose renovations are not yet complete.
Continuing Work in Allentown
In addition to ABC's ongoing work on single-family homes throughout Allentown's neighborhoods, the organization is completing renovations on a 23-unit rental property it manages on 10th Street, adjacent to the NIZ. To reduce displacement, units in the nearly 30-year-old building are being renovated as they become vacant. While ABC is completing renovations on the 10th Street apartments and undertaking similar residential renovation projects, the organization is also interested in expanding its affordable housing efforts in northeastern Pennsylvania. ABC is seeking to collaborate with other nonprofit organizations to develop mixed-income housing.
These revitalization efforts have shown signs of success, with Fortune Magazine designating Allentown as one of its "5 cities with up-and-coming downtowns" in 2014. As city programs encourage economic development in the NIZ, efforts by ABC and other affordable housing providers both further the city's revitalization and ensure that low-income households have the opportunity to benefit from Allentown's reviving economy.