Bidwell Park Apartments: Affordable Green Housing in Chico, California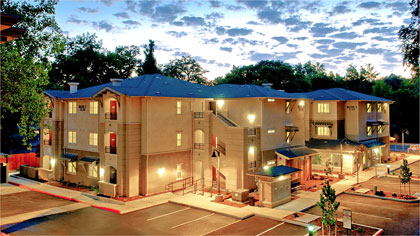 Bidwell Park Apartments consist of 38 rental units and a community center offering adult and children services. Image courtesy of Thomas Del Brase with TBD Photography. Chico, California was hit hard by the recession, experiencing an 11.2 percent unemployment rate, according to Mayor Anne Schwab. Nevertheless, the city recognized its housing problems and made positive efforts to address them, including a $3.5 million loan to help finance Bidwell Park Apartments, the newest affordable housing community in Chico. The rental housing property comprises 38 units and includes a community center that offers residents access to numerous services. The Build It Green GreenPoint Rated complex was built using environmentally sustainable construction methods and materials. Bidwell Park Apartments opened in August 2012, and within three months most of its units were leased or leased pending income verification; a long waiting list is currently in place.
Partners for Bidwell Park Apartments
Bidwell Park Apartments is the result of a six-year collaborative effort by the city, Stone Building Corporation, Pacific West Communities, the Central Valley Coalition for Affordable Housing, and the former Chico Redevelopment Agency. In 2008, the Chico City Council cleared the way for the project by rezoning the 1.15-acre site from low- to medium-high-density residential. California-based Stone Building Corporation and Idaho-based Pacific West Communities, Inc. collaborated as codevelopers of the project.
Federal low-income housing tax credits financed $4 million of the project's $7.8 million total cost. The Chico Redevelopment Agency provided a $3.5 million low-interest loan and private financing contributed $300,000. In addition to the development and financing partnerships, the success of affordable housing projects like Bidwell Apartments depends on the locality and the developer working together, according to Gregg Stone, owner and director of development at Stone Building Corporation: "Your customer is the community and the city, and they are also your partner. You are there to implement their community development objectives and address their affordable housing needs."
Affordable Rents and Support Services
Except for the property manager's apartment, all of the units are offered to households with incomes between 30 and 60 percent of Butte County's area median income. The building includes 11 three-bedroom, 11 two-bedroom, and 15 one-bedroom units. All of the apartments feature dishwashers, garbage disposals, stoves, refrigerators, maple cabinetry, granite countertops, and patios or balconies.
Bidwell Park Apartments was designed to provide sustainable and affordable housing through lowered utility bills for residents as well as lowered operational costs for the property owner. Development initiatives that earned the project its GreenPoint Rated status include water conservation equipment and energy-efficient heating and cooling systems, insulation, roofs, and windows. In addition, the developers used sustainable construction materials such as green flooring and carpet materials. All construction-generated waste and debris were sorted and tracked to ensure that recyclable material was diverted away from landfills.
Supportive services for residents are offered in the 1,176-square-foot community center. The Central Valley Coalition for Affordable Housing will annually provide 144 hours of free programs for adults, including employment, parenting, finance, health, and safety offerings. Depending on demand, children's services such as afterschool care, homework help, and art will also be provided. In addition to rooms for these services, the community center provides a community kitchen, gas fireplace, television, living room amenities, and four washers and dryers. The onsite playground is supplemented by Bidwell Park, a 3,670-acre public park within a quarter mile of the apartments. The property fronts on 8th Avenue, where bus service and bicycle lanes are available.
Construction of Bidwell Park Apartments displaced approximately 15 households living in a mobile home park on the site. All the residents received financial and relocation assistance in accordance with the California Relocation Assistance Law, and all have successfully relocated. Mayor Schwab pointed out that, in addition to creating 70 construction jobs, Bidwell Park Apartments is "a very well designed project that is of great benefit to our community, providing much needed low-income housing and eliminating a very dilapidated trailer park, which was a health and safety hazard at the entrance to our city."