Massachusetts Addresses Issues with Social Innovation Financing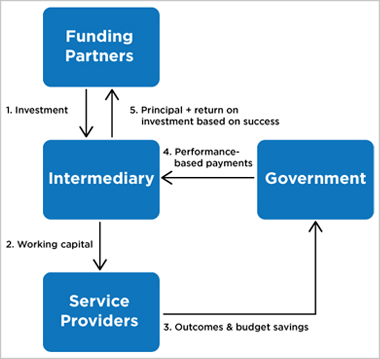 Flow of funds through organizations in a program using social innovation financing. Image courtesy of Massachusetts Executive Office of Administration and Finance.Massachusetts is implementing social innovation financing (SIF) to improve the lives of at-risk individuals released from the juvenile justice system as well as chronically homeless persons. Massachusetts claims to be the first state to negotiate successful bids for contracts under the new financial strategy, which aims to improve social services while saving money. As the Massachusetts Executive Office for Administration and Finance (EOAF) explained, SIF is "a creative idea based on a simple premise — have government pay for demonstrated success rather than the promise of success." If successful, Massachusetts' SIF initiative may become a model for federal, state, and local governments as they seek new ways to fund critical social services amid tight fiscal constraints.
New Financing for Better Results
SIF contracts target innovative social service programs in areas of great need where evidence-based, multiyear performance measurement is possible and where expert service providers are available. SIF funds social services not through annual government appropriations but through multiyear financing by private investors, a method that provides social service organizations with more program security and stability. Known as social impact bonds in the United Kingdom, where the financing mechanism originated in 2010, SIF is designed to break down silos of individual agencies and leverage market incentives to deliver services efficiently and effectively. In addition, under SIF, providers of social services are not constrained by the traditional government model, which is often overly prescriptive and restricts innovation.
If the service providers produce acceptable results, the government pays investors for the cost of providing the services plus a return on their investment — a strategy known as "paying for success." SIF measures acceptable results by outcomes (such as a reduced rate of recidivism) rather than outputs (for example, the number of individuals served). By providing services in innovative ways — such as focusing on prevention rather than traditional, corrective services — service providers achieve cost savings for governments that can be used to pay the return on investment.
An intermediary organization negotiates a contract with the government to determine the measures of success, the rate of return, and other details. The intermediary also finds investors and service providers willing to accept the terms of the contract and manages the contract, costs, and progress toward the measures of success. In addition, the intermediary often offers technical assistance to service providers to help them work efficiently and effectively. Independent evaluators may assist intermediaries with contract management, and philanthropies may provide technical assistance and funding.
Collaborative Innovation in Massachusetts
In July 2012, Massachusetts Governor Deval Patrick signed the bill that created SIF as a financial tool for the state. The following month, the commonwealth announced the successful bidder for the first two contracts — for juvenile justice and homelessness — valued at up to $25 million each. Both initiatives are expected to start in 2013 and last five years. Although the commonwealth is still finalizing the contracts and not all terms have been decided, it will scale payments according to measured levels of success and cost savings.
Massachusetts selected two organizations to collaborate on both SIF initiatives. Third Sector Capital Partners, which offers general and financial expertise, will be the lead intermediary for the juvenile justice initiative and the financial intermediary for the homelessness initiative. The United Way of Massachusetts Bay and Merrimack Valley will apply its expertise at measuring nonprofit performance and raising capital. In addition, Harvard Kennedy School's Social Impact Bond Technical Assistance Lab (SIB Lab), with seed funding from the Rockefeller Foundation, will advise the commonwealth on both initiatives, including cost/benefit analysis and evaluative measurement.
Initiatives for Juvenile Justice and Homelessness
For the juvenile justice initiative, lead intermediary Third Sector Capital Partners will partner with New Profit Inc. to find investors. The service providers, who will reduce recidivism and improve education and employment outcomes for approximately 900 individuals released from the juvenile justice system, are Roca and Youth Options Unlimited (Y.O.U.). Roca will apply its performance-tested intervention model for high-risk youth, which emphasizes mentoring and educational, vocational, and life skills training. Y.O.U., a program of the Boston Mayor's Office of Jobs and Community Services, will assist Roca with case management and employment connections.
The homelessness initiative will provide stable housing and support for 400 to 600 chronically homeless individuals. The key outcome is continuous tenancy, supported by such services as medical and employment assistance, according to Joe Finn, president of the Massachusetts Housing and Shelter Alliance (MHSA), the lead intermediary for the initiative. Assisting MHSA will be the Corporation for Supportive Housing, which will evaluate existing housing and service options, and Third Sector Capital Partners, which will serve as the financial intermediary. MHSA will also raise private capital with the United Way of Massachusetts Bay and Merrimack Valley. Service providers will be selected soon.
Plans for the Future of SIF
Ryan Gillette, a Government Innovation Fellow from Harvard's SIB Lab who is working in EOAF, is optimistic about Massachusetts' program and the possibility of future expansion. According to EOAF, the program positions the commonwealth well to compete for the $109 million designated for paying for success in President Obama's fiscal year 2013 budget. But competitors for those federal dollars are likely. The states of Minnesota, New Jersey, and New York and the cities of Baltimore and New York have been exploring the potential of social innovation financing. Another indication of interest in the new financing mechanism is the response to SIB Lab's recent offer of assistance, which drew 28 applicants from cities, towns, and states nationwide. Jeffrey Liebman, Harvard professor of public policy and director of SIB Lab, emphasized the promise of Massachusetts' program: "All governments are grappling with the same problems. Governments want to innovate faster and if this innovative program succeeds, government will want to scale it up."