Affordable, Accessible, Independent Living Units for People with Multiple Sclerosis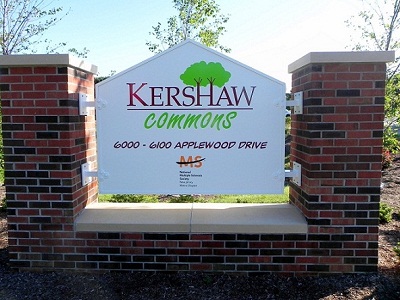 Kershaw Commons is a new affordable, accessible housing community for people with Multiple Sclerosis in Freehold, New Jersey. Image courtesy of Regan Development Corp.
Multiple sclerosis (MS) is an autoimmune disease that affects the central nervous system. People living with more progressive forms of MS sometimes find that the design of a conventional home makes daily activities difficult. To preserve the independence of people with MS, a special needs housing community opened its doors in Freehold Township, New Jersey. Kershaw Commons provides 30 affordable and accessible housing units targeted to people with MS; it is the first development of its kind in New Jersey and only the fourth such project nationwide.
Independent, Affordable, and Accessible Living
In 2009, the New Jersey Metro Chapter of the National Multiple Sclerosis Society surveyed its client base (10,000 people) to assess the need for affordable and accessible housing within the state. Most respondents (80%) cited Social Security as one source of income, suggesting that they have limited resources. The respondents living on restricted incomes expressed an interest in moving into an independent rental housing complex that would also offer assistance in activities of daily living. "Accessible, affordable housing is often a critical element in enabling people with disabilities to preserve their independence and remain engaged in their communities," says Jim Roberts, president of the New Jersey Metro Chapter.
In response to the overwhelming public demand for accessible housing, Kershaw Commons was approved in February 2010 and completed in October 2011. Because accessibility is critical for independent living among people with MS, the 25 one-bedroom and 6 two-bedroom units (a unit is reserved for the onsite superintendent) include a number of accessible features, such as roll-in showers and grab bars in bathrooms, roll-out pantry shelves, roll-under sinks and counters, railings in common areas, and oversized elevators to accommodate scooters. Amenities and supportive services also play important roles; Kershaw Commons includes a walking trail, a bio-retention basin, and a wellness center supported by the National Multiple Sclerosis Society. The housing community is less than a mile away from the Multiple Sclerosis Center at the CentraState Medical Center, a provider of supportive services. Applicants must meet income requirements to be eligible for residency; one-person households may earn no more than $30,900 annually, and two-person households may earn no more than $35,300.
Removing Barriers Through Partnerships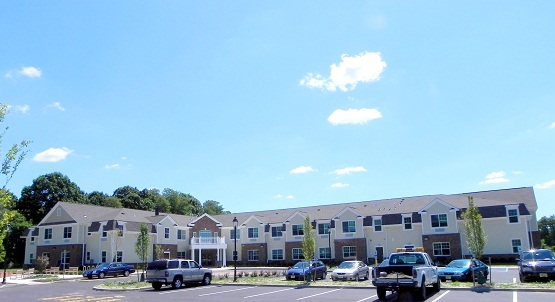 This is the exterior of Kershaw Commons, 30 units of affordable, accessible housing for people with Multiple Sclerosis in Freehold, New Jersey. Image courtesy of Regan Development Corp.
From the beginning, Kershaw Commons had its share of barriers. For example, the 3.3-acre site, formerly farmland, required a brownfield remediation to remove soil contamination resulting from pesticide use. The developer, Regan Development Corporation, worked closely with the township to meet state and federal environmental remediation requirements. Freehold Township also streamlined the rezoning approval process for the project, reducing to three months a procedure that typically takes six to eight months to complete. Moreover, the township and developer worked together to reach an agreement under the Payment in Lieu of Taxes (PILOT) Program. Under the agreement, the developers will make an annual payment (4% of total revenue) to Freehold Township in lieu of property taxes. (Kershaw Commons is a tax-exempt housing facility and thus is not subject to property taxes.) A PILOT agreement normally takes up to five months to approve, but through a concerted team effort, was accomplished in half the time, according to Ken Regan, vice president of Regan Development Corporation.
Another key public-private partnership involved financing the $11.3 million project. The New Jersey Housing Mortgage Finance Agency made available more than $1 million in taxable bond financing and offered low-income housing tax credits that generated about $7 million in private equity. More than $2.5 million was allocated from the state's Special Needs Housing Trust Fund, and to help keep the units affordable, residents received Section 8 vouchers from the Monmouth County Division of Social Services. Finally, Medicaid waivers from the New Jersey Department of Health and Senior Services allowed residents to transition from institutions to independent living at Kershaw Commons.
This new and unique development is affordable, accessible, and a welcome addition for people with MS living in New Jersey. According to 29-year old Marisa Manfredy, who lived in a nursing home before coming to Kershaw Commons, "This place is just amazing. It's everything you could possibly imagine. No matter what happens, what stages of MS you're in, this place can accommodate it."