Preserving Affordable Housing at Parkway Gardens in Chicago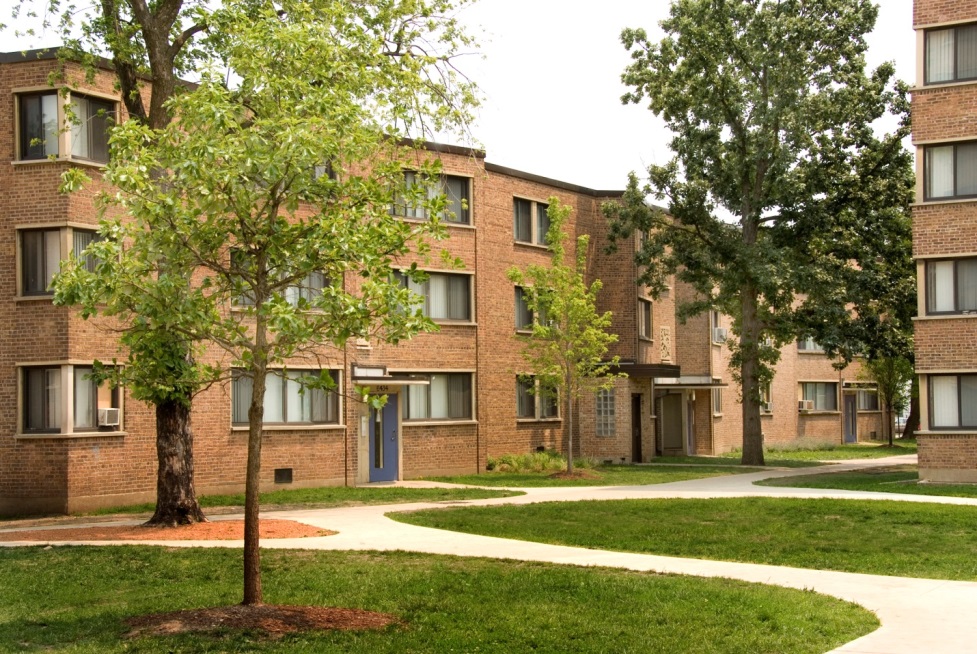 Parkway Gardens underwent extensive rehabilitation including restoration of the historic facades and improvements to the landscaped grounds. Image courtesy of Related Companies. Built in the 1950s, Parkway Garden Homes was the first housing cooperative in Chicago that was owned and operated by middle-class black professionals. The 13-acre complex offered quality affordable housing during an era when discriminatory redlining practices were commonplace. Parkway Gardens shifted from cooperative ownership to HUD management in the 1970s and to private ownership in the 1980s. Following the change in ownership, the property deteriorated because of a lack of investment in modernization and maintenance. Crime rates also increased between the late 1980s and 2011. With the goal of re-establishing safety and housing quality on the property and in the community, Related Midwest — the Chicago affiliate of national real estate firm Related Companies and a major affordable housing and mixed-use developer known for its expertise in preservation projects — purchased Parkway Gardens in 2011. The company completed a significant renovation of the property in September 2013, preserving a site with historical significance and providing an affordable place for 2,000 people to live. This renovation of Parkway Gardens received the 2014 Chicago Neighborhood Development Award for Outstanding For-Profit Neighborhood Real Estate Project from the Local Initiatives Support Corporation Chicago.
Building Trust
Related Midwest met with tenants early in the renovation process to learn about their needs and concerns. The dialogue led to improved recreation areas, the removal of a fence separating the complex from the adjacent neighborhood, and landscaping to reinforce the property's connection to the community. In addition to establishing expectations with Parkway Gardens residents, Related Midwest held monthly construction meetings with community leaders such as the Metropolitan Tenants Organization, the Shriver Center, and HUD. These meetings allowed stakeholders to remain informed about the progress of construction and to voice concerns. Related Midwest also developed partnerships with the Chicago Police Department's Third District, the office of Alderman Willie Cochran, and local churches to address community issues such as crime.
Renovation and Revitalization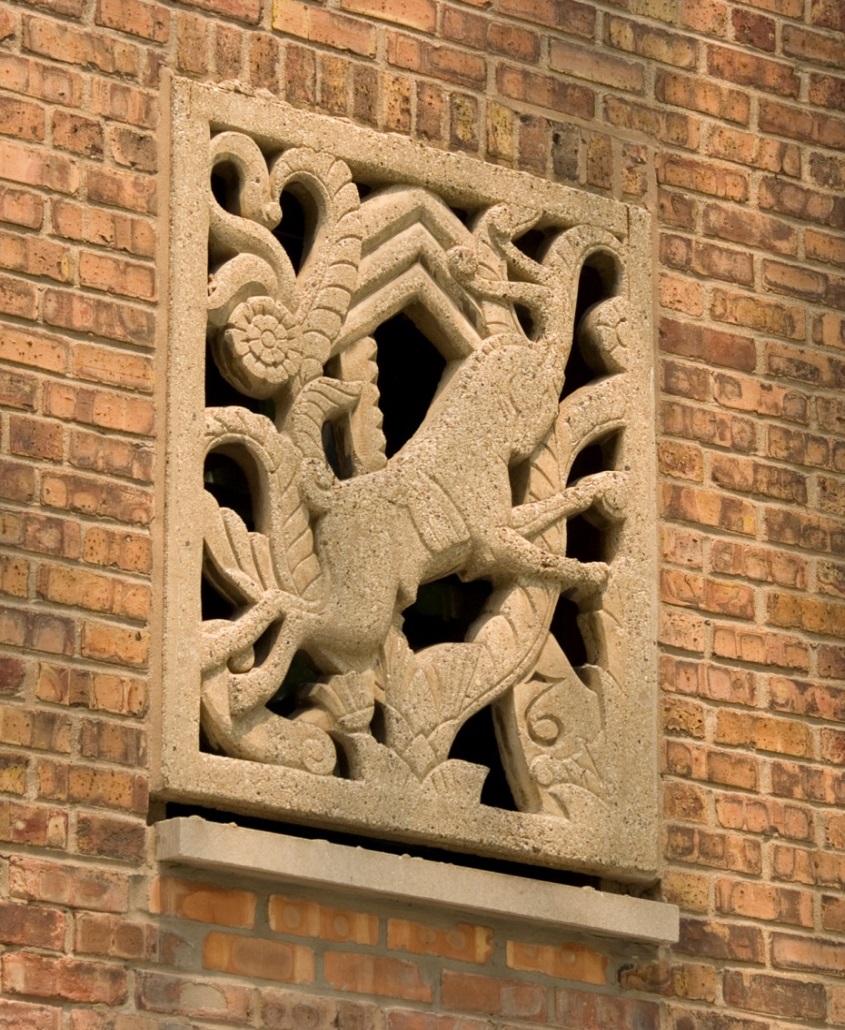 Bas reliefs on the façade of each building were restored to maintain the historic character of Parkway Gardens. Image Courtesy of Related Companies. Each of Parkway Gardens' 694 units underwent significant rehabilitation, including updating all the kitchens and bathrooms, without displacing residents of the 35-building property. Additional interior improvements included replacing leaking and outdated sanitary and boiler systems; controlling rodent infestation; installing new windows, paint, flooring, and lighting; updating laundry facilities; and renovating a community center for adult education and afterschool programming. Ten of the complex's 11 elevators were replaced, and 1 was updated. While the elevators were being replaced, Related Midwest hired a group of local area residents to help ease any challenges that tenants faced, such as carrying groceries or moving furniture. The exteriors of buildings within the complex, which is listed on the National Register of Historic Places, were renovated to preserve the signature masonry work and help the project qualify for historic rehabilitation tax credits. All parts of the buildings' façades were restored, including bas reliefs, pointing, and entrance canopies. The grounds were extensively re-engineered to remedy recurring flooding and landscaped to improve the property's appearance. Other exterior improvements included refurbishing playgrounds, repaving sidewalks, adding barbeque areas, and creating a gardening space for residents.
These physical improvements were coupled with civic engagement efforts. According to Don Biernacki, senior vice president of construction with Related Midwest, "When we go into communities, we become part of that community. [We are] not only focused on brick and mortar, but are focused on helping provide [for] community needs." Noticing that a significant number of Parkway Gardens youth attended the nearby Dulles School of Excellence, Related installed an athletic field to benefit the school and its students. With an estimated value of $500,000, the field provides a safe place for recess and organized sports, and serves as an alternative to a nearby vacant lot with a history of gang activity and safety hazards. In addition, Related has established a competitive $5,000 college scholarship annually for a resident of Parkway Gardens.
Financing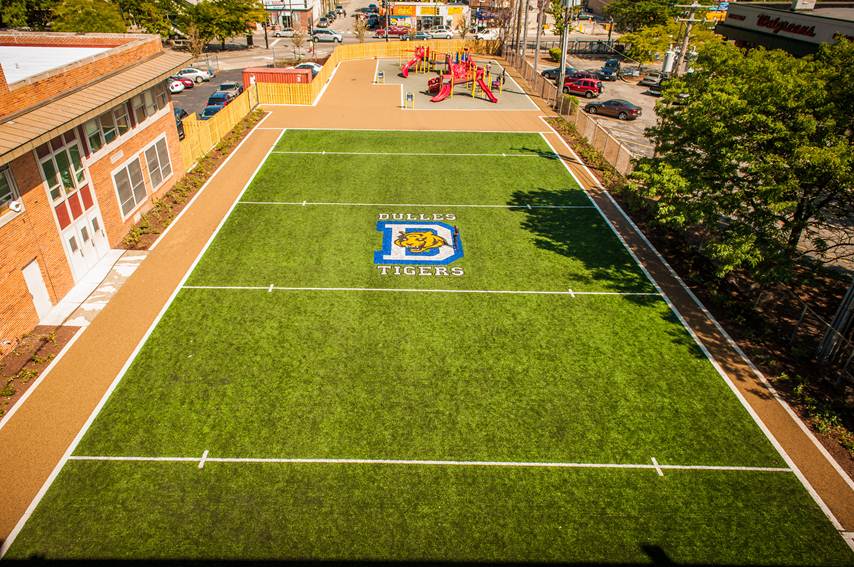 Installed in conjunction with renovation of Parkway Gardens, the new athletic field at the nearby Dulles School of Excellence offers local students a safe place for recess and organized sports. Image courtesy of Related Companies. Financing of the roughly $106 million project included $59.5 million in tax exempt bonds from the Illinois Housing Development Authority (IHDA) as part of the New Issue Bond Program (NIBP). Initiated by the Obama administration in 2009, NIBP has since assisted 7,540 homebuyers and led to the construction or preservation of 9,427 multifamily units throughout the United States. Additional funds for Parkway Gardens included $28.8 million in Wells Fargo equity from low-income housing tax credits and $9.9 million in historic rehabilitation tax credits.
Looking Forward
According to IHDA, developments such as Parkway Gardens address the growing need to preserve affordable housing in Chicago and Illinois. Parkway Gardens is guaranteed to remain affordable for households earning at or below 60 percent of the area median income (AMI), with many units reserved for households with incomes no greater than 50 percent of AMI for the next 30 years in keeping with a Housing Assistance Program contract and the IHDA bond program. Parkway Gardens continues to feature an afterschool and summer program led by a Chicago police officer that offers young residents safe and constructive recreational opportunities. Biernacki also notes that Related will continue to develop partnerships and remain engaged with the broader community to help revitalization efforts beyond Parkway Gardens.