Affordable Housing and Services for Farmworker Families in Oregon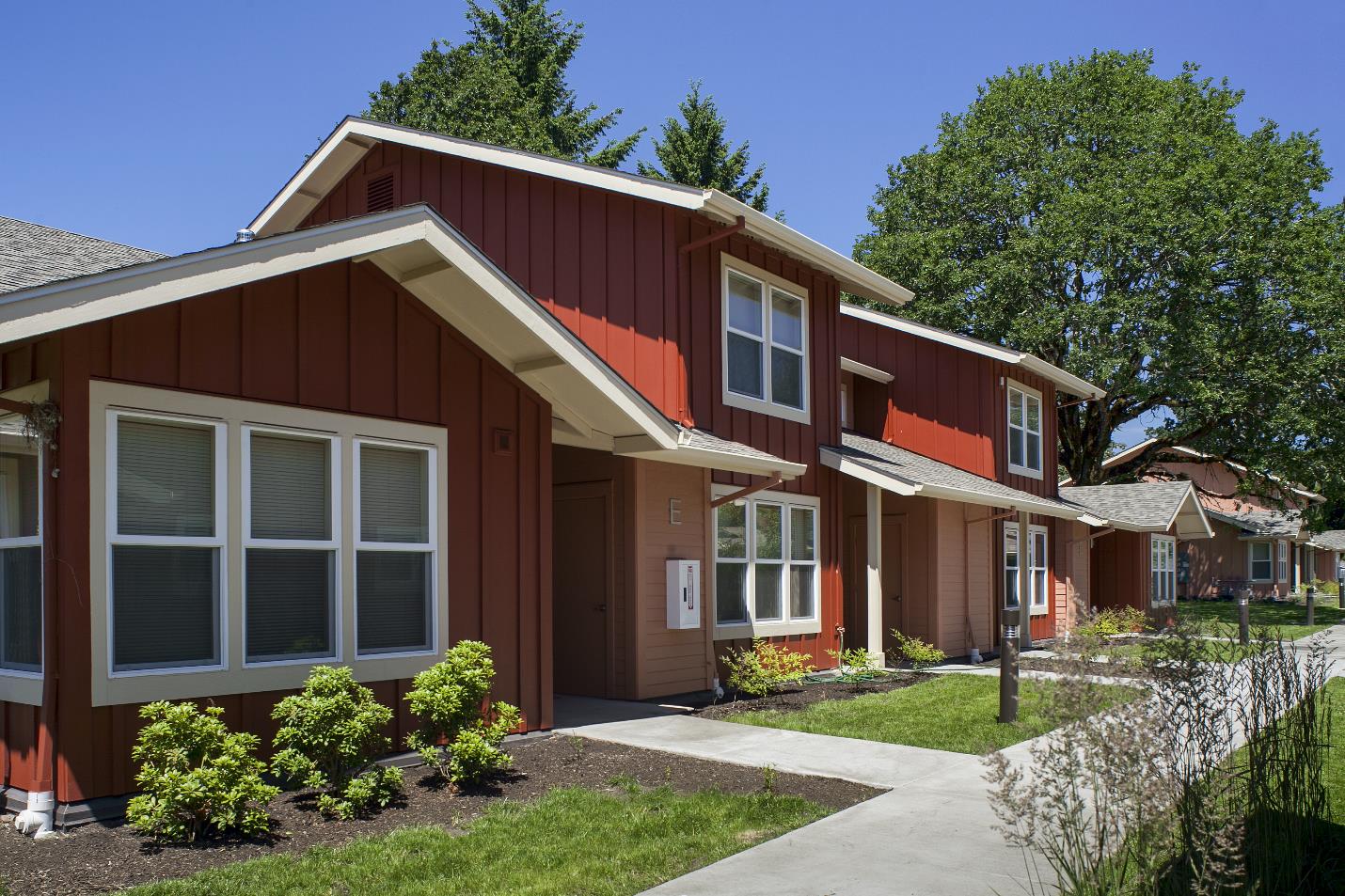 Exterior closets attached to each of Juniper Gardens' units allow farmworkers to store clothing exposed to pesticides outside of the home. Image Courtesy of Bienestar. The city of Forest Grove in Washington County, Oregon is located just inside the Portland metropolitan area's urban growth boundary, and is nearly surrounded by land zoned for agriculture and forest use. In the most recent step toward meeting the need for affordable farmworker housing in Forest Grove, a nonprofit affordable housing developer completed the first phase of Juniper Gardens in December 2012. Phase I consists of 24 townhouse-style apartments and offers support services to residents. The development's two-, three-, and four-bedroom units accommodate farmworker families, with one three-bedroom unit reserved for migrant farmworkers.
The Need for Farmworker Housing
Agriculture has long been an important part of the area's economy; in 2011, gross farm and ranch sales in Washington County totaled more than $284 million. According to the U.S. Department of Agriculture's (USDA) 2007 Census of Agriculture, Washington County's agricultural industry employs more than 8,500 farmworkers, whose average annual income is between $10,000 and $16,000.
These earnings are much lower than the income needed to afford the median gross rent in Forest Grove ($745, according to 2007–2011 American Community Survey data). USDA estimates that more than 700 farmworker families in Washington County live in substandard conditions in sheds, garages, and camps; local housing experts believe that many more farmworkers live in overcrowded apartments and homes. Using data from the Washington County Consolidated Plan, graduate students at Portland State University estimated that an additional 2,636 affordable units are needed to house farmworkers in Washington County.
Responding to the Farmworker Housing Challenge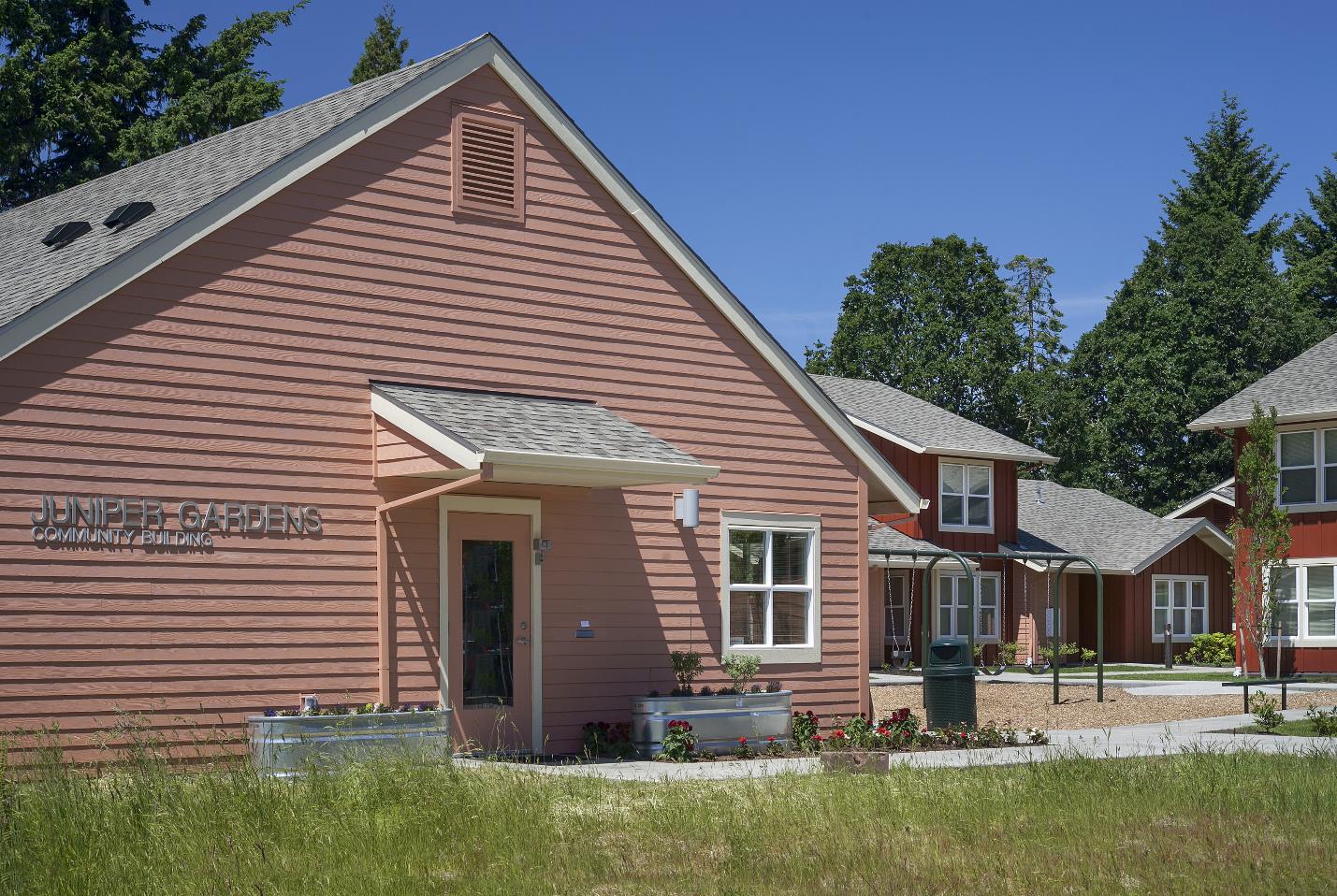 Juniper Gardens' community building is located adjacent to a play area, so that parents can watch children play as they wash clothes in the laundry facility. Image Courtesy of Bienestar. Nonprofit developer Bienestar began construction of Juniper Gardens in February of 2012 with Community and Shelter Assistance Corporation (CASA) of Oregon serving as a development consultant. Formerly known as the Housing Development Corporation of Northwest Oregon, Bienestar has been developing farmworker housing in Washington County since 1981. This HUD-certified community housing development organization is "the primary farmworker and farmworker family housing provider in Washington County," according to the 2010–2015 Washington County Consolidated Plan. Including Juniper Gardens, Bienestar has developed or renovated 11 properties with 487 units of affordable housing in Washington and Columbia counties, with 8 developments reserved specifically for farmworkers.
Juniper Gardens
As part of its goal to provide affordable, quality farmworker housing, Bienestar incorporated a number of green building features in Juniper Gardens to reduce utility bills and improve housing quality, including ENERGY STAR® appliances, low-flow plumbing fixtures, paints and adhesives with no volatile organic compounds, carpets made of recycled materials, ductless hydronic distribution systems for heating and cooling, and continuous ventilation systems. Juniper Gardens was designed to meet the criteria for Leadership in Energy and Environmental Design (LEED) Gold certification, as well as Enterprise Green Communities and Earth Advantage designations. Residents also have access to a community garden where families can grow fresh food.
To get farmworkers' perspectives on what features should be included, the architect for Juniper Gardens, Scott Edwards Architecture, held a design workshop attended by residents of other Bienestar properties. Residents' concerns about pesticide exposure through farmworkers' clothing prompted the architect to include a central boot-washing station in Juniper Gardens' parking lot and mudrooms near the apartments' front doors. To address safety concerns, Bienestar located a play area so that parents can use the community laundry while watching their children.
Bienestar offers computer and homework clubs for children at Juniper Gardens, and the organization is planning to add onsite nutrition and financial literacy classes for adults in the near future. And like every other Bienestar property, Juniper Gardens has a resident peer leader, known as a promotore. Residents in need of legal services, clothing, food, or other items can contact the promotore for assistance. According to Karen Shawcross, executive director of Bienestar, a promotore at a Bienestar property recently helped a farmworker family obtain furniture for their new home.
CASA of Oregon provided construction financing and the Community Housing Fund provided predevelopment funding for the $5.9 million complex. Development financing consisted of HOME Investment Partnership funds, USDA Rural Development Program funds, Farmworker Housing Tax Credits from the state of Oregon, and funding from Oregon Housing and Community Services. As families in Juniper Gardens earn less than 50 percent of the Portland metropolitan area median income, subsidies made available through USDA's Rural Development Rental Assistance program ensure that rental costs do not exceed 30 percent of each household's income. USDA funding restricts occupancy to families that include one farmworker, a classification which includes individuals employed in field preparation and planting, crop harvesting, aquaculture, and certain food processing activities. Although USDA funding requires that the Juniper Gardens units remain affordable to farmworkers for only 33 years, the plan is to keep the units affordable in perpetuity, says Lindsay Quartini, housing program manager with CASA of Oregon. This will be accomplished by refinancing the project with USDA funding, which will extend the affordability requirement for another 33 years.
Building on Success
According to Shawcross, Juniper Gardens' first phase was completely leased before its opening. Phase II will provide 22 units of affordable farmworker housing and expand Juniper Gardens' community center, allowing for more onsite services. Construction of Phase II is expected to begin in late 2013 and be completed the following year. A waiting list already exists for the Phase II units, strong evidence of the great demand for quality, affordable farmworker housing and services in the area.