Historic Police Station Converted to LGBTQ-Friendly Senior Housing in Chicago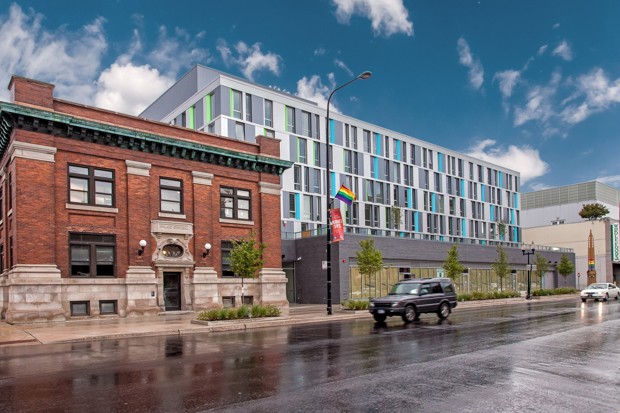 Town Hall Apartments creates an environment that is welcoming and supporting of all residents, particularly LGBTQ seniors who may otherwise face discrimination. Credit: Antuany Smith/Gensler
In the Lakeview community of Chicago, a former police station has been converted into housing welcoming to lesbian, gay, bisexual, transgender, and queer (LGBTQ) seniors. After the Town Hall station was decommissioned in 2009, planning began to renovate it as affordable housing for seniors. The resulting development, Town Hall Apartments, opened in August 2014 as the first in the Chicago area designed to be LGBTQ friendly. The Town Hall Apartments are open to all, but particular emphasis was made to be inclusive of the LGBTQ community. The development provides 79 subsidized apartments and is expected to achieve Leadership in Energy and Environmental Design (LEED) Silver certification.
The Need for LGBTQ Housing
The Lake View neighborhood contains one of the oldest gay villages in the United States and continues to be a cultural center for the city's LGBTQ community. In recent years, however, Lake View has seen rising rents and a decreasing amount of affordable housing. This trend hits LGBTQ seniors particularly hard; as many as 1 in 5 had an annual income of less than $20,000 in 2003 according to a report from the Chicago Task Force on LGBT Aging. Many LGBTQ seniors have fewer resources to draw on in retirement because they experienced employment discrimination during their prime earning years and were prevented from establishing families that could now support them, explains Nadia Underhill, associate director of real estate development at Heartland Housing.
The transformation of the historic police station by two major nonprofits addressing LGBTQ issues in Chicago, Heartland Housing and Center on Halstead, is of symbolic as well as practical importance. During the 1970s, after the area was established as a gay village, and continuing through the 1980s, gay establishments in Lake View were subject to raids and gay residents were targets of police harassment. Beginning in the 1990s, relations between LGBTQ residents and the police began to improve when the police department designated an LGBT liaison. Now the building is a safe, welcoming, and affordable home for LGBTQ tenants aged 55 and older.
Town Hall Apartments
Town Hall Apartments contains 30 studio and 49 one-bedroom units in an adaptive reuse of the historic police station and a newly constructed six-story apartment tower. The police station was built in 1907 and exemplifies the classical revival architecture common to Chicago in the early twentieth century. Major work was done to the building's exterior, such as repairing the copper cornices and opening up a bricked-over window. Inside, a pressed tin ceiling was restored. Among the features that contribute to the development's application for LEED Silver certification are a high-efficiency heating system, green roof, paints and sealants containing low volatile organic compounds, and locally or regionally sourced building materials. Located in the heart of Lake View, the building offers convenient access to neighborhood amenities, and residents can use two bus routes and the Chicago "L" to connect to the wider community.
Heartland Housing and Center on Halstead partnered to develop Town Hall Apartments. Heartland Housing was the lead developer and is managing the building's operation. Center on Halstead, one of the largest LGBTQ service providers in the Midwest, manages onsite services — hot lunches, social activities, employment training, and health evaluations — at a 5,500-square-foot senior center. The building's communal facilities include a computer lab, fitness room, multipurpose room, physical therapy room, and "family" dining room where residents can prepare meals and eat together. These spaces grew out of several design charrettes Heartland Housing hosted with seniors from Center on Halstead's programs. Working with Center on Halstead, says Underhill, made it easier to create an inclusive and welcoming environment that "gives people the space to form a community".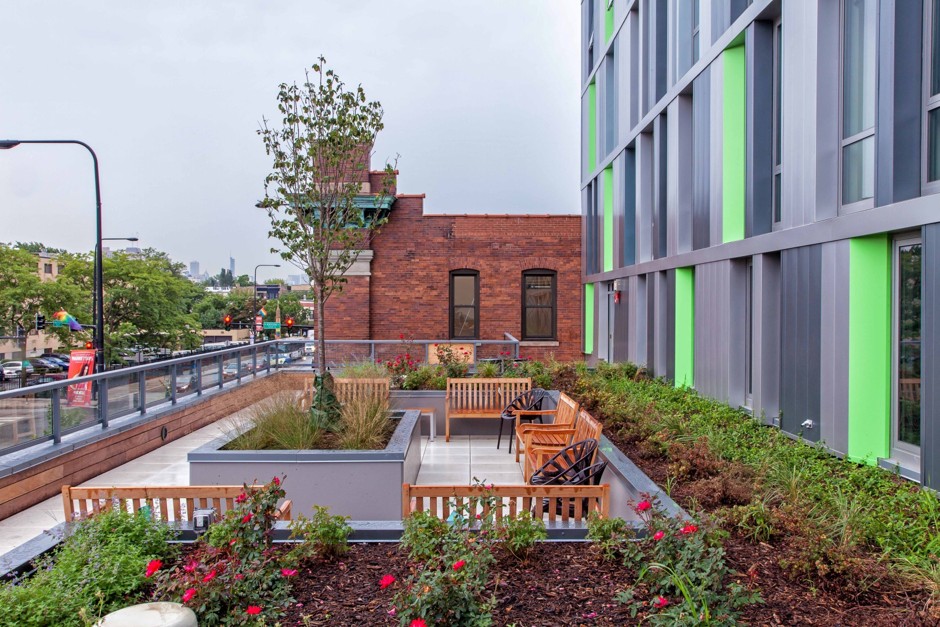 Several communal facilities, such as the roof garden along the street frontage, help residents build a sense of community. Photo Credit: Antuany Smith/Gensler
The total development cost for the project was $23.7 million. The project received federal low-income housing tax credits; affordable housing tax credits from the state of Illinois; and funding from the city of Chicago, the Illinois Department of Commerce and Economic Opportunity, the Illinois Department of Human Services, the National Equity Fund, Enterprise Community Partners, Citi Community Capital, BMO Harris Bank, and the Chicago Local Initiatives Support Corporation. The city donated the building and land, and the Chicago Housing Authority provided project-based vouchers for all of the units, restricting rents to 30 percent of the residents' income.
Creating a Model
The transformation of a police station infamous for harsh treatment of LGBTQ individuals into Town Hall Apartments is a striking physical manifestation of the improving environment for LGBTQ individuals as well as the challenges that remain. Despite recent advances, many LGBTQ seniors continue to have difficulty finding communities that are affordable and welcoming, leading them to avoid senior housing and delay seeking important medical care. With Town Hall Apartment's affordable units and respectful services, Heartland Housing and Center on Halstead created a development that both helps LGBTQ seniors in Lake View and serves as a model for effective, inclusive senior housing that other developers could replicate.