M Station: Green and S.M.A.R.T. Housing in Austin's TOD District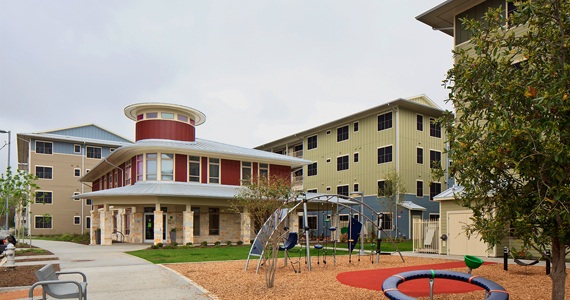 M Station provides affordable housing, with amenities and services, near the M. L. King, Jr. Capital MetroRail station in Austin, Texas. Austin, Texas has attracted national attention since establishing the nation's first green building program, the Austin Energy Green Building (AEGB) initiative in 1991. This successful program now includes M Station, a 150-unit rental housing development that received the AEGB 5-Star award for its sustainable building. As a mixed-income community located within walking distance of the M. L. King, Jr. (MLK, Jr.) Capital MetroRail station in East Austin's Transit Oriented Development (TOD) District, the development also meets the criteria of Austin's S.M.A.R.T. (Safe, Mixed-Income, Accessible, Reasonably Priced, and Transit-Oriented) Housing™ Policy Initiative, which is designed to stimulate housing production for low- and moderate-income city residents. M Station's developer, Foundation Communities, is a Texas-based nonprofit that provides sustainable and affordable housing with access to vital community services such as financial, educational, childcare, and healthcare programs.
M Station Green Development
According to Sunshine Mathon, design and development director at Foundation Communities, "Every aspect of the development was looked at through a green building lens: building envelope, roofing, landscape, water quality treatment, connection to transit and neighborhood, potable water use, indoor air quality of units, energy use, etc." In addition to energy-efficient heating, ventilation, and air conditioning systems, M Station features durable metal roofs, stormwater harvesting, bioinfiltration ponds, and high-efficiency windows with solar screens to reduce radiant solar cooling loads. Construction of M Station began with the removal and recycling of 65 million pounds of concrete from the site, where a concrete plant had once operated. Redevelopment of the greyfield, as well as the project's sustainable features and proximity to mass transit, contributed significantly toward M Station's Leadership in Energy and Environmental Design (LEED) for Homes Platinum certification by the U.S. Green Building Council.
Obtaining LEED for Homes Platinum certification added only about one percent to the construction budget for conventional construction, in part because the removal of concrete from the site had to be done regardless of certification and the MLK, Jr. MetroRail station was already present. Mathon points to another important factor that reduced the costs of certification:"[W]e planned it from the beginning. If the entire team, management, design team, etc., all know what our goals are, it's fairly easy to get a great deal of LEED points at no cost."
The Texas Department of Housing and Community Affairs financed most of the $25 million construction costs through low-income housing tax credits. The Austin Housing Finance Corporation provided a $2 million no-interest loan from its Rental Housing Development Assistance Program for acquisition of the property. The M Station project also received permit-fee waivers and expedited plan review under the S.M.A.R.T. program.
Affordable Rents and Support Services
In Austin, where housing costs have increased more than 85 percent over the past decade, nearly 30,000 families qualify for affordable housing. At M Station, only 10 percent of the 150 units are rented at market rate; the rest of the units are available at rents affordable to the city's low-and moderate-income families. Forty-five units are available to families earning between 50 and 60 percent of area median income (AMI), 75 units are rented to families earning between 30 and 50 percent of AMI, and 15 units are available to families earning no more than 30 percent of AMI.
The M Station development includes an 8,000-square-foot child learning center and a 3,000-square-foot adult learning center. The child learning center provides free before- and afterschool programs for residents, as well as low-cost daycare for neighborhood children. Center staff accompany approximately 70 students on their 2-block walk from Campbell Elementary School to the center's afterschool program. The child learning center includes an indoor play area, a computer lab, library, classrooms, and a large meeting room. Outside the center are three landscaped playgrounds, a sports court, and walking paths.
The adult learning center includes a computer lab, classrooms, and a large community meeting room. The center offers classes in personal finance, homeownership, income tax preparation, and English as a second language. In addition, residents can enroll in Foundation Communities' Matched Savings Program, which contributes $2 for every dollar residents deposit in a savings account; this account can be tapped to buy a home, start or expand a small business, or pay for post secondary school tuition.
Foundation Communities considers M Station to be their most robust and innovative project. Designed to give first-class housing and support services to residents in order to empower their success, the development received two awards in 2012 — the Property of the Year: Affordable Housing Award from the Austin Apartment Association and the Readers' Choice Award: Best Green Affordable Housing Development from Affordable Housing Finance magazine. In addition to receiving LEED Platinum Home certification and the AEGB 5-Star designation, M Station has been certified by Enterprise Green Communities. More important, M Station has been fully occupied almost since it opened in July 2011, and there is a long waiting list for apartments.