Winter/Spring 2020
IN THIS ISSUE:
Factory-Built Accessory Dwelling Units for Affordable Housing Options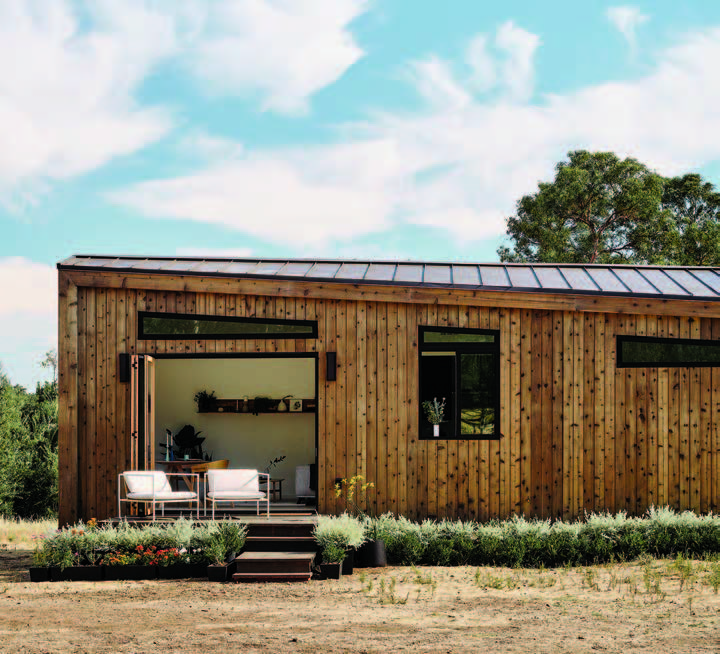 The City of San Jose is encouraging the adoption of accessory dwelling units through preapproved factory-built designs such as the one pictured above. Photo courtesy of Abodu and Joe Fletcher
Recognizing the potential for accessory dwelling units (ADUs) to help address housing needs, several jurisdictions at the state and local level have attempted to encourage their use by reducing regulatory barriers and offering various incentives. The cities of Seattle; Denver; and Portland, Oregon, are among those that are actively encouraging the use of ADUs. Seattle, for example, adopted legislation in 2019 to make it easier to add ADUs to properties within single-family zones. The city will also streamline the design and permitting processes, in part by developing preapproved plans.1 At the state level, California, through multiple rounds of legislation beginning in 2017, has renewed a push to promote the use of ADUs through reduced regulatory barriers, supports and incentives, and streamlined approval and permitting processes (see the Spring 2018 issue of Evidence Matters).2 According to the California Department of Housing and Community Development, as of May 2019, more than 200 local jurisdictions had adopted ADU ordinances in accordance with the enabling legislation. Although many of these jurisdictions have simply updated their regulations to comply with state law, some have taken additional measures to proactively encourage ADU development.3
Experience to date indicates that factory-built ADUs would be a part of any expansion of ADU use. Factory production of ADUs offers the same benefits as factory production of single- and multifamily homes: reduced material and labor costs, shorter construction timelines, and overall affordability advantages. The city of San Jose's new ADU Master Plan Program offers express and priority reviews of preapproved ADU plans to expedite the permitting process. As part of the program, the city has invited vendors to submit "master plans" — one recently approved master plan is for a factory-built ADU that is 495 square feet.4 In Los Angeles County, a recently completed pilot program provided subsidies for building or preserving ADUs along with technical assistance and streamlined approval. The program was part of the county's Homeless Initiative.5 Within this ADU-friendly regulatory context, the Los Angeles affiliate of the nonprofit Volunteers of America (VOALA) has helped homeowners take advantage of county incentives to invest in ADUs that they rent to recipients of HUD assistance. VOALA has found factory-built ADUs to be most efficient to build. VOALA plans to acquire and rehabilitate single-family homes, place factory-built ADUs in their backyards, and rent both to veterans participating in the HUD-Veterans Affairs Supportive Housing program.6
---
Seattle Office of Planning and Community Development. "Encouraging Backyard Cottages" (www.seattle.gov/opcd/ongoing-initiatives/encouraging-backyard-cottages). Accessed 18 November 2019.
California Department of Housing and Community Development. 2018. "Accessory Dwelling Unit Memorandum."
California Department of Housing and Community Development. 2019. "Accessory Dwelling Units (ADU) — Ordinances Received by HCD."
City of San Jose Department of Planning, Building, and Code Enforcement. "Preapproved ADUs" (www.sanjoseca.gov/business/development-services-permit-center/accessory-dwelling-units-adus/adu-permit-plan-review-process/adu-single-family-master-plan-program). Accessed 10 December 2019.
Los Angeles County Department of Regional Planning. n.d. "Second Dwelling Unit (Accessory Dwelling Unit) Pilot Program."
Wendy Broffman. 2018. "Backyard bonuses," Multihousing Pro, 1 December.
Previous Article