Summer 2017
IN THIS ISSUE:
Housing Challenges of Rural Seniors
Highlights
Seniors in rural areas face housing challenges that are often worsened by differences in demographics, infrastructure, economic conditions, and density.
The old age of much of the rural housing stock contributes to affordability pressures on homeowners attempting to pay for repairs, maintenance, and accessibility modifications.
The communities of Bowdoinham, Belfast, and Harpswell in rural Maine are proactively addressing the needs of seniors through community design, home modifications, transportation services, and social engagement, among other initiatives.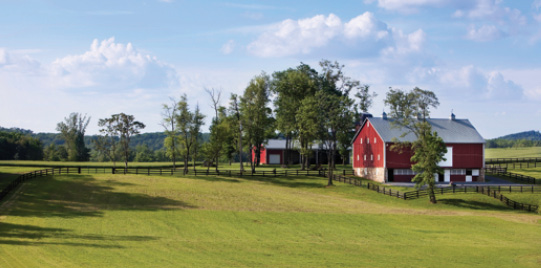 Seniors may have difficulty accessing health care and other services in low-density rural areas with few transit options.
Seniors in rural areas face many of the same challenges as those in urban and suburban areas, but in many cases those challenges are exacerbated by differences in demographics, economic conditions, infrastructure, and density. The rural population is older than the American population as a whole and, as younger people leave rural areas to pursue more favorable economic opportunities, it is aging faster. More than a quarter of seniors in the United States live in rural areas, and their income is lower than that of seniors nationally. Thus, although some of the supply constraints that push housing prices higher in urban areas, such as high land prices, do not apply in rural areas, low incomes contribute to affordability challenges and housing cost burdens. Rural seniors typically have few residential options other than their own homes, which in many cases are not amenable to aging in place. Although rural seniors do have a high homeownership rate, at 83 percent, nearly a quarter of these seniors are still paying off their mortgages. More than half of rural seniors who rent their homes (54%) are cost burdened.1
The dispersion of housing, services, and retail in rural settings worsens the problems of social isolation and poor access to health care and amenities for rural seniors. These conditions make access to transportation options particularly important, yet rural areas are less likely than other places to have robust public transit systems.2 Rural areas have a smaller tax base with which to support public transit, and they may require creative, flexible solutions to transportation issues.3 Generally, rural areas have a limited service infrastructure. For example, sparsely populated areas are less likely to have certain types of medical specialists and may be distant from a hospital. These challenges may cause seniors to delay needed health care, allowing their health to worsen before they finally seek care — sometimes under emergency circumstances.4 Efforts to overcome the distances between essential services and those who need them tend to be costly and inefficient. Technological innovations could potentially overcome some of the barriers to access that remote settings pose. Telemedicine allows doctors and other caregivers to engage patients remotely, and cameras and sensors can be used to monitor daily activities and detect wandering, falls, or lack of movement. Researchers are also developing technologies that would monitor vital signs remotely.5
Rural areas with higher than average disability rates may have an even greater need for accessible housing. Rural areas tend to have higher concentrations of physically demanding and potentially dangerous work that may lead to disability, and these job skills might not readily transfer to less physically arduous employment. Several highly rural states in the South and Appalachia have high rates of receipt of Social Security Disability Insurance or Supplemental Security Income — in some cases more than double the national average — indicating high rates of disability.6
Although the proportion of substandard housing in the United States has dropped dramatically in recent decades, the rate of substandard homes in nonmetropolitan areas is slightly higher than the national rate.7 The Housing Assistance Council notes that population loss in some rural areas, particularly in the Midwest and parts of Appalachia, contributes to increased vacancy, deterioration of the housing stock, and declining home values that make securing loans for rehabilitation and modifications more difficult.8 Debora Keller, executive director of the Bath Housing Authority in Maine, says that a tremendous mismatch exists between the accessibility needs of rural residents and the very old housing stock in her state; much of the state's housing features stairs and threshold height changes that make mobility difficult.9 The rural housing stock is older than that of the nation as a whole — as of 2013, 63 percent of rural homes were built before 1980 — heightening the need for, and the cost of, repairs, maintenance, and accessibility retrofits.10 Keller says that, in her experience, residents' inability to keep up with deferred maintenance is a major reason for leaving their homes, sometimes to move into assisted housing.11 Low-income rural households may be able to use the U.S. Department of Agriculture (USDA) Section 504 Housing Repair and Rehabilitation Loan/Grant program to make modifications. Eligible homeowners age 62 and older who are unable to repay a loan qualify for grants. More than 100,000 units were rehabilitated between 2000 and 2009, although funding has diminished in recent years.12
Many rural senior renters experience affordability pressures and housing cost burdens. Several HUD programs, such as the Housing Choice Voucher and Section 202 programs, are important sources of housing assistance for these renters. Seniors in rural areas may also be eligible for USDA-administered rental assistance programs. USDA's Section 515 Rural Rental Housing program is an important source of financial help for rural seniors. As of March 2016, the Section 515 program funded 13,838 projects and 416,688 units.13 The Housing Assistance Council reports that approximately 60 percent of Section 515 residents are elderly or disabled. The program's budget has dwindled over the past several decades, and no new units have been built since 2011.14 A typical Section 515 property is more than 26 years old.15 Furthermore, USDA anticipates escalating losses of units as properties pay off their mortgages and rental assistance expires. USDA projects that 74 properties with 1,788 units will exit the program each year from 2016 to 2027, and 556 properties with 16,364 units will exit between 2028 and 2032; the exodus will peak at an estimated 22,500 units per year between 2032 and 2040.16
Many seniors rely on unpaid, informal caregivers such as friends or family members. The longer travel distances for caregivers in rural settings limits their availability and increases their burden in terms of time, fuel, and other transportation costs.17 Despite these burdens, volunteers remain a critical source of support for rural seniors wishing to stay in their homes as long as possible. Volunteers play a central role in several Maine communities that are helping rural seniors age safely in their homes. Confronted with an aging population and housing stock, these communities are taking a proactive approach to addressing seniors' housing challenges.
Maine's Rural Seniors
The growing number of aging adults in Maine has led communities to assess and address the needs of seniors. Maine has the nation's third-largest percentage of older Americans; approximately 211,000 people, or nearly 16 percent of the state's population, are age 65 or older.18 Maine is also the nation's most rural state, with about 61 percent of its population living in rural areas. In addition to having the eighth-oldest housing stock in the nation, Maine also had a shortage of nearly 9,000 affordable rental units in 2012.19 Making modifications to affordable housing is critical for the 27 percent of Maine seniors with a disability. Nearly 50 percent of extremely low-income Maine residents — those earning 30 percent or less of the area median income — were disabled.20
Bowdoinham, Belfast, and Harpswell are three rural towns in Maine that have begun to address the challenges facing their senior residents.21 The town of Bowdoinham is located 30 miles northeast of Portland and has a population of about 2,890.22 Bowdoinham's Age-Friendly Action Plan, which began in 2012, focuses on services, care partner support, transportation, and housing.23 According to Patricia Oh, Bowdoinham's past coordinator of older adult services, the town's Select Board appointed several residents to the Advisory Committee on Aging (ACOA) and tasked them with creating programs that encourage older adults of all ages to be actively engaged in their community. ACOA members also report potential infrastructure and policy changes needed to help older adults remain in the community as they age.24 ACOA conducted an assessment identifying several community needs, such as more information on community activities, better coordination to advocate for the needs of seniors, alternative transportation options for seniors who no longer drive, supportive housing, home modification and repair services, and a central meeting place for activities.25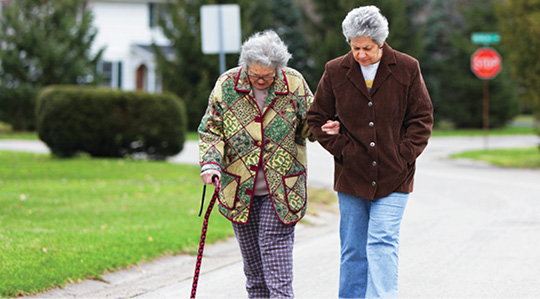 Many rural seniors rely on family and other volunteers who travel long distances to provide care, transportation, and social interaction.
ACOA has been a strong advocate for making public places and buildings accessible. Currently, the town of Bowdoinham is revitalizing its waterfront. As part of its commitment to creating an age-friendly community, Bowdoinham added wheelchair-accessible restrooms, wide sidewalks to accommodate wheelchairs, and wheelchair-accessible picnic benches. Accessory dwelling units have also become popular in Bowdoinham, especially among those needing additional income. Some seniors who own large houses choose to live on the lower level and rent their upstairs rooms.26
ACOA also encourages volunteer organizations to fulfill needs identified in the assessment. For example, in 2015 the Village Lodge Masons created a Handy Brigade — a group of volunteers providing home repair and maintenance services to seniors, who are charged only for the cost of the parts to complete the project.27 Bowdoinham is a rural community without medical facilities or public transportation.28 In response, volunteers organized in 2014 to create Rides in Neighbors Cars, a free door-to-door and door-through-door transportation service for seniors needing access to healthcare providers, grocery stores, and social activities.29 Currently serving between 20 and 30 seniors, this program "does more than just give people a ride; it's really connecting those people to the community," said Oh.30 The Handy Brigade and Rides in Neighbors Cars initiatives follow a "village" concept, in which volunteers render services to keep seniors connected to their community.31 ACOA provides administrative support for these two groups, taking on tasks such as creating brochures, processing paperwork, scheduling, and formulating policies.32 With a population of about 6,600, Belfast, located in Waldo County, is another rural Maine community in the early stages of implementing age-friendly initiatives. In 2010, about 20 percent of Belfast's population was age 65 or older.33 Aging Well in Waldo County is a group striving to include Waldo County in the nationwide initiative to make communities more age friendly. The group created a survey to assess the current needs of seniors. As followup to the survey, which was conducted between February and April 2017, Aging Well in Waldo County also scheduled focus groups.34
According to Michael Hurley, councilor for the city of Belfast, recreation and housing are major needs for seniors. To this end, Belfast has about 3 miles of newly completed walking trails that are accessible to people using wheelchairs or walkers. In addition, the city permits accessory dwelling units as well as renovations to transform a single-family home into a duplex. Although Belfast does not yet have a visitability ordinance, most downtown businesses have ramps to accommodate wheelchairs.35 The Waldo Community Action Partners Transportation Program provides transportation for seniors, people with disabilities, and low-income individuals, especially for those receiving medical services from MaineCare and the Maine Department of Health and Human Services.36
In Harpswell, Maine — a coastal town with nearly 5,000 residents, a quarter of whom are age 65 or older — an Aging at Home team of volunteers provides repairs and modifications.37 Many of the volunteers are retirees in their 60s and 70s. Dubbed the "Dream Team," Harpswell's repair team was modeled after another Maine group of retirees, "The Regulars," who had been working with Habitat for Humanity, and similar groups can be found throughout the region.38 Although Harpswell's overall population has declined since 2000, the number of residents age 60 and older increased by 56 percent between 2000 and 2014, and the number of residents age 85 and older increased by 65 percent. Seventy-seven percent of Harpswell homes that were built more than 25 years ago are occupied by homeowners age 65 or older.39 Many of these aging homes need substantial upkeep and maintenance that homeowners may struggle to afford. Harpswell Aging at Home runs its home repair and weatherization program in partnership with Habitat for Humanity/7 Rivers Maine and the Town of Harpswell, which determines income eligibility. The team does weatherization work such as installing storm windows, insulation, and weatherstripping, which improves resident comfort and lowers energy costs; age-friendly modifications such as the installation of grab bars, handrails, and wheelchair ramps; and general repairs and upkeep such as fixing gutters, doors, decks, and stairs.40 In addition to the home repairs program, Harpswell Aging at Home administers the Volunteer Transportation Network, which gives free rides to adults who no longer drive; Seniors Connecting, in which seniors receive weekly phone calls from volunteers for social interaction; and programs that facilitate hikes and lunches to help seniors avoid social isolation.41
Overcoming Challenges
Rural towns that are proactively meeting the needs of their seniors as they age, such as Bowdoinham, Belfast, and Harpswell in Maine, are improving lives and building stronger communities. Taking a holistic approach that addresses aging through community design, home repair, transportation, health, and social interaction, these towns are meeting challenges that are common to municipalities nationwide while also grappling with the additional complications caused by the longer distances separating residences from services in rural areas. Collaborative partnerships and high rates of volunteer participation are among the shared attributes of programs that are successfully serving seniors in rural areas.
— Rachelle Levitt, Director of Research Utilization Division
---
Housing Assistance Council. 2014. "Housing an Aging Rural America: Rural Seniors and Their Homes," 9, 18, 21.
Ibid., 25.
James Wood, Jeffrey R. Brown, Megan Bond, and Vitor Suguri. 2016. "Older Adult Transportation in Rural Communities: Results of an Agency Survey," Journal of Public Transportation 19:2, 156.
"Rural Health Concerns," MedlinePlus website (medlineplus.gov/ruralhealthconcerns.html). Accessed 19 June 2017.
Terry Hill. 2016. "Aging in Place in Rural America," Bipartisan Policy Center.
Kathy A. Ruffing. "Geographic Pattern of Disability Receipt Largely Reflects Economic and Demographic Factors: Disability Benefits Especially Important in South and Appalachia," Center on Budget and Policy Priorities.
Housing Assistance Council. 2012. Taking Stock: Rural People, Poverty, and Housing in the 21st Century, 45–6.
Ibid., 12.
Interview with Debora Keller, 13 July 2017.
Rolf Pendall, Laurie Goodman, Jun Zhu, and Amanda Gold. 2016. "The Future of Rural Housing," 43; Housing Assistance Council 2014, 43.
Interview with Debora Keller.
Housing Assistance Council 2014, 39.
Housing Assistance Council. 2016. "Maturing USDA Section 515 Rural Rental Housing Loans."
Housing Assistance Council 2014, 38.
Ibid., 39.
Housing Assistance Council. 2016. "USDA Maturing Multifamily Mortgages."
Rachelle Levitt. 2015. "Aging in Place in Rural Communities," PD&R Edge.
U.S. Census Bureau. "Profile of General Population and Housing Characteristics: 2010" (www.factfinder.census.gov). Accessed 6 July 2017; U.S. Census Bureau, Quick Facts. "Persons 65 years and over, percent, April 1, 2010" (www.census.gov/quickfacts/geo/chart/US/AGE765210#viewtop). Accessed 6 July 2017.
Abt Associates. 2015. "A Profile of Maine's Older Population and Housing Stock," ii-iii.
Ibid.
Interview with Patricia Oh; Interview with Michael Hurley, 22 June 2017; AARP Network of Age-Friendly Communities Tool Kit. "The Member List" (www.aarp.org/livable-communities/network-age-friendly-communities/info-2014/member-list.html). Accessed 12 July 2017.
AARP. "How to Create a 'Handy Tools' Display" (www.aarp.org/livable-communities/housing/info-2015/how-to-create-a-handy-tools-display.html). Accessed 7 July 2017; Interview with Patricia Oh.
Patricia Oh. 2015. "Bowdoinham, Maine: Member of the WHO-GNAFCC & AARP-NAFC"; Tri-State Learning Collaborative on Aging. "Age-Friendly Bowdoinham" (agefriendly.community/community/age-friendly-bowdoinham/). Accessed 7 July 2017.
Interview with Patricia Oh; Tri-State Learning Collaborative on Aging.
Patricia Oh. n.d. "Aging in Bowdoinham: Two Years Later," 3.
Interview with Patricia Oh.
Ibid.; Tri-State Learning Collaborative on Aging.
Interview with Patricia Oh.
Ibid.; Tri-State Learning Collaborative on Aging.
Interview with Patricia Oh.
Jean Accius. 2010. "The Village: A Growing Option for Aging in Place," AARP Fact Sheet.
Ibid.; Tri-State Learning Collaborative on Aging.
U.S. Census Bureau. "Profile of General Population and Housing Characteristics: 2010" (www.factfinder.census.gov). Accessed 7 July 2017.; Interview with Michael Hurley.
Aging Well in Waldo County. "Welcome to Aging Well in Waldo County" (agingwellinwaldocounty.org/). Accessed 24 April 2017.
Interview with Michael Hurley.
Waldo Community Action Partners. 2013-2017. "MaineDOT Locally Coordinated Transit Plan Region 5," 2.
U.S. Census Bureau. "Profile of General Population and Housing Characteristics: 2010" (www.factfinder.census.gov). Accessed 31 August 2017; Jenni Bergal. 2016. "As Rural America Ages, Volunteers Give a Hand," The Pew Charitable Trusts.
Bergal.
Patricia F. Kimball, Jessica L. Maurer, and Patricia Oh. 2016. "Harpswell Aging at Home: Community Assessment Report."
"Home Repairs and Resources Program," Harpswell Aging at Home website (www.hah.community/home-repairs.html). Accessed 31 August 2017.
"Programs Meeting Older Residents' Needs," Harpswell Aging at Home website (www.hah.community/programs---events.html). Accessed 31 August 2017.