Here Is Your Chance
Release Date:
June 1950 (58 pages)
Posted Date:
April 24, 2020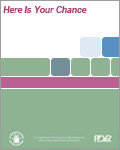 This historic informational pamphlet, produced by HUD, articulates arguments for public housing and details how Americans can advocate for affordable housing in their own communities. The 58-page pamphlet discusses the political opposition to public housing, and articulates the benefits of low-rent, public accommodation. ,

This report is part of the collection of scanned historical documents available to the public.