Using Hedonic Indexes to Measure Housing Quantity – Housing Assistance Supply Experiment
Release Date:
October 1979 (125 pages)
Posted Date:
January 27, 2021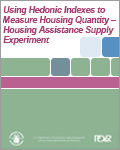 This historic report, prepared by the Rand Corporation for a HUD conference on the housing choices of low-income families and based on research conducted during the Housing Assistance Supply Experiment (HASE), discusses the use of hedonic indexing to calculate housing quantity. A hedonic index is a regression equation that relates the attributes of dwellings and locations to gross rent. HASE was a long-running experiment carried out in Wisconsin and Indiana to determine the feasibility of direct cash assistance of low-income families to offset housing costs.

This report is part of the collection of scanned historical documents available to the public.