PD&R Quarterly Update: Government's Response to the Eviction Crisis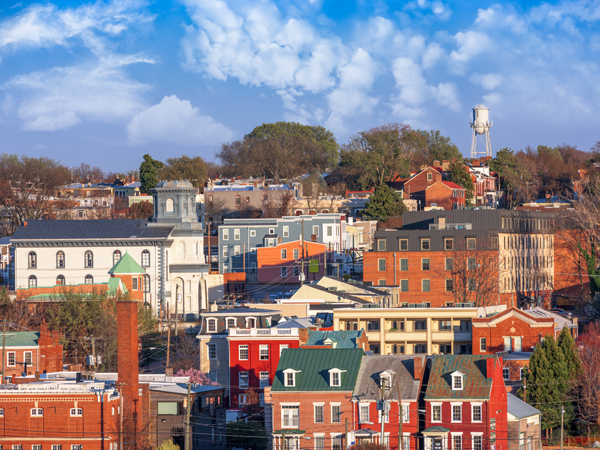 In mid-2021, 15 million households were at risk of eviction. The average back rent owed was $3,000, with people of color and families at increased risk of eviction. The eviction moratoria was one intervention many states and localities adopted as a solution to the eviction crisis. Photo credit: shutterstock.com/Sean Pavone
HUD's Office of Policy Development and Research (PD&R) held its most recent Quarterly Update on December 9, 2021. This virtual event, "Government's Response to the Eviction Crisis," featured presentations on the state of the U.S. housing market and the impact of the coronavirus pandemic on housing stability. Keynote speaker Dr. Margaret Hagen, director of Stanford Law School's Legal Design Lab, described the various means governments nationwide have used to stem the eviction crisis. Hagen also moderated the ensuing panel discussion between Peggy Bailey, a senior advisor in HUD's Office of the Secretary; Margaret Salazar, executive director of Oregon Housing and Community Services (OCHS); Radhika M. Singh, vice president of civil legal services and strategic policy initiatives for the National Legal Aid & Defender Association; and Kyle C. Webster, general counsel for ACTION-Housing, Inc. The discussion focused on a holistic government approach to the eviction crisis that encompasses interventions at the federal, state, and local levels.
Eviction Risk
PD&R analyst Veronica Helms Garrison highlighted findings from the U.S. Census Bureau's Household Pulse Survey on housing insecurity and eviction risk among the nation's households as a result of the COVID-19 pandemic. Phase 1 of the survey collected data from April 2020 through July 2020, and the most recent iteration, Phase 3.3, began on December 1, 2021, and will conclude on February 7, 2022. Data collected in September and October 2021 show that 6.9 million renter households reported being behind on rent, with 3.1 million households fearful of imminent eviction. Helms explained that the Household Pulse Survey revealed housing stability disparities: only 4 percent of white non-Hispanic households expressing fear of imminent eviction compared with 8 percent of Hispanic households and 12 percent of black non-Hispanic households.
Hagen cited research that used factors such as household rent burden, back rent owed, and housing assistance available to estimate eviction risk, which found that in 2017, 2.8 million households were at risk of eviction. By these same metrics, in mid-2021, 15 million households were at risk of eviction. Hagen explained that the average back rent owed was $3,000 and that people of color and families are at increased risk of eviction. Eviction often has long-term negative outcomes — what Hagen calls "downstream" consequences — that affect not only housing stability but mental and physical health, children's educational achievement, employment, finances, and even neighborhood resilience.
Because of the scale of the eviction crisis and the breadth of its negative impacts, Hagen said, the past year has seen an accelerated growth of new programs and services and the expansion of existing models of intervention. Among the most well-known of these interventions are eviction moratoria. Many states and localities adopted their own moratoria with various terms and conditions. At the federal level, the Coronavirus Aid, Relief, and Economic Security Act halted evictions from March 2020 through July 2020, and the Centers for Disease Control and Prevention moratorium was in effect from September 2020 to August 2021.
The Federal Role
Reflecting on the federal government's role in addressing evictions, Bailey noted that eviction prevention itself has not traditionally been a function of the federal government; instead, HUD has focused on rental assistance and addressing the aftermath of eviction, such as homelessness. "The COVID crisis has allowed us to really lean into eviction prevention in a historic way that… we want to do [not only] now, during this crisis, but we're [also] trying to set up systems that can live on past the crisis," said Bailey. She highlighted HUD's role helping the U.S. Department of the Treasury implement the Emergency Rental Assistance Program (ERAP), which provides federal funds to states, territories, and local governments to offer rental and utility relief to households experiencing COVID-related financial hardships. This essential program is slated to distribute nearly $47 billion in rental assistance: ERA1 provided $25 billion from the December 2020 Consolidated Appropriations Act, and ERA2 provides up to $21.6 billion under the American Rescue Plan Act of March 2021. Bailey pointed out that ERA1 extended funding to tribal nations, with the assistance of HUD's Office of Native American Programs. HUD also is offering $20 million in grants for legal aid services to prevent evictions.
State Response: Rental Aid Distribution
Salazar discussed the practicalities of implementing ERAP at the state level in Oregon. OHCS functions as the state housing finance agency, explained Salazar, but its efforts span the housing continuum and include preventing evictions, addressing homelessness, issuing rent and utility assistance, and promoting and facilitating homeownership and affordable housing development. OHCS administers Oregon's ERAP, which pays back rent directly to landlords based on applications submitted by tenants. In addition, Salazar said, OHCS has issued $370 million in assistance to landlords on behalf of their tenants through a program funded by Oregon's General Fund and the Coronavirus Relief Fund.
Salazar emphasized the need to ensure sufficient administrative support for new programs and to involve community-based organizations where their assistance will be most meaningful. Recounting OHCS' experience processing the high volume of applications for rent assistance after the federal eviction moratorium expired, Salazar explained that the department hired an outside vendor and temporary workers, adding labor capacity "in waves." To ensure that minority communities were aware of the assistance, OHCS engaged with community-based organizations to conduct outreach and translate materials into prospective clients' native languages. One such organization whose outreach efforts were particularly successful was the Oregon Health Authority. To simplify the process of helping tenants apply for rental assistance, OHCS created a single "front door" where all applicants were directed. However, because OHA didn't want assistance to be delivered on a first-come, first-served basis, it prioritized applications based on imminent risk of eviction, family size, and other factors, moving the most urgent cases to the front of the line. "We've had no trouble with application intake, and it has not slowed down," concluded Salazar. "We're just hitting the nerve of this latent rental assistance need that existed, pre-COVID."
Assisting Landlords and Tenants at the Local Level
Providing a local-level perspective, Webster noted that, just as OHCS relied on community partners to handle public outreach, ACTION-Housing solicited 27 community and nonprofit partners to reach out to both tenants and landlords in Pittsburgh and Alleghany County to ensure that tenants apply for rental assistance. Much of ACTION-Housing's eviction prevention strategy has involved identifying landlords with tenants in crisis and attempting to assist the tenants. "The landlord community is the one industry whose bailout was dependent upon third-party action and qualification," Webster said, explaining that in Alleghany County, most landlords own three units or fewer and can be put in the position of needing to sell by one or two missed rent payments. Because the region has many landlords over age 75 who neither access the internet nor can travel to drop-in centers, the nonprofit and its partners travel to them. Webster concluded by advocating for tenant representatives during the eviction process, saying that such individuals protect the best interests of both landlord and tenant, because tenants often are more comfortable communicating with an advocate, and the eviction process is expensive and disruptive.
Tenant representation is a mitigation strategy that becomes relevant during eviction proceedings and therefore is usually undertaken at the local level, explained Singh. Official evictions are civil court proceedings that begin when the landlord files for an eviction order against the tenant; unlike criminal proceedings, the defendant does not have a guaranteed right to counsel and, in most cases, is unrepresented. Some jurisdictions, because of either a right to counsel policy or an eviction diversion program, will contract with a legal aid organization to assist eligible individuals. This assistance, Singh explained, can range from self-help training in one's legal rights — something that many participants found useful in navigating the conditions of the various moratoria — to full representation through the proceedings. Often, Singh said, individuals providing legal assistance also help connect tenants with assistance programs.
Having legal representation during eviction proceedings is important, Singh said, to slow down the process and raise mitigating factors that the court might not otherwise consider. She characterized many eviction courts as proceeding very quickly, citing recent data for Richmond, Virginia, where most eviction cases are heard in less than 3 minutes.
Beyond the Pandemic
Although many of these eviction interventions were adopted in response to the pandemic, panelists agreed that they could persist beyond the current crisis. "I'm confident that it's going to last beyond the emergency period," Bailey said, noting that evictions are now a key area of concern at HUD and that the second phase of ERAP funding has a longer spending period to ensure efficient and effective use. The solutions that have emerged from the pandemic, such as ERAP's low eligibility barriers and flexible payment methods, outreach and relief efforts that balance landlord and tenant needs, and legal representation for tenants, will continue to deliver benefits beyond the pandemic.