Using Technological Innovations To Lower Housing Construction Costs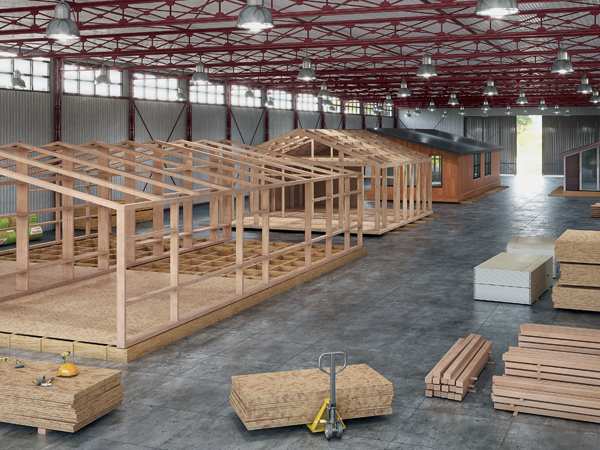 New technologies and practices make construction faster and less expensive. Photo credit: istockphoto.com/urfinguss
One way to reduce housing costs is to make the construction process more affordable and scalable. On March 24, 2022, the Bipartisan Policy Center hosted a webinar to examine innovations that can lower the cost of building houses. The event, "Getting Serious About Housing Supply: Supporting Construction Innovations to Drive Down Costs," was moderated by Arica Young, the associate director of Terwilliger Center for Housing Policy at the Bipartisan Policy Center. Panelists included Andrew McCoy, director of the Virginia Center for Housing Research at Virginia Tech, Judith Sheine, director of design at the Tallwood Design Institute, Mark Bowersox, president of the Manufactured Housing Institute, and Rusty Smith, associate director of Auburn University's Rural Studio.
Innovations in Housing Construction
New technologies and practices are making construction faster and less expensive than ever before. For example, advances in wood construction allow developers to avoid some of the high costs of concrete and steel for multistory buildings. McCoy explained that builders can construct buildings of up to 30 stories out of mass timber. In addition, robots are increasingly capable of taking on construction labor. Some robots perform single tasks, such as 3D printing and bricklaying, whereas other machines can execute more complex jobs such as welding, painting, or repaving. These robots are assuming more important roles as fewer people work in these trades. Although the initial costs of using robots can be high, they are cost-effective in the long run. A study from McKinsey and Company, a management consulting firm, suggests that using robots could cut construction costs by 20 percent. Such technology can also improve worksite safety because these machines can replace human workers in dangerous settings. Furthermore, new remote technology makes virtual construction easier to accomplish. Some construction equipment can be operated by computer and overseen by drones without the need for human control. McCoy believes that remote construction will become more common in the future. Finally, to illustrate the full potential of these technological advances, McCoy pointed out that Habitat for Humanity recently completed the nation's first owner-occupied, 3D-printed home. The home includes a plastics-based printer that can reproduce parts such as sink handles or switchplates when they break.
Multiple speakers emphasized how digital fabrication allows companies to mass-produce accessories and appliances that they can customize for individual homes. In addition, wall panels and roofs can be built offsite and installed onsite. Sheine talked about how the Tallwood Design Institute, a collaboration between University of Oregon and Oregon State University, developed mass plywood panels that can be used as a less expensive alternative to timber to create prefabricated homes. One of the institute's pilot projects near Portland, Oregon, will feature 34 two-bedroom units made from mass plywood panels. The institute is also using this technology to retrofit existing affordable housing at another site, improving its energy efficiency and making it more resilient to earthquakes. Builders can attach the prefabricated panels to the buildings with minimal disruption to existing residents.
In some cases, entire homes can be mass produced offsite. Bowersox discussed the increasing popularity of manufactured homes, which are a particular type of prefabricated home regulated by HUD. Demand for manufactured homes continues to increase as their quality improves and the costs of constructing housing onsite increase. Bowersox explained that the average cost of constructing manufactured homes is now approximately $72 per square foot, which is nearly half that of site-built homes. More than 100,000 manufactured homes were built in 2021; these dwellings now make up more than 9 percent of all new single-family homes built annually and house 22 million Americans. Because these homes are ultimately transported on trucks, manufactured homes are designed as narrow, boxlike structures. However, transportable sections can be combined onsite or supplemented with a site-built component, allowing the finished home to be larger than what could have been carried on a single truck. Modern manufactured homes are resilient structures that often perform as well or better than site-built homes in extreme weather conditions.
Innovative construction methods do not always require high-tech equipment. Students at Rural Studio, a design-build program based at Auburn University's School of Architecture, Planning, and Landscape Architecture, cut construction costs primarily by maximizing the use of locally sourced materials, which is particularly important in rural areas, where transportation costs can be high. Team members construct small but high-quality affordable houses, primarily in rural areas of the southeastern United States. Smith highlighted a few of Rural Studio's current projects, including a housing development in Florida's panhandle geared toward residents impacted by Hurricane Michael. For this project, community college students are the volunteer workers giving hands-on training to those potentially interested in this trade.
Barriers To Implementing New Construction Innovations
Various legal, political, and financial barriers to some of these processes still exist. For example, Bowersox explained that some communities explicitly ban manufactured homes, whereas others significantly limit the conditions under which they can be built through zoning regulations, lot size restrictions, or valuation requirements. Overcoming neighborhood resistance to changing these requirements can be difficult. In addition, public and private entities must continuously invest in these new technologies. Although the market has become more open to alternative housing designs, innovation still can be risky and expensive. According to McCoy, individual firms often have little incentive to invest in research and development because knowledge spillovers often benefit their competitors. To overcome this dilemma, McCoy suggested that the public sector fund more research or offer tax breaks to companies that do. The federal government could also secure patents for enterprises that use federal funds for research.
Please join us at the 2022 Innovative Housing Showcase! HUD will be hosting the Innovative Housing Showcase on the National Mall on June 10-12, 2022. The Showcase will feature innovative designs and technologies that have the potential to increase housing supply and lower the cost of construction and ownership. Check out the Innovative Housing Showcase website for more information, including FAQs.