Options and Tradeoffs: Rent Stabilization Policies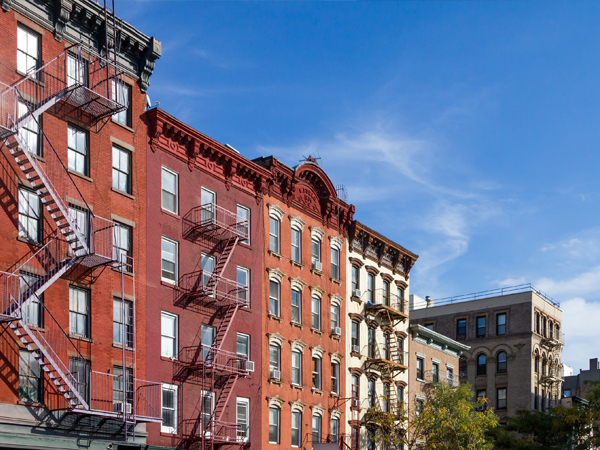 The building blocks of rent regulation include the scope of properties the regulation should cover, the mechanism the policy uses to regulate rents, and the means of administration and enforcement. Photo credit: istockphoto.com/deberarr
Rent stabilization policies, sometimes referred to as "rent control," regulate how often, and by how much, landlords may increase the rent of given units. The practice was first adopted following World War I; since then, more than 180 jurisdictions throughout the nation have adopted rent stabilization policies of some kind (although 31 states have laws that prevent localities from doing so). In 2019, Oregon became the first state to adopt a statewide rent stabilization law, followed soon after by California.
On April 11, 2022,
Urban Land Institute Minnesota
and the
Federal Reserve Bank of Minneapolis
hosted the first of their four-part virtual series on rent stabilization. The online event, "
Rent Stabilization: Policy Choices and Impacts
," featured Sophie House of New York University as the keynote speaker, followed by a panel discussion moderated by Libby Starling, director of community development and engagement at the Federal Reserve Bank of Minneapolis. During the panel, House, Ed Goetz of the University of Minnesota, and Jenny Schuetz of the Brookings Institution discussed rent stabilization policies, including their variety, limitations, and impacts.
A wealth of policy options
House, director of law and policy at the Housing Solutions Lab of New York University's Furman Center, opened the event by explaining the common types of rent stabilization policies and providing some context surrounding contemporary research into the impacts of the practice. House characterized such policies as addressing three primary questions: the scope of properties the regulation should cover, the mechanism the policy uses to regulate rents, and the means of administration and enforcement. According to House these are, "the building blocks of rent regulation," and each choice that a jurisdiction makes presents a tradeoff in its impact.
A jurisdiction must first decide which portion of the rental housing stock will be subject to the rent stabilization policy. Although regulating more properties creates more uniform protections, House said, doing so risks incurring "market-distorting effects," including reducing the supply of rental housing. To prevent developers from becoming risk averse and abandoning projects in the area, virtually all cities exempt newly constructed rental units from rent regulation for some period. Some cities exempt new construction for a fixed period — Newark, New Jersey, exempts new construction for either 30 years or the duration of its mortgage, whichever is shorter, whereas Takoma Park, Maryland, simply exempts new construction for five years. Other cities, such as Jersey City, New Jersey, exempt new construction only in designated redevelopment areas.
Once a city chooses which units to regulate, it must decide how to set rents and calculate increases for the regulated stock. According to House, setting higher rent ceilings distorts markets less than lower ceilings do but offers tenants less protection. House explained that nearly all jurisdictions set the acceptable annual rent increase as a percentage of the existing rent, plus some measure of inflation or consumer spending, such as the Consumer Price Index (CPI). Such a formula may be written into the rent control ordinance or statute, or a local body may set acceptable increases. For example, New York City has a Rent Guidelines Board, appointed by the mayor, to determine allowable rents, whereas Oregon's state rent stabilization statue limits annual increases to 7 percent plus the 12-month-average of the CPI for the previous calendar year, which was 9.9 percent for 2022. House added that rent stabilization rules typically allow landlords to request an exemption if the regulation prevents them from earning a "reasonable rate of return."
Jurisdictions also must decide whether to enact "vacancy control," meaning that a regulated unit would remain subject to rent stabilization rules even while vacant. Many rent stabilization rules do not permit vacancy control, as deregulating between tenants permits landlords to "catch up" to market rate and recover forgone income. Eliminating vacancy control, however, can also give landlords an incentive to evict long-term tenants or screen out tenants that they believe will be long-term tenants, such as families or senior citizens. California has a state law, the Costa Hawkins Rental Housing Act, which prohibits vacancy control.
Finally, a locality considering rent stabilization must consider how to enforce the adopted measure. Administration and enforcement are the areas of rent stabilization that require direct government expenditure, House emphasized, and so require careful consideration: in New York, the state's Office of Rent Administration takes on this role, whereas other jurisdictions utilize local agencies. In some enforcement systems, city attorneys can raise violations; in others, tenants are able to do so. The penalties that enforcement bodies may levy against landlords who violate rent regulation rules also vary, from simple fines, to attorney's fees, to damages, or combinations of these penalties.
Outcomes – so far
Goetz and Schuetz joined House for the discussion portion of the event, which was moderated by Starling. To conclude her overview of rent stabilization as a policy topic, House discussed some of the research available on rent stabilization, citing two 2019 studies focused on San Francisco. Generally, she said, tenants in rent-stabilized units have lower and more consistent rents than those in nonstabilized units. These tenants may not be high-need renters, however, because rent stabilization is not means tested. In addition, even though tenants of rent-stabilized units benefit from regulation, all other tenants are burdened, because landlords in regulated markets respond by withdrawing units and reducing the supply of rental housing. House did acknowledge that the pool of available research is small because rent stabilization policies rarely change, and significant differences exist between localities that have stabilization rules and those that do not.
Goetz, director of the Center for Urban and Regional Affairs at the University of Minnesota, agreed that research into rent stabilization is generally scarce. He pointed out that, even when research findings do agree, the body of evidence is composed of only four to six studies and leaves questions unaddressed. One reason for these gaps may be the large number of variables at play in policies of this type. "It's really hard to overstate the options that are available to local governments when they're considering rent stabilization programs and what it's going to look like," Goetz said.
Goetz pointed out that no research exists on the effects of not exempting new construction from rent regulation, simply because all previous programs have provided for some new construction exemption, although Goetz mentioned St. Paul, Minnesota, as a case to follow. The city's new rent stabilization ordinance, which passed by referendum in late 2021 and took effect May 1, 2022, is the first in the country that does not include an exemption for new construction. Schuetz, a senior fellow at Brookings Metro, pointed out that, because no statewide rent stabilization programs existed until 2019, the outcomes of statewide programs are similarly unresearched. This fact is significant, she explained, because of the assumption that housing producers will move from jurisdictions with stricter rent control to nearby areas with lax or absent regulation. "If there's a statewide policy, this kind of gets around the neighboring-jurisdiction issue," Schuetz said.
Complementary policies
One well-established fact, however, is that rent stabilization benefits tenants most when it is paired with complementary policies. Some of these policies might mitigate certain unintended negative consequences of the rent regulation itself. For example, adopting tenant right-to-counsel laws or more stringent eviction protections, House said, may help prevent landlord abuse of a vacancy deregulation rule. Schuetz recommended that localities supplement rent stabilization measures with efforts to preserve naturally occurring affordable housing, either by extending grants or loans to landlords with the condition that their units remain affordable or by purchasing the housing directly to secure its affordability. "If we're talking about addressing the affordable housing crisis, it's an all-hands-on-deck situation," Goetz said. "We need to be doing everything."
Rent stabilization is a policy with nearly endless variations that policymakers can deploy as part of a comprehensive housing strategy.