The Benefits of Multi-City Housing Collaboratives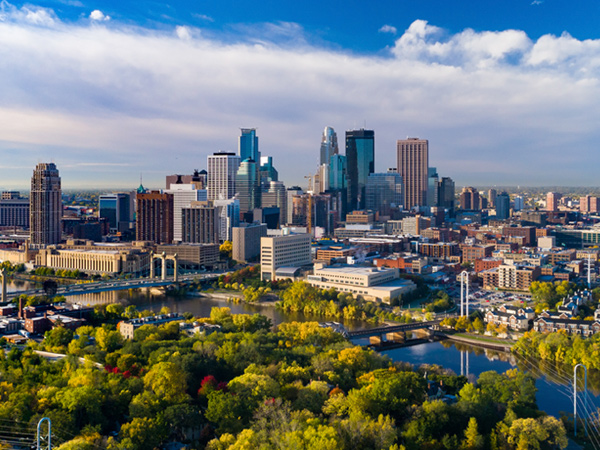 Practitioners from across the country, including the Twin Cities of Minneapolis (shown) and St. Paul, Minnesota, discussed their work in regional housing collaboratives at NPC19.
Housing markets are regional in nature and do not respect the administrative boundaries of cities and municipalities. When local policymakers address a housing issue such as scarcity or quality, their choices inevitably affect housing conditions in surrounding municipalities. This reality makes effective regional collaborations for housing essential.
At the American Planning Association's 2019 National Planning Conference in San Francisco, leading practitioners from across the country discussed their work in regional housing collaboratives. Their panel, "Multi-City Housing Collaboratives: Tango or Tangle," highlighted four major ways cities and municipalities can benefit from collaboration: resource sharing, building public support, knowledge sharing, and building on local precedent.
Resource Sharing in San Mateo County
In San Mateo County, located in California's San Francisco Peninsula, 21 municipalities and the county government have united to form 21 Elements, a collaborative for sharing resources and expertise. Joshua Abrams, a Berkeley-based planner who worked on the formation on 21 Elements, recounted a time that the benefits of regional collaboration were tested at the end of 2016, when the state of California passed new legislation requiring municipalities to simplify the permitting of accessory dwelling units and giving municipalities until the end of the year to align their laws with the new standards.
As a regional collaboration, 21 Elements crafted sample language for an ordinance and a sample staff report that was tailored to the specific needs of San Mateo County yet general enough to both work in the other municipalities and satisfy the new state guidelines. Without the collaboration, every municipality would have had to create their own laws on short notice — a nearly impossible challenge for smaller municipalities with less capacity and fewer resources. By banding together and pooling their resources, the various governments were able to develop a unified response to the changed regulations more quickly and at a higher quality and lower cost than if they had tried to produce new legislation individually.
Building Public Support in Boston
Karina Milchman, chief of housing and neighborhood development at the Metropolitan Area Planning Council in Greater Boston, recounted her experience creating a regional housing coalition with the Metropolitan Mayors Coalition that pledged to construct 185,000 new units by 2030. The Metropolitan Mayors Coalition, founded in 2001, started as a collaboration between the elected leaders of 15 municipalities in the core of the Boston metropolitan area to provide health insurance for their municipal employees. Over the years, the coalition has addressed numerous issues affecting the region, from the opioid crisis to climate adaptation.
These multijurisdictional collaborations were based on the long work of building trust among municipalities. One example of this trust occurred when the members of the Metropolitan Mayors Coalition began to take their housing policy discussions to the public. Coalition members who feared addressing the housing crisis on their own pitched their actions to their constituents as part of a larger regional collaboration. Other mayors wanted to highlight housing issues in public discourse; the coalition gave them access to press coverage and public awareness that their towns might not have received if they had acted alone. As members of a coalition, the mayors were able to present a political message of unity and power and amplify each another's voices to make the final message stronger and more visible.
Having built a strong foundation of collaboration, the Metropolitan Mayors Coalition made its first foray into the housing field in 2015 by agreeing to a multijurisdictional compact to address the housing crisis. The mayors signed off on a toolkit of almost 150 regional strategies for creating more affordable housing in their municipalities. These strategies range from land banks to predevelopment loans and upzoning.
Knowledge Sharing in the Twin Cities
The Metropolitan Council (Met Council), the regional planning body for the Twin Cities metro area in Minnesota, spotlighted two more ways that cities can use collaboration to bring about concrete regional policy changes such as inclusionary housing. The first method is through sharing expertise and experience. Different municipalities within a region often have experience crafting and implementing a variety of policies, but that knowledge remains cloistered unless those municipalities are in dialogue. Tara Beard, housing policy analyst at the Met Council, pointed out the key role of a facilitator in making that dialogue happen. Several municipalities of the council were interested in housing affordability, and in her conversations Beard learned that they had not seriously considered the land trust model. However, another council member, the city of Minneapolis, has one of the largest land trusts in the nation. When other municipalities in the council asked for help with addressing housing affordability, the Met Council put them in contact with people in Minneapolis with experience running their land trust to determine whether the land trust model would work in their jurisdictions. As a member of Met Council's staff, Beard knew the regional partners' strengths as well as the challenges that other jurisdictions faced and was able to match partners effectively and beneficially.
Beard stressed, however, that this type of collaboration does not happen simply by virtue of location or even by putting officials from different cities in the same room. In her experience, the facilitator's role is critical. The Met Council has hosted "matchmaking" events for regional leaders where policymakers can meet with experts in topics of interest to their communities. Beard recalled hosting a luncheon for regional thought leaders where experts on various topics sat at tables dedicated to that topic. Local officials could seat themselves at any "station," where they could learn more about topics that were relevant to their constituents. Through events such as these, Met Council members have learned from each other and have begun to enact polices building on the work of fellow member governments.
Building on Local Precedent in the Twin Cities
When Beard started working at the Met Council in 2014, some cities had passed individual inclusionary housing practices but none had adopted a comprehensive inclusionary housing plan for fear of political backlash or halting development.
Beard recalled that many of these concerns were based on the possibility of negative outcomes that could be allayed only if a local municipality could prove that inclusionary zoning did not have the negative consequences planners feared. In the Twin Cities, the city council of St. Louis Park, a first-ring suburb immediately west of Minneapolis, passed the region's first inclusionary housing policy. Since 2016, six other municipalities saw that their fears about inclusionary zoning were unfounded, which inspired them to pass their own inclusionary housing policies. Beard noted that each new policy built on the experiences and models of the ones that came before and became stronger and better crafted each time.
Turning Regional Conversations Into Regional Actions
The biggest test for any regional collaboration is whether it can move from talk to action. Across the United States, cities and municipalities nationwide are passing this test by doing the hard, unglamorous work of building trust and maintaining relationships, achieving ambitious policy goals together that they could not reach alone.
Source:
Metropolitan Mayors Coalition Regional Housing Task Force. n.d. "Housing Metro Boston." Accessed 8 May 2019.
×
Source:
Metro Mayors Coalition Regional Housing Task Force. n.d. "Strategies." Accessed 8 May 2019.
×