Quarterly Update: Landlords and the Housing Choice Voucher Program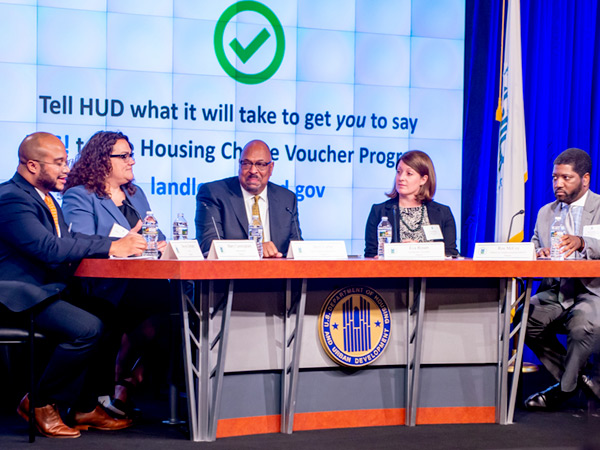 At the September 20 PD&R Quarterly Update, Steven Durham, director of Housing Voucher Programs in HUD's Office of Public and Indian Housing, moderated a panel of speakers who discussed landlord participation in the Housing Choice Voucher program.
Although landlords play an active and vital role in determining the location, quality, and affordability of rental options for tenants, including those participating in the Housing Choice Voucher (HCV) program, little research exists on how landlords choose these options. Recent HUD-sponsored studies, along with a landlord engagement listening tour, are shedding new light on this important group. The insights gained from these undertakings will inform policies aimed at improving HCV program outcomes to benefit both landlords and voucher holders.
On September 20, 2018, a panel of researchers and practitioners discussed new research and ongoing challenges associated with the HCV program at HUD's Quarterly Update from the Office of Policy Development and Research. Senior advisor to the Secretary John Bravacos introduced the topic and discussed its importance. Panelists included moderator Steven Durham, director of housing voucher programs at the Office of Public and Indian Housing; Daryl Carter, founder, chairman, and chief executive officer of Avanath Capital Management, an affordable and workforce housing investment firm; Mary Cunningham, vice president of metropolitan housing and communities policy at the Urban Institute; Ron McCoy, director of the housing choice voucher program for the District of Columbia Housing Authority; and Eva Rosen, assistant professor at the McCourt School of Public Policy at Georgetown University. In addition to Cunningham and Rosen's presentation of their teams' research, the event also served as the inaugural landlord engagement forum, where landlords and property managers from the Washington, DC area shared their thoughts and experiences with the HCV program. Subsequent engagement events are planned for Philadelphia; Atlanta; Dallas; Los Angeles; Salt Lake City; and Salem, Oregon.
Emerging Research on Landlords and HCVs
Housing choice vouchers (formerly known as Section 8 vouchers) are designed to allow holders to select housing in the private market that best meets their and their families' needs, placing people in the high-opportunity, low-poverty neighborhoods that are associated with better life outcomes and that might otherwise be out of reach. Voucher recipients generally cannot earn more than 50 percent of the area median income to be eligible for the program but often earn much less; they pay roughly 30 percent of their adjusted income toward rent, with the voucher covering the remainder, up to the rent cap established by HUD and local public housing agencies. In the best scenarios, participants move out of neighborhoods with limited opportunity and into neighborhoods with more amenities, which might include better access to education, more safety, or increased employment options. Findings presented from the HUD-sponsored Urban Institute study, however, highlight the substantial challenges voucher holders face in using their vouchers at all, let alone successfully relocating to low-poverty neighborhoods.
Panelist Mary Cunningham shared her research team's findings from a 16-month study conducted at five sites representing several metropolitan housing markets. The study found that locating voucher-affordable units alone is a substantial challenge for program participants and that a high percentage of landlords reject vouchers, especially in localities without source of income protection. Among landlords who indicate a willingness to accept vouchers, however, voucher holders are treated comparably, although not entirely equally, to similar applicants without vouchers. As earlier research has shown, the lack of eligible rental units operated by landlords who accept vouchers reduces the program's success rate. Landlords in low-poverty neighborhoods refuse to accept vouchers at substantially higher rates than those in high-poverty neighborhoods, which further thwarts the HCV program's goal of increasing access to opportunity.
Addressing the supply-side factors influencing the success of the HCV program, panelist Eva Rosen presented a report prepared for HUD by the Poverty and Inequality Research Lab at Johns Hopkins University in which researchers collected qualitative data from landlords and property managers. Researchers found that local market conditions in the study's three sites significantly influence landlords' decisions to participate in the HCV program; that landlords' perceptions of the voucher program and voucher holders influence these decisions; and that negative past experiences strongly deter nonparticipating landlords from future participation.
Several examples demonstrating how local market conditions influence landlords' behavior emerge from the case studies in the Johns Hopkins report, such as whether landlords tend to be large corporate entities or smaller mom-and-pop operations. In Dallas, the prevalence of large landlords encourages HCV participation, because large organizations can more easily absorb marginal compliance costs. In Baltimore, where vouchers are particularly valuable, some corporate landlords even specialize in serving voucher holders. Conversely, the ubiquity of smaller landlords in Cleveland combined with the city's older housing stock and struggling economy conspire to leave voucher holders as tenants of last resort in the eyes of many area landlords.
Starting a Conversation
The panelists discussed the research findings and their experiences with the HCV program and invited landlords, property managers, and other interested members of the public to share their thoughts and pose questions. Many who shared their perspectives expressed that their willingness to rent to voucher holders was stymied by the perceived cost and administrative burden of participation, echoing some of the findings from the second study. In other cases, audience members felt they lacked knowledge about the HCV program and what participation entails. The experience of one of the panelists, Daryl Carter, resonates with the findings of the Hopkins study. As a large, corporate property manager, Carter's firm can more easily incorporate compliance with HCV program requirements into its day-to-day operations than smaller operations can.
Although these studies serve as an important foundation for thinking broadly about voucher policy, public housing agencies, recognizing some of the barriers to greater program success, do work to improve their voucher programs. Moderator Steven Durham asked panelists to consider how landlords, tenants, and public housing agencies each play a role in determining the relative success of voucher programs. Ron McCoy of the District of Columbia Housing Authority discussed his agency's Housing Affordable Living Options (HALO) program, which helps families use vouchers to relocate to low-poverty areas within Washington, DC. HALO's multipronged strategy involves educating tenants on their rights and responsibilities, helping tenants navigate options in unfamiliar but opportunity-rich neighborhoods, cultivating relationships with landlords to increase participation rates, and streamlining the administrative burden experienced by landlords. Carter advocated for innovative practices, suggesting public housing agencies could consider incentivizing and rewarding good landlord behavior with relaxed compliance burdens. Taken together, these scholarly and practical undertakings can help the HCV program better serve its constituents and further opportunity through housing access.
To view a recording of the Quarterly Update, including the presentation of the 2nd Quarter 2018 National Housing Market Summary, click here.