Community Land Trusts and Stable Affordable Housing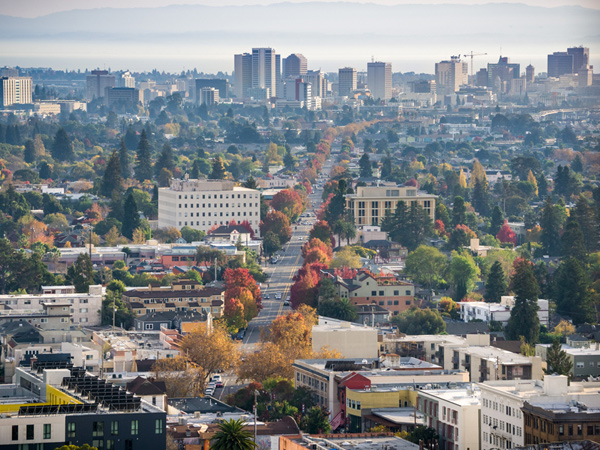 The Oakland Community Land Trust has helped to preserve affordable housing units in Oakland, California (shown).
The use of community land trusts (CLTs) is an increasingly common strategy to ensure the availability of permanently affordable housing for residents who might otherwise be priced out of their neighborhoods. Although they are employed much less often than other approaches to housing affordability, CLTs can be particularly powerful tools in areas facing rapid economic change and appreciation in land values. On June 4, 2019, research institute PolicyLink hosted a webinar in which Ashley Allen, executive director of the Houston Community Land Trust, and Zachary Murray, program manager at the Oakland Community Land Trust, shared their experiences in developing CLTs in their cities. The two panelists discussed the background, approach, and goals of their respective organizations and the benefits of the CLT approach to affordable housing development.
Background
A CLT is a system of tenure in which the underlying land is owned by a mission-driven entity, usually a nonprofit, whereas the buildings on the land are owned or leased by residents. CLTs have the explicit goal of promoting affordable housing and contain legal provisions governing ownership and transfer to keep units affordable in perpetuity. This dual ownership model, which separates the cost of the land from the cost of the buildings, make ownership more accessible to low- and moderate-income families. Homeownership through a CLT can also be more stable, because the strict formulas trusts use to calculate the permissible resale value of their houses effectively remove the properties from the speculative gyrations of the real estate market.
The first modern CLT in the United States was established in Albany, Georgia, in 1969 by Robert Swann and Slater King, a cousin of Dr. Martin Luther King, Jr. Born out of the civil rights movement, the New Communities land trust consisted of more than 5,000 acres of farmland where African-American families, many poor farmers from the South, could affordably access, build on, and farm land at a time when the community faced significant obstacles to land ownership and financing. Five decades later, the number of CLTs in the United States has grown to more than 225, according to the Grounded Solutions Network. A longstanding commitment to promoting equity and inclusion remains a central organizing principle of the land trust movement, and many CLTs give residents and members of the surrounding community official roles on their governing boards.
Preserving a Historic Community in Houston, Texas
Allen's organization, the Houston Community Land Trust (HCLT), formed in 2018 to protect affordability in the city's historic Third Ward and Independence Heights neighborhoods. Both areas are important to the local African-American community and, according to Allen, have seen an influx of new residents in recent years as the city has developed, causing housing prices to rise and threatening to displace longtime residents. To supply permanently affordable housing and keep the community intact, HCLT, through a partnership with the Houston Land Bank and the city of Houston called the New Home Development Program, builds new single-family homes on abandoned properties that had been removed from the tax rolls and acquired by the land bank. As of mid-2019, thanks to city subsidies averaging approximately $105,000 per house, 17 houses have been completed at sites scattered throughout the neighborhoods. The homes can be sold for significantly less than a traditional, market-rate house, with three-bedroom homes priced at approximately $75,000.
To be eligible to purchase one of HCLT's homes, a family's household income cannot exceed 80 percent of the area median income. Furthermore, potential buyers must be able to secure a fixed-rate, 30-year mortgage in addition to meeting other program requirements. Purchasers then own their home through a 99-year lease from HCLT, which can be inherited by an owner's heirs. To help preserve affordability in perpetuity, HCLT uses a formula to calculate the allowed sales price for a home and requires that future buyers meet the same eligibility requirements as the first. Through the New Home Development Program, HCLT is helping to address the affordability problem for households that are not as well served by existing affordable housing programs.
Promoting Housing Stability in Oakland, California
In Oakland, Murry reports that the lingering effects of the foreclosure crisis associated with the Great Recession prompted local social justice advocates to form the Oakland Community Land Trust (OCLT) in 2009. There, real estate investors began buying large numbers of foreclosed properties only to refurbish units to justify rent increases. Research from the Urban Displacement Project at the University of California, Berkeley has found that this disruption to the local housing market has a disproportionately negative impact on low-income households and low-income households of color.
Two recent projects illustrate how OCLT puts its motivating principle of community justice into practice. In the first, a motivated group of neighborhood residents, along with the assistance of an owner interested in selling to OCLT, was critical in preserving eight affordable residential units, four commercial spaces, and a community garden at the 23rd Avenue Community Building. Second, at the Hasta Muerte Coffee building, a social media fundraising campaign helped secure funds to purchase the building after the owner expressed the intent to put it on the market. Their success has allowed the worker-owned cafe to continue operating and has preserved two units of affordable housing for low-income families.
OCLT believes that the shared ownership of land can promote equitable development, Murray says, and its participatory governance structure reflects this belief. One-third of the governing board is composed of residents and lessees of OCLT properties, another third consists of community members from the neighborhood not living in an OCLT property, and the final third is made up of technical experts and representatives from local organizations who share OCLT's mission. Murray cites land trust residents' low rates of mortgage delinquency and foreclosures as evidence for the stability that CLTs can provide, in contrast to the housing market's potential for volatility.
Future Directions
The growing number of CLTs indicates increased awareness of their usefulness in expanding housing affordability. As the experiences of land trusts in Houston and Oakland show, the CLT model can be adapted to a range of contexts and organizational goals, from developing a praxis of communal land ownership to promoting family homeownership. As the rising cost of housing becomes a pressing issue in areas throughout the United States, CLTs are emerging as another tool for affordability advocates to consider.