Creative Placemaking on Vacant Properties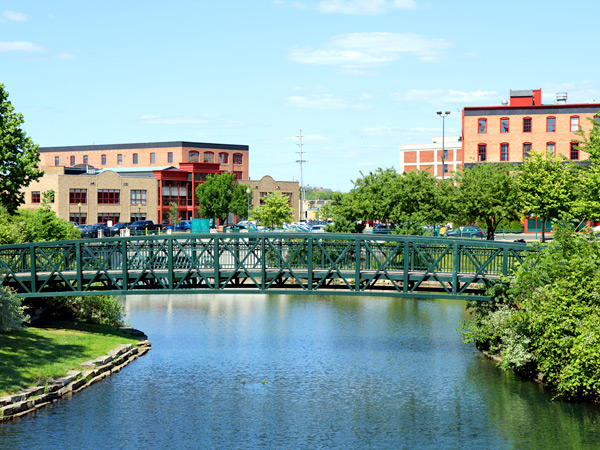 In Kalamazoo, Michigan (shown), a local land bank used an existing monthly art event — Art Hop — to begin hosting temporary installations at vacant properties.
After the Great Recession left many U.S. cities plagued with high vacancy rates, local governments and organizations began looking for new strategies to reshape vacant properties into community assets. Negative effects from vacancy — such as reduced property values, increased criminal activity, and unappealing and unsafe environments — cause residents to abandon vacant sites, leading to continued neighborhood deterioration. Local municipalities also forgo considerable tax revenue from these properties.
On October 3, 2018, the National Housing Conference hosted a webinar by the Restoring Neighborhoods Task Force focusing on the Center for Community Progress' (CCP's) new report, "Creative Placemaking on Vacant Properties: Lessons Learned from Four Cities." Speakers discussed how several communities have used various strategies to transform vacant properties and reverse negative perceptions engendered by widespread vacancy. The webinar featured Danielle Lewinski, vice president and director of Michigan initiatives for CCP, and Tracey Evans, executive director of the Wilkinsburg Community Development Corporation (WCDC).
Creative Placemaking
As defined in CCP's report, creative placemaking is the coming together of local governments, nonprofits, and public- and private-sector institutions to deliberately transform the physical and social nature of a neighborhood through arts and culture. In her presentation, Lewinski described three core characteristics of creative placemaking. The first is that creative placemaking, being rooted in a specific area with specific needs, asks how arts and culture can help communities achieve their desired goals. The second is that it is community centered. Policymakers must engage local residents and businesses to ensure that placemaking is done with the community, not to the community. Thirdly, creative placemaking must be strategically integrated with other policies and tools because by itself it cannot meet all of a community's needs. When used with tools such as code enforcement, demolition, and resale, however, creative placemaking becomes a valuable approach.
Although no study has yet shown the influence of creative placemaking on vacant properties, Lewinski notes that placemaking used in conjunction with other tools can impact economic, housing, cultural, and social aspects of life. Successful placemaking also can transform forgotten sites into locations that carry a distinct sense of place. Lewinski adds that the who and what that occupy a vacant property matter, and how a property comes to be occupied must not be overlooked. Creative placemaking that engages the community can attract investment from existing and new businesses as well as residents, potentially leading to reduced vacancy rates in the surrounding area.
Placemaking in Practice
The CCP study reported findings from several U.S. cities that have implemented creative placemaking strategies. In Kalamazoo, Michigan, for example, negative outlooks on vacancy prevented the local community from engaging with vacant sites. Beginning in 2013, a local land bank used an existing monthly art event — Art Hop — to begin hosting temporary installations at vacant properties. By breathing new life into these spaces, Kalamazoo attracted several art-based businesses that established permanent physical locations on the once-vacant land. Also, a local land bank in Newburgh, New York, implemented a similar strategy under a program called Artists in Vacancy, which encouraged artists to create temporary visual and performance pieces on vacant sites owned by the land bank to change negative attitudes surrounding vacant properties.
Residents and local organizations in Wilkinsburg, Pennsylvania, used a different creative placemaking strategy. According to Evans, WCDC worked with the Wilkinsburg Historical Society and local volunteers to organize a project called the Vacant Home Tour. Through storytelling practices such as visual timelines and tours, the Vacant Home Tour allowed residents to learn the history of their community and see vacant properties in a new light. Although unsafe conditions prevented tour participants from entering the vacant buildings, historical images offering an inside look were placed around the properties. As with Kalamazoo and Newburgh's efforts, the Vacant Home Tour sought to change the way community residents viewed vacancy. Rather than seeing vacant buildings only as places to avoid, the Vacant Home Tour taught participants the past and potential value of these properties. Community residents, noted Evans, were inspired to think about the future of vacant sites through additional workshops in which they could learn how to rehabilitate vacant properties (as well as their own homes) and discover resources available to the community.
Lessons Learned
The CCP report also provides several key takeaways to assist communities looking to transform vacant properties. First, creative placemaking requires participants to form and maintain cross-sector partnerships. Successful partnerships bring in varying perspectives and ideas that help move the community forward. However, since these partnerships involve cooperation among different groups often with competing interests — local government, nonprofits, local businesses, and community residents — they can be difficult to manage. To combat this difficulty, argues Lewinsky, all parties involved must make a concerted effort to clearly communicate with one another.
Another suggestion is for practitioners to cultivate liaisons in the city government who will advocate for creative placemaking projects. Participants looking to transform vacant sites must still adapt to and maneuver around regulatory barriers such as site control, obtaining a certificate of occupancy, and insurance requirements. Some cities such as Kalamazoo and Newburgh, have used temporary installations to avoid such regulatory headaches, while different strategies employed by other communities can be found in the full report. Creative placemaking doesn't offer a one-size-fits-all solution for each city, but it enables communities to participate in an engaging and innovative process that strives to bring value back to vacant properties.