United States – Japan Aging in Place Delegation Visits New York City, Hoboken, and Miami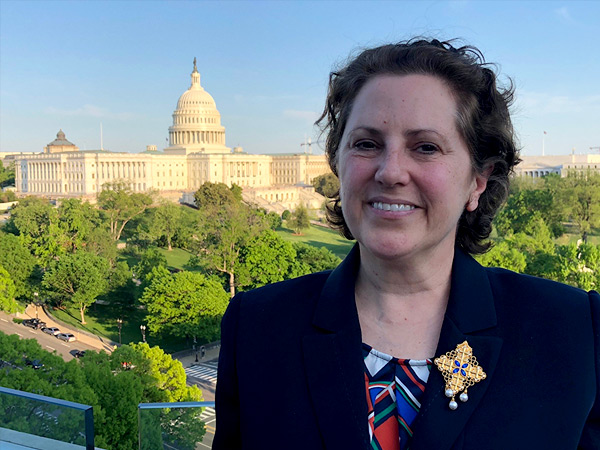 Cynthia Campbell, Director of PD&R's International and Philanthropic Affairs Division.
In February 2023, as part of our ongoing U.S.-Japan Aging in Place research project, HUD hosted a delegation of 11 senior officials from our counterpart in Japan, the Ministry of Land, Infrastructure, Transport and Tourism. The delegation's weeklong visit included stops at numerous Aging in Place facilities, housing projects, and climate resilience and mitigation projects. Staff from HUD's International and Philanthropic Affairs Division and Office of Research, Evaluation and Monitoring joined the delegation.
The delegation's first stop was the Grand Street Guild, an affordable housing project in Manhattan's Lower East Side consisting of 600 HUD-subsidized apartments. Representatives from the development walked us through their renovation project, which will add public space for seniors to relax and enjoy outdoor amenities, as well as one of the apartments. Grand Street Guild offers numerous social activities for residents, including live music and dancing, movie screenings in the development's outdoor amphitheater, and other activities such as exercise classes and bingo games. We then proceeded to Essex Market, which was originally established in 1818 as a public market. This historic space hosts vendors selling a variety of affordable fresh and prepared food.
The United States and Japan have expanded their research partnership to include additional topics, including climate mitigation and resilience. The group visited Hoboken, New Jersey, to see the work Rebuild by Design has completed in the city. This project, launched by HUD in 2013, includes floodwalls, bulkheads, and seawalls to prevent flooding. We also toured a park that, in addition to offering open space for community residents to enjoy, also served to prevent flooding through bioretention basins. While in Hoboken, we also visited Marian Towers, a HUD-subsidized apartment building for seniors.
Our next stop was Miami, where we visited Rebecca Towers, a 400-unit complex consisting of two towers: one designated as public housing and one as voucher-based housing. One of Rebecca Towers' most striking features is its waterfront location, adjacent to market-rate high rises; many of the units feature stunning water views. The verdant outdoor space offers park benches and access to a waterfront walking path. Residents can even fish from the pier that is located adjacent to the property. In the development's community room, the delegation engaged in a lively exchange with residents, who shared their experiences living at Rebecca Towers. Rebecca Towers offers myriad activities for its residents, including birthday celebrations in the community room, talent shows, and craft and exercise classes, among others. Staff also serve lunch to residents 5 days a week.
Our next stop was Robert King High Towers, which is owned by Miami-Dade County's Department of Public Housing and Community Development. The development is part of the River Parc Master Plan, a property along the Miami River that encompasses 25 acres and includes 800 former public housing units for seniors. The project is being rehabilitated using funds from the Rental Assistance Demonstration, Low-Income Housing Tax Credit, Community Development Block Grant, and HOME Investment Partnerships programs. When completed, River Parc will contain 2,600 units of affordable senior housing. The site will also feature additional retail and commercial office properties, a riverwalk, restaurants, and other amenities. The delegation visited the construction site and toured Robert King High Towers' newly refurbished apartments as well as its new community center.
At our final stop, the delegation attended a robust roundtable on resilience hosted by the University of Miami. Miami is a U.S. city that is already seeing the effects of climate change. The University of Miami's Climate Resilience Academy and School of Architecture are leaders in climate resilience research. At the roundtable, the delegation heard briefs on affordable housing and urban resilience, community engagement and elderly care, next-generation pipe sizing and water efficiency, climate resilience and infrastructure improvements, greenness and greening impacts on Medicare beneficiaries in Miami-Dade County, and the impact of design on assessing the vulnerabilities of buildings and their impact on those who live in these buildings. We also saw a demonstration of the Complete Smart Cabinet Ecosystem, an interactive medicine cabinet that reminds seniors to take medication, takes their vital statistics, and even acts as a virtual platform for medical appointments.
The delegation enjoyed seeing and learning more about U.S. advances in aging-in-place and climate-resilient housing.