New Associate Deputy Assistant Secretary Peter Kahn Reflects on His Work for PD&R and Discusses the Recent Quarterly Update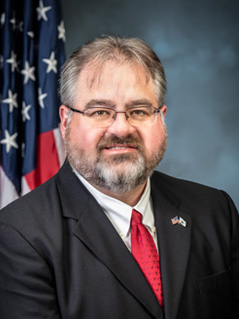 Peter B. Kahn, Associate Deputy Assistant Secretary for the Office of Policy Development.
Greetings! For those that don't know me, I am the new Associate Deputy Assistant Secretary for the Office of Policy Development, stepping in for Marge Martin who is enjoying her well-earned retirement.
I have been fortunate to serve at HUD for over 15 years, all within the Office of Policy Development, and until December of 2020, all within the Office of Economic Affairs. I would like to thank Kurt Usowski for his mentorship and guidance over the years and Todd Richardson for his faith in me in giving me the opportunity to expand my horizons in a new role at HUD.
Over my career at HUD, I became known as the "FMR Guy" — a title that at times I loathed but more often loved. I look forward to meeting the future holder of the title and will provide them with any and all support that they may need.
In my new role, I am honored to lead a talented group of policy-minded analysts and researchers who are responsible for a variety of topics including helping to shine a light on how HUD's research translates to policy implications for HUD's programs, shepherding HUD's research to publication, and caring for HUD's international engagements and philanthropic interactions.
PD&R Update on Services in HUD-Assisted Housing
Last week, PD&R held a Quarterly Update for the first time since June 2019. These events provide HUD an opportunity to share insights into the current status of the nation's economy and an overview of national housing market conditions, characterize current rental and ownership market conditions for each HUD Region, and highlight particular markets of interest. Following the overview of the current market conditions, HUD typically includes a policy discussion, often focusing on recently released research. These discussions bring the research into focus and help to drive discussions about how the research results inform future policy considerations.
Our April 29 Quarterly Update began with HUD's Chief Housing Market Analyst, Kevin Kane, providing his witty commentary on the state of the U.S. housing market based on data released at the end of the 4th quarter of 2020. As Kevin shared, sales markets around the country are "tight" with prices rising more than 10 percent over the last year, and the number of sales increasing by 5.6 percent. Rental market conditions around the country are mixed (a combination of tight, balanced, and soft) with a softening trend. Rents were down 2.9 percent over the last year and vacancy rates were up 0.6 percent.
Following the economic overview, Peggy Bailey, HUD's Senior Advisor for Rental Assistance Programs, provided an overview of two forthcoming research studies (Resident Opportunities and Self-Sufficiency-Service Coordinator program and Family Self-Sufficiency or FSS program) and two recently published studies (IWISH and JobsPlus). For background information on these programs, please see our brief overview available at: Services in HUD-Assisted Housing (huduser.gov). After teeing up these studies, Peggy led a robust roundtable discussion featuring practitioners delivering these services, researchers focused on better understanding the outcomes for residents provided these services, and a program participant who also plays the role of Program Ambassador.
The panel shared their expertise regarding the FSS program including discussions around the benefits of its financial services education and accrued savings held in escrow accounts for participants, as well as general comments about the research findings to date. The most well received comments came from Akirah Pressley, an FSS Program Ambassador in the Philadelphia area who is also an FSS Participant. Ms. Pressley shared her motivations for wanting to participate in the program, her role as a Program Ambassador and her real-world experiences as a program participant. Thank you Akirah, and all the panelists for sharing your insights!
PD&R is excited to return to regularly providing these quarterly briefings to showcase the intersection of research, data, policy, and outcomes. I invite you to consider areas where a focus on the confluence of these topics would be beneficial and let HUD know of your thoughts. You may reach out to the HUD User Help Desk at helpdesk@huduser.gov with your suggestions.