First Project of County's Mixed-Use Campus Serves Low-Income Families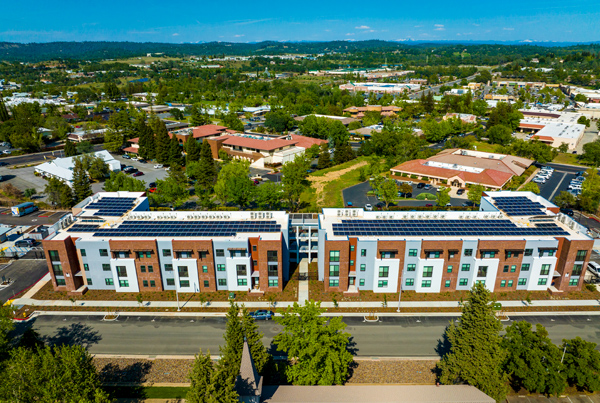 Mercy Housing California and Placer County partnered to create Mercy North Auburn, a 79-unit affordable housing development and the first completed project of the Placer County Government Center campus. Photo credit: Erik Bergen, Placer County
Opened in January 2022, Mercy North Auburn is an affordable housing project within the Placer County Government Center (PCGC) campus in Auburn, California. Developer Mercy Housing California (MHC) partnered with the county after submitting the winning proposal for residential space in the PCGC master plan update, a plan to redevelop a 200-acre site previously housing a World War II-era army hospital. Serving as a northern entry to the campus, which currently consists of commercial and institutional uses, the development provides 79 low-income households with a sense of community through amenities and public art that honors the site's indigenous past.
County Office Planning Prioritizes Affordable Housing
The PCGC master plan provisions space for the county's administrative needs, including a new Health and Human Services building, and affordable housing that fosters community integration. Situated at the northeastern edge of the campus, Mercy North Auburn includes three apartment buildings, each three stories, and a two-story structure consisting of seven attached townhomes. As the campus' first completed project, the property achieves a design standard that aligns with the county's sustainability goals. In addition to incorporating drought-tolerant vegetation and natural ventilation for unit cooling, each apartment building has solar photovoltaic panels and hot water heating panels. The use of renewable energy will help the developer and the county reach its goal of net-zero electricity use.
The units house families and individuals earning between 30 and 60 percent of the area median income. MHC partnered with Placer County Adult System of Care to provide mental health and substance use services for 20 residents who are living with a mental illness and either have experienced homelessness or are at risk of experiencing homelessness. All Mercy North Auburn residents receive educational programming, leadership coaching, and financial planning services. To promote community and civic involvement, the property also assists residents with voter registration, offers volunteer opportunities, and hosts events sponsored by MHC.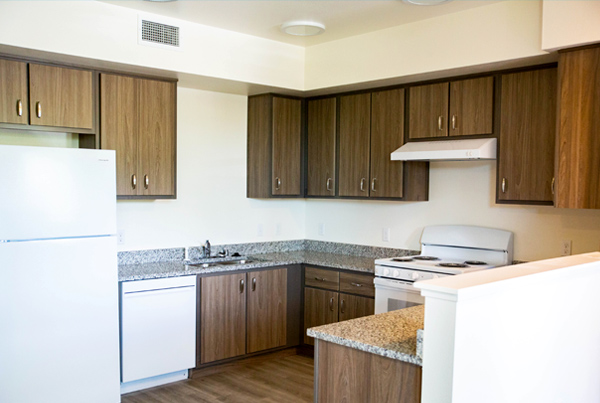 Mercy North Auburn includes three apartment buildings, each three stories, and a two-story structure consisting of seven attached townhomes. Photo credit: Erik Bergen, Placer County
Onsite staff provide services in the community building, which includes a multipurpose room and fitness equipment. Other shared amenities include a green space connected to the community building's patio, a bicycle repair and washing station, and a playground.
County Support
The county partnership also helped the developer access other public funding sources. California's No Place Like Home Program provided $2.7 million to Placer County Adult System of Care for the 20 supportive housing units, and the county assisted the developer in receiving 9 percent low-income housing tax credits.
Public Art Serves Community and Indigenous Past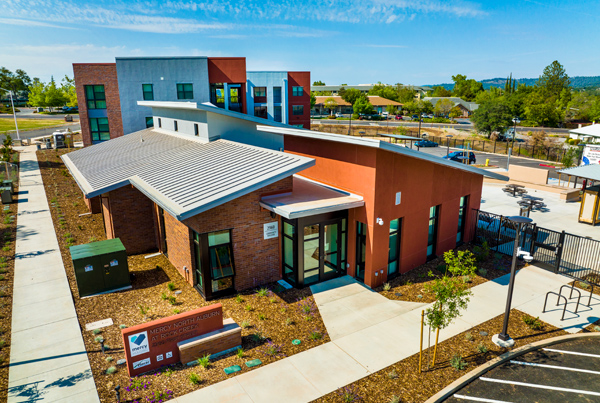 The development's community building is a space for residents to gather for staff-hosted events, engage in fitness, and participate in financial and leadership coaching. Photo credit: Erik Bergen, Placer County
The county and MHC incorporated public art within the development to foster a sense of community among the residents and create a welcoming atmosphere. Jeff Riley, senior project manager at MHC, viewed public art as an opportunity to incorporate Native American heritage into the government campus; MHC's original plans involved honoring only the site's military past. Giving representation to the original inhabitants of the property would have "an effect that was a little deeper than the known history about the property," said Riley. The Placer Community Foundation selected local artists Norm Tucker and Stan Padilla to add three works of art totaling $75,000 to the development. Tucker designed an 18-foot steel sculpture of three steel feathers symbolizing the heritage of the Miwok, Nisenan, and Maidu tribes that previously settled on the land. Situated at the front entrance of the building, the feathers are visible from the streets bounding the campus and serve as a community landmark.
The second piece, designed by Padilla, is on a 19-foot interior wall of the community building. A collage depicts scenes of the daily life of Native Americans and includes baskets and people gathering items. The third piece, also by Padilla, is on the exterior wall along the patio of the community building, where Padilla created clay tiles adorned with images of local flora and fauna. Weeks after the property's grand opening, residents installed the tiles at a community event held to instill a sense of ownership and pride in the building.
Continuing Public-Private Partnerships in California
Since its opening, Mercy North Auburn has remained 100 percent leased, and Riley attributes this success to the project's community and government involvement. MHC has formed partnerships with other local governments to replicate its success and provide more affordable housing in the state. In Paradise, California, where a 2018 wildfire destroyed 90 percent of buildings, MHC will create a 70-unit complex to serve families affected by the natural disaster.
Interview with Jeff Riley, 7 November 2022. ×