The Watson's Mixed-Income Approach Provides Workforce Housing in Quincy, Massachusetts
Opened in 2019, the Watson offers 140 apartments with varying income restrictions in the historic Quincy Point neighborhood of Quincy, Massachusetts. Credit: Flaunt Boston
The Boston metropolitan area housing market has long been among the most expensive in the United States. The city of Quincy, located just south of Boston, is less expensive than its big-city neighbor, but it has not escaped the high housing costs that produce a "missing middle" affordability gap, in which a segment of renters, such as moderate-income workers, earns too much to qualify for a subsidized unit but not enough to afford an area's market-rate rents. The Watson, a 140-unit mixed-income building that opened in Quincy's historic shipbuilding district in 2019, addresses the city's need for workforce housing with 2 tiers of income restrictions for a substantial number of its apartments. WinnCompanies and NeighborWorks Housing Solutions developed the $44 million project, which was financed using a mix of public and private sources, including $7 million from MassHousing's Workforce Housing Fund — the fund's largest contribution to a single project since its launch in 2016.
A Mixed-Income Community
The Watson is a four-story, H-shaped building resting on pillars above a podium parking level. The 140 units are a mix of studio, one-bedroom, and two-bedroom apartments; 86 are restricted to tenants earning no more than 110 percent of the area median income (AMI), 28 are reserved for low-income tenants earning no more than 50 percent of AMI, and 26 are rented at market rate. The subsidized and market-rate units are distributed evenly throughout the building.
All apartments in the Watson come with ENERGY STAR® appliances, low-flow plumbing fixtures, and a Wi-Fi enabled thermostat that enables tenants to monitor and control the temperature of their units remotely. After the building was completed, energy-rate modeling revealed that the building exceeded energy code standards, making an apartment at the Watson approximately 30 percent more energy efficient than the average home and supplementing the units' affordability through lower utility costs.
Residents of the Watson have access to the building's numerous amenities, including a fitness center with a spin room, a lounge, a conference room, and a club room with a billiards table and a communal kitchen. The property's outdoor amenities include a 7,000-square-foot, three-season courtyard that includes an outdoor kitchen and bar, a separate patio area, and a dog park and onsite canine agility run. In addition to 246 parking spaces, the building provides covered bicycle parking and a bike storage room.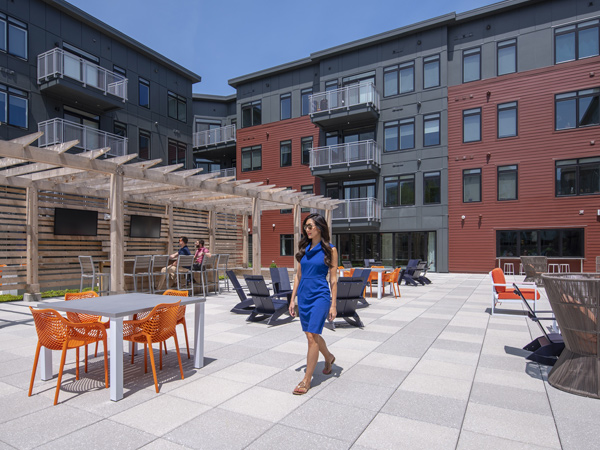 In addition to its indoor amenities, the Watson's outdoor spaces include a large three-season courtyard, an additional patio, and a dog park. Credit: Flaunt Boston
Filling the Missing Middle
Built on a 2.93-acre parcel on East Howard Street across from a sprawling industrial port and sandwiched between car dealerships, the Watson replaced a long-abandoned office building. Despite these relatively humble origins, city officials saw potential in the old commercial site: it was located approximately two miles from a Massachusetts Bay Transit Authority Red Line subway stop, on a bus line, and just minutes from the center of the historic neighborhood of Quincy Point. A new residential building that serves a middle-income workforce — one that often struggles to find housing in a market such as Boston's — could be a catalyst for new investment in the area.
Regional for-profit developer and manager WinnCompanies and local nonprofit NeighborWorks Housing Solutions partnered to develop the Watson, and construction began in June 2017.
The development partners met the $44 million total development cost through various public and private sources. The project received $2.3 million of equity from the sale of low-income housing tax credits and $1.88 million from Housing Development Incentive Program tax credit equity. The city of Quincy contributed $1.25 million from its Affordable Housing Trust Fund, $500,000 in HOME Investment Partnerships funds, and $250,000 in Community Preservation Act funds.
The largest public funder of the Watson was MassHousing's Workforce Housing Initiative, a $100 million Qualified Opportunity Fund launched in 2016 that provides state financing to developers building or rehabilitating housing projects that are affordable to middle-income tenants. The Workforce Housing Initiative contributed $7 million to the Watson, waiving its limit of $5 million per project in place at the time because of the development's favorable location in the gateway city of Quincy and because of the project's relatively low cost of $81,400 per workforce unit. As of January 2021, the Workforce Housing Initiative has financed 50 projects consisting of 1,237 workforce units, but the Watson remains the development with the largest number of workforce units.
Awards for Quincy's Largest Workforce Housing Development
On the day of its official ribbon-cutting ceremony in June 2019, the Watson had already been nearly fully leased, with all but one workforce housing unit rented — underscoring Quincy's need for housing that is affordable for moderate-income renters. Since its opening, the development has received two awards: in 2019, the Watson was one of three projects to be recognized with the Jack Kemp Excellence in Affordable & Workforce Housing Award by the Urban Land Institute, and in 2020, the development won the National Community Development Association's Audrey Nelson Community Development Achievement Award for its exemplary use of federal affordable housing funds.
Source:
NeighborWorks Housing Solutions. n.d. "The Watson." Accessed 30 November 2020.
×
Source:
Correspondence with Thomas Farmer, communications specialist, MassHousing. 31 December 2020; MassHousing. n.d. "Workforce Housing Initiative." Accessed 30 November 2020.
×