From Polluted and Abandoned Industrial Site to Affordable Housing in York, Pennsylvania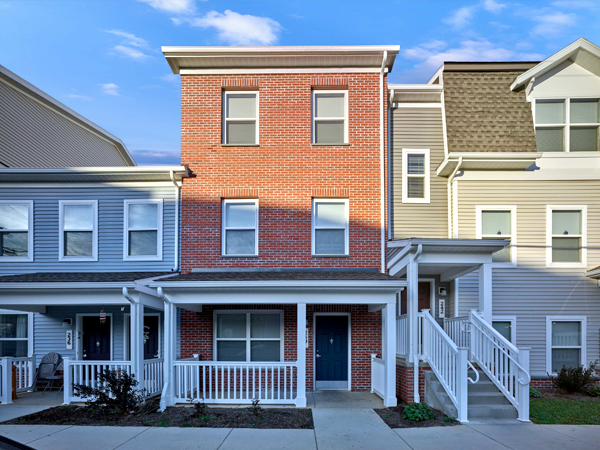 State Street Crossing apartments adds 56 units of affordable housing to a former factory site in York, Pennsylvania. Photo credit: Don Pearse Photographers Inc.
The city of York, Pennsylvania, like many towns with an industrial past, is working to reclaim and repurpose obsolete and disused industrial sites and increase the supply of affordable housing. With the State Street Crossing apartments, area developer Pennrose, in partnership with the Redevelopment Authority of the City of York, is accomplishing both. State Street Crossing transformed the abandoned and environmentally degraded site of the former Danskin clothing factory into 56 units of affordable housing. The development consists of seven buildings set among ample green space that has eliminated a toxic eyesore while revitalizing a residential neighborhood.
Affordable Housing for York Families
At 4.2 acres, the Danskin factory site presented developers with the opportunity to create a neighborhood asset. State Street Crossing was designed to meet the housing needs of families, as reflected by its unit mixture. Of the development's 56 total units, 6 are 1-bedroom units, 23 units have 2 bedrooms, 24 have 3 bedrooms, and 3 units have 4 bedrooms. Units rent to households earning less than either 50 or 60 percent of the area median income, and the York Housing Authority has made 25 project-based vouchers available to residents, ensuring that voucher holders pay no more than 30 percent of their income toward their rent.
Support for the development of State Street Crossing came from several sources, including the sale of low-income housing tax credits. The city of York contributed $900,000 in HOME Investment Partnerships funds, and nearly $1.3 million came from the Pennsylvania Housing Affordability and Rehabilitation Enhancement Fund, which was established in 2010 to serve several housing-related purposes, including neighborhood rehabilitation and affordable housing provision. The development cost totaled approximately $17 million.
Onsite supportive services include programming for children, financial education workshops, and coordination with residents' healthcare providers. The supportive services coordinator connects residents with other local nonprofit organizations that can address their specific needs, according to Pennrose regional vice president Jacob Fisher.
Repairing a Postindustrial Void in the Heart of a Residential Neighborhood
The 4.2 acre area of the former Danskin factory site allowed developer Pennrose to include ample green space in the final design. Photo credit: Don Pearse Photographers Inc.
State Street Crossing is playing an important role in helping the city realize its longtime goal of redeveloping the Northeast neighborhood. In 2005, the York Department of Community and Economic Development found that restrictive zoning was impeding redevelopment. Fisher describes a "zoning conundrum" in old factory towns representing a legacy of past urban development patterns, with housing built around factories. According to Toki Rehder, a developer at Pennrose, the city proved to be critical to making State Street Crossing feasible; it modified zoning as needed and found Pennrose's plans compatible with existing nearby uses — namely, an elementary school and the surrounding residential neighborhood.
Work on the site began with environmental remediation, picking up where a previous owner had left off. After the Danskin factory closed in 2009, another developer purchased the site in 2010 with plans for a mixed-use project. That project fell through after demolition had already commenced but asbestos removal had not yet begun. The city finally acquired the site in 2015.
To remediate the environmental issues at the site, the project received nearly $1.7 million from the Pennsylvania Department of Community and Economic Development's Industrial Sites Reuse Program. This award funded the removal of asbestos-contaminated materials and other toxic debris and materials along with approximately 25,000 tons of wreckage that the previous owner left on the site. To make remediation as minimally disruptive as possible, Pennrose carried out the work over the summer of 2019, when the elementary school would be empty, even though that meant working while the city still owned the site and before Pennrose closed on the tax credit funding. Construction began in 2020 and wrapped up in June 2021.
With its completion, State Street Crossing restores to life an abandoned and dangerous site in the heart of York's Northeast neighborhood. According to Fisher, the development addresses York's ongoing need for affordable housing in an area that lacks new housing stock and is helping the city bring old sites of industry back into productive use.
Source:
Joint interview with Jacob Fisher and Toki Rehder, developer at Pennrose, 27 January 2022. ×
Source:
Joint interview with Jacob Fisher and Toki Rehder, 27 January 2022. ×